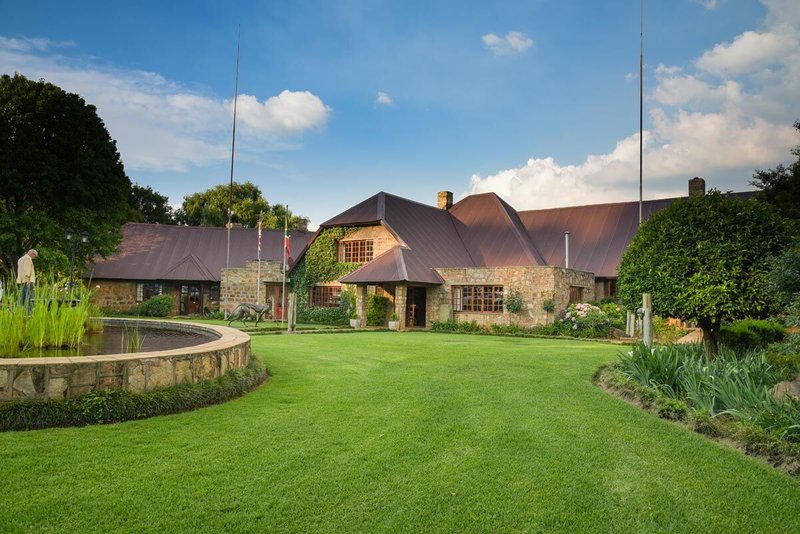 The beautiful
Walkersons Hotel & Spa
has enchanted visitors to Dullstroom for more than twenty years. The stunning views of hills and well stocked trout dams, luxurious accommodation and five star dining make Walkersons a charming and memorable destination. Now this grand country lady has been given a little nip and tuck to freshen her up, and ensure she remains appealing to the modern guest.
The original owners created Walkersons with a Scottish country manor feel, with natural stone and wood and lots of interesting nooks and crannies.
Walkersons is a haven of serenity in Mpumalanga, with elegant dining rooms, a gorgeous terrace, the cosy Peggy's Bar and lovely lawns leading to the hidden swimming pool. Its five-star atmosphere continues in the luxurious bedroom suites, with elegant décor, tastefully appointed bathrooms and large verandas to enjoy the glorious views.
Whether you want to be thoroughly pampered or prefer the independence of self-catering, Walkersons Hotel & Spa has an option to match your taste.
Walkersons Hotel & Spa Accommodation:
We have 27 beautifully-furnished hotel rooms. Each suite boasts elegant decor, tasteful bathrooms and large verandas.
- Family Suite
- Lakeside Suites
- Luxury Lakeside Suites
- Manor Suite
- Honeymoon Suite
We offer 6 fully-furnished self-catering cottages. Spacious self-catering cottages located within the 800 hectare estate, at varying distances from the main hotel. Each of these luxury cottages ensure a sense of seclusion and total tranquility.
- Waterfall Cottage
- Hillside Cottage
- Hansel Cottage
- Gretel Cottage
- Canyon Cottage
- Riverview Cottage
Walkersons Hotel & Spa Activities:
The great outdoors at Walkersons Hotel & Spa offers numerous activities, with easy walks or more strenuous hiking trails, and the chance of seeing blesbok, zebra and duiker. There are mountain bikes available with paths and recommended routes to follow. Or try fly-fishing in Walkersons' famous trout dams, with equipment available and friendly staff to show you the ropes.
For some pure indulgence, our Spa is a place of timeless peace and tranquility, with three treatment rooms and a steam room.
Activities in the area:
- Fly Fishing
- Gym
- Picnicking
- Walking and Hiking
- Horse Riding
- Golf
- Clay Pigeon Shooting
- Whiskey Tasting
- Dullstroom Bird of Prey Centre
We thoroughly enjoyed our stay.The staff were all very professional and pleasant. The surroundings are beautiful and we shall certainly return in the near future for another stay.
The service and food were absolutely outstanding! Thank you very much for a lovely weekend.
• No children under the age of 6 are accommodated in Hotel Rooms (no Triple Rooms available).
• Children over the age of 6 can be accommodated with accompanying adults in the Manor Suite.
• Children of all ages can be accommodated in the Family Suite & Self-Catering Cottages.
• No children under the age of 12 are permitted in the Main Dining Room. Alternative dining arrangements are available for families with children under the age of 12 years.
• A child minding service is available at an additional cost – kindly arrange with Reception prior to arrival.