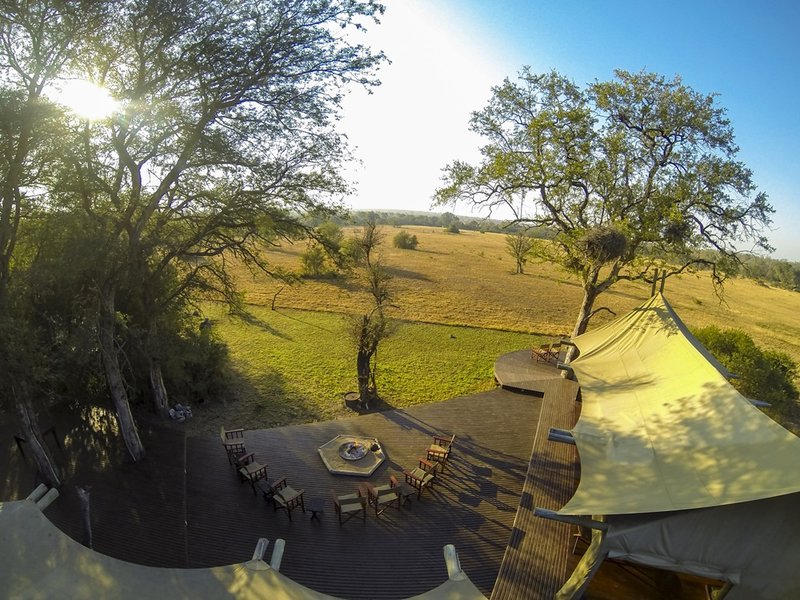 Discover nature's hidden wonders in specially tailored walking trails from our luxury tented accommodation. Plains Camp is situated in the heart of our 12,000 hectare concession - a stone's throw from Skukuza and easily accessible by road or air. With a maximum of eight people only (no children under 12), guests are ensured of a quality, pristine wilderness experience.
Two highly qualified guides will share their wealth of bush knowledge with you – from the identification of animals, trees, grasses, insects and birds to the medicinal uses of plants, folklore and basic tracking and survival skills.
For a totally unique experience, guests wanting something different will be able to walk to our Sleepouts – elevated wooden platforms 4metres high where the night will be spent sleeping outdoors under the stars!
Trails
To ensure a varying and complete concession experience, we suggest that guests participate in a trail that encompasses Rhino Post Safari Lodge (game drives), Plains Camp (primarily walking) and our Sleepouts, as each type of accommodation and activity is different from the other.
here are several trails available, all of which cater for every possibility; be it one camp, two camps or all three. Some of the suggested trails are:
5 night trail
* 2 nights at Rhino Post Safari Lodge
* 2 nights at Plains Camp
* 1 night Sleepout
4 night trail
* 2 nights at Rhino Post Safari Lodge
* 2 nights at Plains Camp
3 night trail
* 1 night at Rhino Post Safari Lodge
* 2 nights at Plains Camp
3 night trail
* 2 nights at Plains Camp
* 1 night Sleepout
We can tailor make our trails to suite specific requirements.
The Walking:
Our walking trails are limited to eight guests who are guided by two armed rangers. Our guides meet the stringent requirements of the South African National Parks and senior guides hold the highest guiding qualification possible in South Africa.
After an introductory brief on the "do's" and "don'ts" of bush walking safaris, the guide will structure the trail taking into account the fitness level of the group and any special requests. Departures are before breakfast and again in the late afternoon to avoid the midday heat, with the average walk being between three and four hours. Walks may be lengthened or shortened depending on the group's desires and fitness levels.
Our guides will share their wealth of bush culture, the identification of animals, trees, grasses, insects, birds and the medicinal uses of plants, local folklore and basic tracking and survival skills. Nothing is predictable in the bush, therefore each safari offers a potentially new experience.
A Typical Trail:
A typical trail may start at Rhino Post Safari Lodge where guests enjoy morning and evening game drives in open 4 x 4 vehicles. On the day of departure from this lodge, just after mid morning breakfast, guests will be transferred to their tented accommodation at Plains Camp.
The heat of the day will be spent at this camp enjoying our small Africana book collection, or the plunge pool overlooking the Timbetene Plain and waterhole, which is often host to zebra, buffalo, giraffe, elephant, rhino and lion. High tea is followed by an afternoon walk and sundowners and then back to the camp for a hearty dinner.
The following day after an early morning wake-up and an invigorating cup of fresh coffee (or tea) in the lounge, guests set off on trail where our guides will share their experience of the diverse areas situated within the proximity of Plains Camp.
For something completely different and a totally unrivalled wilderness experience, guests are able to walk from Plains Camp to our Sleepouts. These are 4m high elevated wooden platforms with tents on the top level where guests will be able to literally sleep out under the stars! This is the only place in the Kruger National Park offering this unusual accommodation.
Important notes:
As per notes for Plains Camp and Sleepout, please be advised:
Scheduled departure days for Plains Camp
- Arrive Tuesday for a 2/3 night stay
- Arrive Friday for a 2 night stay
- Arrive Sunday for a 2 night stay
Sleepouts are highly dependant on weather conditions. PLEASE be aware that should the weather be unfavourable on the day of the Sleep Out (heavy rain) or if there has been heavy rain in the days preceding the Sleep Out, you may have to remain at Plains Camp (due to the platforms being inaccessible).
Plains Camp strives to keep guests together during their trail, without the inconvenience of different guests arriving and departing throughout their stay. With this in mind, if the first guests to reserve their trail at Plains Camp request the Sleep Out, then all subsequent reservations will be required to participate. Should all guests not wish to participate in the Sleep Outs; there will be no Sleep Out for the duration of the trail.
Rhino Walking Safaris and Rhino Post Safari Lodge, lie within a private wilderness concession just north of Skukuza in the Kruger National Park, offering exclusive walking trails and game drive safaris. The park is home to an impressive number of species, has an amazing 16 different ecosystems, and ranks as a prime Big Five game viewing area.
The Limpopo is the park's northern-most river and the Crocodile forms it southern boundary, while the Sabie, Letaba, Olifants and Luvuvhu rivers provide the park's interior with water. There are some seasonal rivers like the Shisa and Timbavati, which are usually dry during winter.
The park tends to be mostly grasslands, known in South Africa as bushveld, and woodlands (savannah), with occasional rocky outcrops. The Kruger National Park falls within a malaria area and all necessary precautions should be taken. Consult your general practitioner on medication before planning a visit.
Interesting Facts:
- In 1869, a 'gold rush' exploded in the region causing the number of game to decrease dramatically due to hunting and trading of animal horns and skins.
- In 1884, President Paul Kruger proposed that boundaries in the region be defined as game reserves to protect the flora and fauna, but his revolutionary vision was met with much resistance.
- The park was first proclaimed in 1898 as the Sabie Game Reserve and the area between the Sabie and Crocodile Rivers was set aside as official reserves.
- The Scottish-born James Stevenson-Hamilton was appointed the park's first warden in 1902. Many accounts of the park's early days can be found in the Stevenson-Hamilton Memorial Library.
- In 1926 the National Parks Act was proclaimed and with it the merging of the Sabie and Shingwedzi Games Reserves into the Kruger National Park.
Natural History:
- More than 300 archaeological sites of Stone Age man have been found.
- Cultural artifacts of Stone Age man have been found for the period 100,000 to 30,000 years ago.
- There is ample evidence that prehistoric man – Homo erectus – roamed the area between 500,000 and 100,000 years ago.
- Evidence of San (Bushman) and Iron Age people from about 1,500 years ago and numerous examples of San Art scattered throughout the park.
- There are significant archaeological ruins at Thulamela and Masorini