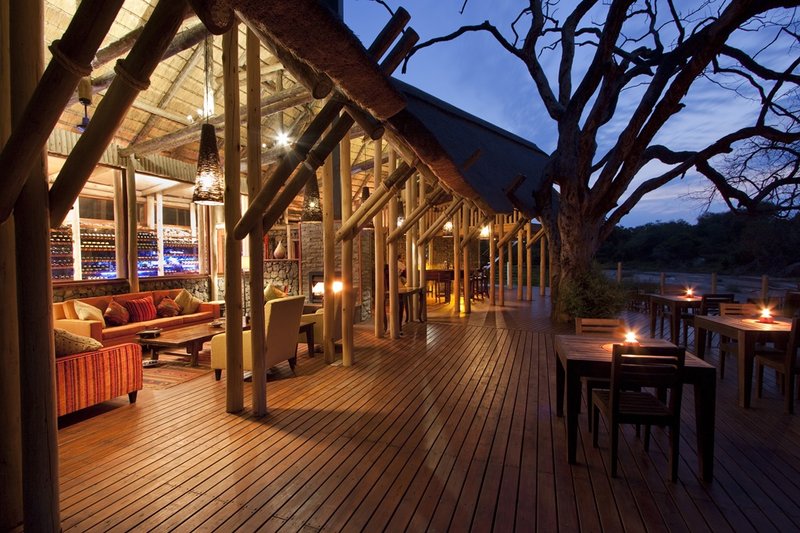 Rhino Post Safari Lodge
is situated at the southern end of our 12,000 hectare private wilderness concession in the Kruger National Park. The concession shares a 15km unfenced boundary with the famous Mala Mala and Sabi Sand reserve with an abundance of wildlife moving freely between the two reserves. The concession is noted as an excellent game viewing area with encounters with the Big Five and good sightings can be expected.
Set on the banks of the Mutlumuvi riverbed is our luxurious trails "base" lodge. From here guests can travel to Plains Camp for walking safaris, as well as overnighting under the stars at our unique Sleepouts. Rhino Post Safari Lodge is an elegant 16 bed lodge from where we embark on our twice daily game drives. We make extensive use of the Kruger National Park's public roads during the day and in the evenings well after sunset, as well as our private concession roads, ensuring guests an unforgettable experience and covering a variety of areas within Kruger.
Children Policy:
All children welcome. No children can participate in sleep outs. No children under 6 on game drives with other guests. Private vehicle can be booked by prior arrangement.
Activities:
- Game drives both in & outside the concession. Max 8 guests per vehicle
- Kruger Explorer. Option of a full or ½ day game drive on the Kruger public roads with a picnic lunch en-route (by prior arrangement)
- Sleep outs – minimum 4 people (by prior arrangement only)
- Golf at Skukuza
Facilities:
Max 24, with 16 accommodated at Rhino Post & 8 at Plains Camp. Black out facilities and flip boards available. Overhead equipment can be hired by prior arrangement. Team building activities available by prior arrangement. Dining / Conference area has air conditioning.
Skukuza Golf course – The Kruger National Park has a unique 9-hole golf course (18 tees) near Skukuza rest camp. The course is unfenced & open to the reserve. Prior arrangements are necessary.
Access:
By Road: From JHB (Sandton) via Paul Kruger Gate 6 hrs (500km approx.) to the lodge
4 x 4: Not applicable – the lodge can be reached by 2-wheel drive.
Late arrivals:
After Gate Closing (Self Drive Only): The Kruger National Park has several entrance gates, guests are advised to enter through Paul Kruger Gate, as it is the closest to the lodge. Guests must enter the Kruger Gate 45 minutes before closing time to allow sufficient time to drive to Rhino Post. Guests who experience problems on their journey must inform lodge as a permit must be requested from park authorities – there is no guarantee that we will be able to assist with a late entry permit. There will be a surcharge per vehicle (refer to rates sheet) for an escort to accompany guests to the lodge. NB Rhino Walking Safaris (Plains Camp): Guests must ensure arrival by 2pm. If later than 2pm, guests will be transferred through to Plains Camp at the next convenient opportunity. This may mean missing the first activity or only being transferred to Plains Camp after evening drive at about 8pm or even the following day.
Rhino Post Safari Lodge Activities:
Rhino Post Safari Lodge offers both early morning and evening games drives. Game drive safaris are conducted in specially adapted open Landcruisers, with professional guides. To preserve our wilderness concession, no off-roading is practiced.
In addition to driving on our 12,000 hectare concession, we have exclusive use of some of the Kruger National Park public roads at night. SANparks has allowed us the added advantage of being able to utilise 170km of Park roads after gate closing time - when all the self drive tourists have left and when the other concessions have to be back on their own property.
A typical day would include an early start, a cup of fresh coffee or tea, after which guests set out on their game drive. Guides at the lodge meet the stringent requirements of the South African National Parks and senior guides hold the highest guiding qualifications possible in South Africa, to ensure that your encounters with the African wilderness are exciting, informative and safe.
In the late afternoon after a delicious high tea, you can enjoy an evening game drive, winding down with Sundowners, watching an African sunset and spotting nocturnal animals in the Park.
Rhino Post Safari Lodge also offers golfers outings to Skukuza Golf course – The Kruger National Park has a unique 9-hole golf course (18 tees) near Skukuza Rest Camp. Built in 1972, the course is unfenced and open to the reserve for a wild round of golf. Prior arrangements are necessary.

Click to display the map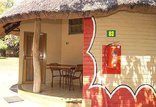 Guest Rating:

(7 reviews)
A variety of accommodation units cater for guest requirements. All units are self-catering - from luxury guest houses to single room bungalows without kitchens for your stay in the wilderness.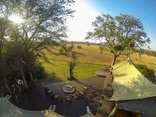 Discover nature's hidden wonders in specially tailored walking trails from our luxury tented accommodation. Plains Camp is situated in the heart of our 12,000 hectare concession - a stone's throw from Skukuza and easily accessible by road or air.
From:
R4140.00
per person sharing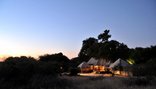 Hamiltons Tented Camp, situated in the Kruger National Park, reflects a safari adventure of the early twentieth century, where grace and style were the epitome luxurious living.
From:
R7971.00
per person sharing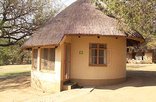 Guest Rating:

(37 reviews)
Skukuza Restcamp is situated on the southern banks of the Sabie River. The camp is well foliaged and activities and facilities are diverse, as are the animals and plants found both within the camp and in the surrounding areas.