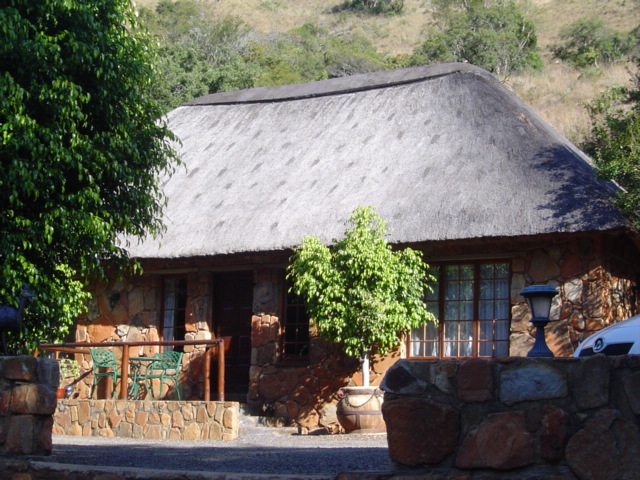 Sunbird Self Catering
is set in the Private nature reserve of Forest Creek lodge.
Forest Creek nestles in a gorge of the Steenkampsburg Mountains, which is the end of the Drakensberg Mountain range. Set in a Private Nature reserve of the Mpumalanga escarpment. The gorge is softened only by a blanket of shrubs and trees which have grown in this malaria-free zone over millennia.
It is only when one gets to the gate of Forest Creek Lodge that the rock-strewn grassland is left behind, one climbs up, and up, and enter this little enchanted world. This winter come and enjoy some good food and wine snuggled in front of our log Fireplaces, and go home feeling indulged.
At Forest Creek one can see the remains of ancient villages, home to Africa`s earliest peoples. They can be found everywhere, by your lodge suite, along the Hiking trails, and by the stream.
For the International traveler Forest Creek Lodge is an ideal place to relax and unwind after a long flight - a mere 130 km to the Kruger National Park, enjoy the treatments in the private Forest Spa, or just enjoy the tranquility of the bush. There is a private Airstrip 8 km from the farm, we provide transfers from the Airstrip to Forest Creek Lodge.
The Self catering guests are welcome to book any meal and or activity at the lodge dinner is a 4 course meal R250.00 per person and Breakfast is R120.00 per person.
For those who have special diets, we request that you inform us prior to your arrival.
The water at Forest Creek comes from a spring, and we bottle our own Forest Creek spring water. In the lodge lounge ther is a huge fireplace. Weather permitting, you can enjoy your meals and drinks outside on the veranda overlooking the valley.
Rooms:
SUNBIRD - This self-catering unit has two bedrooms, 1 bedroom with a queen sized bed and the other can be a King sized bed or 2 x singles, both have en-suite bathrooms, Outdoor stone shower overlooking the mountain
Fully equipped kitchen with a gas Braai and Webber braai for outdoor cooking.
Fan, electric blanket and heater; snuggle under our percale cotton duvets and linen. (Note: If you are allergic to down feathers, we can supply fibre duvets and pillows) We supply charcoal. The unit is serviced daily.
Sunbird Self catering unit Activities:
Trout fishing:
We are situated half way down the Steenkampberg Mountain Range at an altitude ideally suited to the rapid growth of Rainbow trout. Our cold, clear perennial stream feeds the trophy dam in where these lovely fish abide in a truly beautiful setting.
The dam is approximately a half hour walk from the lodge or can be reached by 4x4 vehicle, leaving a 5 minute walk.
We practice catch and release of fish hooked.
Should a fish be unable to be returned, the charge is R75 per Kilogram with a rod fee of R100 per day or part thereof.
Bring your own tackle and don't forget your camera!
Hiking trails:
One of our unique activities at Forest Creek are the Hiking Trails in the "Cloud Forest".
The trails are designed for the entire family, and are most suitable for the even not-so-fit person. Under this canopy of trees and at the edge of the Mountain one feels very small, in comparison to the magical views.
The walk to the waterfall is approximately 2 kilometres, winding through the forest and criss-crossing the stream in several places under the canopy of large indigenous trees.
One is likely to hear the baboons barking and spot the odd bush buck or red duiker and see the Cinnamon Doves, Narina Trogon's and Lourie's that frequent the forest.
In the wetter months the ferns, orchids and wild mushrooms offer spectacular opportunities for the more photographic inclined.
A tree platform built in a large fig tree above the forest canopy, is an ideal stop for birders or to just relax and enjoy a picnic!
Scattered in the forest are remnants of old stone structures some of which are supposedly several thousand years old and are under study at present.
The forest is beautiful, friendly and safe.
BUSH BATH - Set in a secluded spot, enjoy a "Bath in the bush", under the Moonlight and stars, with lots of bubbles. Should you wish to order champagne, please do so when booking the Bush bath. R150.00.
FOREST SPA - Indulge yourself in our private Spa overlooking the gorge, go home feeling relaxed and stress free. Click the "Relax" box at the top of the page for price list.
GAZEBO ROMANTIC PRIVATE DINNER - Spoil your loved one, and request this romantic setting for a totally private candle lit dinner under the gazebo. Many a proposal of marriage has been accepted in this lovely setting! Service fee: R250.00, for the lodge guests only. (Self catering guests would also have to pay R250 per person for the four course meal)
HIKERS PICNIC - A picnic packed in a rucksack, get ready to hike to the waterfall! R150.00 per pack.
LAZY PICNIC - A picnic set out for you in a private spot, with champagne, a good one for the romantic at heart. R350.00
TROUT FISHING - An altitude ideally suited to the rapid growth of Rainbow trout. Our cold, clear perennial stream feeds the trophy dam, and we practice catch and release. Should a fish be unable to be returned, the charge is R75.00 per Kilogram with a rod fee of R100.00 per day, per person.
BIRD WATCHING - We have a prolific variety of uncommon species of Birds that can be seen, including a resident pair of Black Eagles. We have a Forest Creek bird list.
HORSE RIDING - 4km down the hill, book a ride in our scenic valley. R250.00 per person.
MOUNTAIN BIKING - Bring your bikes and enjoy the off road cycling. Great views as you ride. A hard ride!
CLAY PIGEON SHOOTING - An interesting and testing range for the novice and experienced shotists. Use our Winchester 12 and 20 gauge shotguns for serious practice of just for fun.
Sunbird Self catering unit Map: