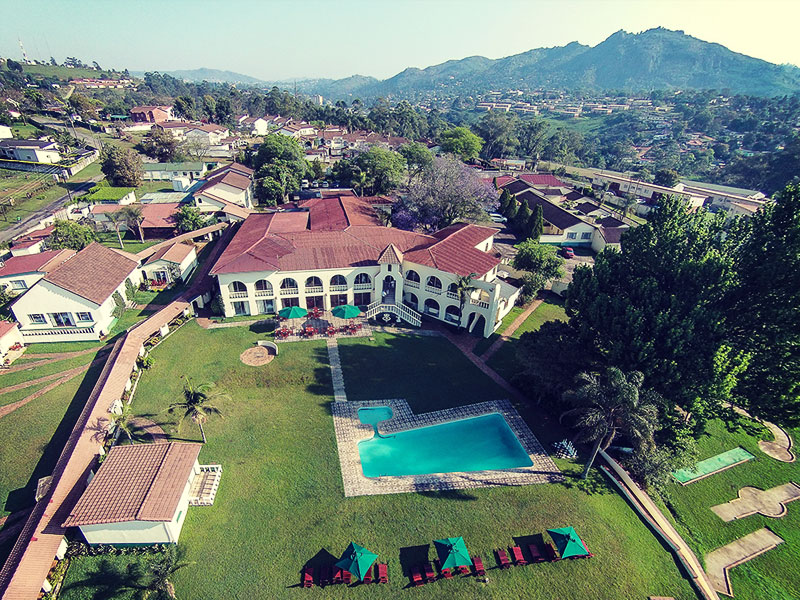 The Mountain Inn
, located just outside of Mbabane and above the Ezulwini Valley stands on a magnificent site overlooking the Lubombo Mountains to the east and down into the "Heavenly Place" of Ezulwini.
Designed in Spanish style where the reception and bedrooms wrap around the sparkling swimming pool.
Each room has its own individuality, from the cool green of the breakfast room to the subtle seriousness of the library. This is a relaxing, warm and very friendly town hotel.
The larger "Little John`s Bar" caters for pre-lunch drinks and sundowners. The Terrace which sweeps down to the pool area is popular for weddings, fashion shows, garden parties and afternoon tea.
All who visit this delightful town hotel are treated as special guests to this highly personalised and professional.
Accommodation at The Mountain Inn:
The bedrooms are situated along covered paths which lead to the reception rooms.
Each room has television, radio and coffee making machine, is well furnished and appointed with ensuite bathroom.
Breakfast is served in the Terrace room overlooking the gardens, pool and with an outstanding view; lunch and dinner in the "Friar Tuck Restaurant", an intimate venue with alcoved seating, and a full a la carte menu and a small bar are available.
Facilities & Services:
Babies
Children under 12 years
Honeymoon Couples
Elderly
Laundry Service
Ironing Service
Special Meals on Request
Conference facilities
Wedding facilities
Dining room
Bar on the Premises
Restaurant
Tourism Information Desk
Wi-Fi
Parking (off-street - open)
Garden
English
Communal Television
Swimming Pool
Communal Satellite TV
The Mountain Inn Activities:
- We have mountain bikes, a water skiing boat, birding excursions and many hiking trails.
- By arrangement we have access to golf courses, fly fishing, horse riding and a cultural village.
- The owners and reception staff are qualified to advise and assist guests in experiencing all that Swaziland has to offer.

Click to display the map
---
The hotel was good. Had a problem trying to get a bottle of wine to drink on the patio and it took over a half an hour to get something to drink. They didn't have the wine - although it was on the wine list. The dinner in the restaurant was great. Not a very good selection of TV channels. If we are in Swaziland we will book into the hotel again.
Rating:
Reviewed by Kathryn Burger over a year ago
---
The room was very neat and the service was good.
Rating:
Reviewed by Steven Kuper over a year ago
---
I really enjoyed myself and would certainly go there again. But few things they should improve are: cleaning the pool clearer and also should do it early in the morning before 9am (before the breakfast ends); increase their gym area and equipment and last but not least lenghten the breakfast time till 10am.
Rating:
Reviewed by Bennet Mashilwane over a year ago
---
Simple, old fashion decor but comfortable. Improvements and upgrading are in process and can only get better, will be real nice in Summer. Nicely located. Friendly, helpful staff, great meals but a bigger choice /variety at breakfast will be a plus. Main entrance should be looked at for traffic....too narrow. Will gladly visit again.
Rating:
Reviewed by Schultz over a year ago