River Lodge - Lion Sands Game Reserve
is the origin of the Lion Sands safari – our soul safari. Here guests can expect a sophisticated interpretation of the traditional safari lodge, with an emphasis on clean lines, optimised natural light and contemporary décor.
Living spaces include a Safari Lounge and Bar, Barista's Station with artisanal coffees, Gallery (showcasing the works of renowned local artists), and OneLife MORE boutique.
The dining experience includes the traditional Boma 'with a twist', the signature Riverbed dinners and deck dining, in the shade of the trees and overlooking the Sabie River. Breakfast is a home-styled experience.
Lodge facilities include:
- a Spa
- a main swimming pool area
- a 'Memory Lab', where guests will be able to print their photographs on canvas
- a Firepit for sociable nocturnal gatherings beneath the stars.
River Lodge accommodation:
River Lodge's accommodation comprises 8 Luxury Rooms, 6 Superior Luxury Rooms and 4 River Suites (each with its own plunge pool). One of the River Suites has 2 bedrooms.
Game Drives in the Lion Sands Game Reserve:
Rise at sunrise to head into the wild on your private african safari with your Field Guide and Tracker and discover a world usually only reserved for your screen during 'Animal Planet'. You'll find yourself in an environment that is as old as time, where the rhythm of nature is the only Governor.
2 safaris take place each day – in the morning and late afternoon (moving into the early evening). This is when the wildlife is most active, and the temperature more moderate.
As Lion Sands is a private game reserve within the Sabi Sand Reserve, and in a private concession within the Kruger National Park, safaris are not confined to main roads. Our Field Guides are able to navigate through dense bush, following the tracks of animals. With a limited number of vehicles on each property, and strict criteria governing sightings, guests are able to spend extended periods of time watching wildlife in its natural habitat.
Walking Safari in the Lion Sands Game Reserve:
The bush takes on a completely different perspective when you are on foot. Each of your senses will be on full alert as you feel the grass and stones beneath your feet, touch the leathery leaves of trees you walk beneath, smell the musky scent of wild animals in the vicinity, taste the sweet grass of the veld, and hear the crack of a branch indicating you are not alone.
Walks generally take place after breakfast and last approximately 1 and a half to 2 hours, depending on the fitness level of guests. In summer, due to the heat, walks may be incorporated into the morning game drive before heading back to the lodge for breakfast.
Sit and absorb the many sights and smells of the African bushveld. This is as close as it gets!
Field Guide and Ranger duos like nothing better than getting on foot, and sharing their passion for the bush with like-minded visitors.
What to bring on the walking safari:
- Comfortable walking shoes
- Sunscreen and hats
- Binoculars & camera
- Suitably coloured clothing (no bright colours)
There is no such thing as a "typical" walk at Lion Sands. Every guest will have unique interests, and our guides are adept at playing to those interests – be they mammals, birds, flora, insects or geology. No walks for children under 16 years.
SAFETY FIRST!
Guides and trackers accompanying guests will conduct a pre-trail briefing. They will explain more about the area in which the walk will take place, and what walkers need to know. This will include how guests should walk (single file behind the guide, no lagging behind), what to do in certain instances when encountering animals on the walk, information on medical kits and handheld radios etc.)
First Aid kits and handheld radios are standard equipment on walks, so that in the unlikely event of an emergency, the group has contact with the lodge and access to basic medical equipment.
Excellent, but the pools need cleaning, if you plan to swim, it's not the place. Otherwise, the food is excellent, service is great.. overall fantastic.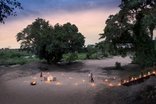 Lion Sands is situated in one of the most pristine wilderness areas in Southern Africa - the Sabi Sand Game Reserve which forms part of the greater Kruger National Park.
From:
R5200.00
per person sharing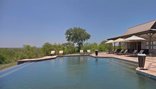 Overlooking the Sand River Kirkman`s Kamp offers spectacular views as far as the eye can see. A well known historic camp, originally built in the early 1920's Kirkmans Kamp celebrates the atmosphere of an early South African lowveld homestead.
From:
R9075.00
per person sharing
Our friendly team of staff will ensure that all your needs are catered for in the most efficient manner possible.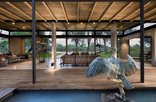 Ivory Lodge is about African Euro elegance, sophistication yet simplicity, boldness yet balance, ebony & ivory, perfect harmony, exclusivity, sensitivity & complete privacy.
From:
R24665.00
per person sharing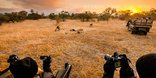 Luxury and exclusivity await you in the world famous Sabi Sabi Private Game Reserve, with Earth Lodge, Selati Camp, Bush Lodge and an unique wildlife experience.
From:
R13700.00
per person sharing