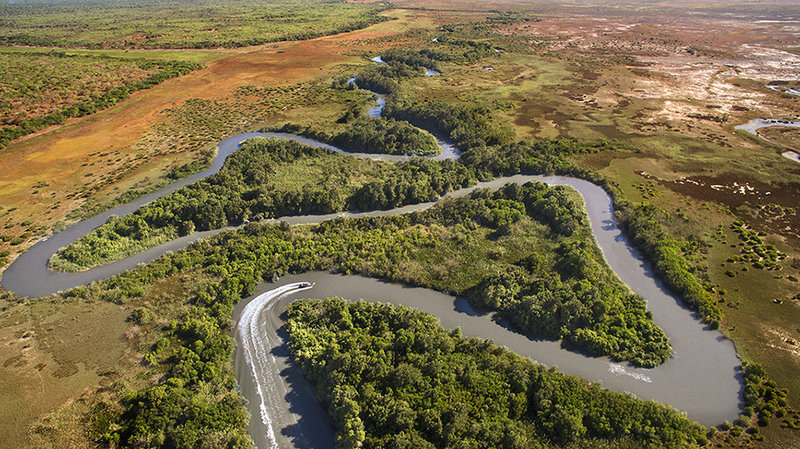 Escape to paradise and experience the blue waters and pristine shores of Mozambique at
Rio Azul
, a new eco-lodge overlooking a blue tidal lagoon that is home to a distinctive ecosystem with access to the warm Indian Ocean. Surrounded by a magnificent mangrove forest that the lodge is dedicated to protecting, it's the perfect setting for travellers with a love of nature and a taste for adventure. Guests can enjoy a variety of guided excursions and activities, or are free to create their own intimate barefoot experiences and privately explore the area's natural beauty.
Experience Rio Azul:
Rio Azul offers serenity in a tropical wilderness both for couples and families alike. Families can enjoy their own tastefully styled beach villa with a private pool on the deck overlooking the tidal lagoon. The warm and clear waters of the lagoon invite you and your kids to snorkel, go for long walks around the peninsula or simply take your own private boat out to one of the sand banks.
You are encouraged to indulge in a wide range of water and beach activities such as guided lagoon and mangrove forest cruises which offer exceptional birding, as well as boat trips to the Bazaruto Archipelago where you are likely to encounter turtles, dolphins and perhaps even whale sharks. Indulge in a beach picnic where freshly caught fish is cooked on an open fire, or go snorkelling in the mangroves spotting colourful fish hiding in the underwater labyrinth that is a vital natural resource. For each couple and family a small private boat is available to explore the blue waters of the lagoon, take a trip to one of the large sand banks at low tide or adventure into the waterways of the estuary. Of course there is always the option to simply relax by the pool or on the deck of your wood and thatch beach chalet. Whatever you choose, be sure to be the creator of your own holiday without compromises.
Dining at Rio Azul is a delightful affair with the freshest ingredients locally sourced and produced, or grown in our own vegetable and herb garden, as well as straight from the sea. Expect Mozambican specialties such as peri-peri chicken and freshly caught prawns. Dinners in particular are always a delightful experience and can vary between relaxed and informal evenings, romantic and candle lit affairs, as well as lively beach BBQs.
Accommodation at Rio Azul:
Rio Azul comprises of five elegant, thatched roof, wooden, beach chalets, with sublime views over the lagoon, and two luxury villas also of thatch and wood construction both overlooking the tidal lagoon from a private deck with its own pool.
Families and close friends can enjoy a jovial shared holiday in the spacious private villas that both have a private lounge with overhead fans and a full kitchen for private dining. The villa is divided into 3 rooms sleeping 6 adults, which are all en-suite. The Villa also has a loft with beds for up to 4 children.
- Fans
- Mosquito netting
- En suite bathrooms with shower and double basins
- Bathrooms are equipped with shower and bath
- Pool
- Dining area
- Bar
- Wireless internet
- Snorkelling equipment
- Fishing equipment is available for hire