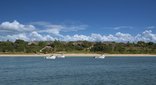 Vila do Paraiso is set in the tropical paradise of Vilanculos, Mozambique. Be accommodated in style in one of our 6, 8 sleeper Villas. Choose from self catering / partially or fully catered options available. Own house butler. Restaurant & Bar on site.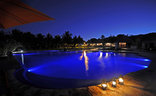 Vilanculos Beach Lodge is situated in the small coastal town of Vilankulo, in the subtropical province of Inhambane, Mozambique. Vilankulo lies approximately 700 kms north of Maputo and 500 kms south of Beira.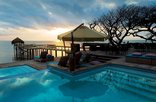 Situated along the Southern Mozambique Coast within 30 000 ha of pristine marine and wildlife territory in the Vilanculos Coastal Wildlife Sanctuary, Dugong Beach Lodge combines two biospheres which make for a unique wilderness and beach experience.
Reminiscent of a gracious era overlooking the turquoise waters of the Indian Ocean, Casa Rex offers travellers a sublime stopover in Vilankulo.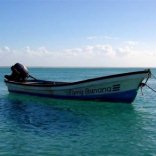 The ultimate in beach front accommodation. 18 beautiful Indonesian styled casa's. The resort provides guests with barbeque facilities in the gardens and the Vista Do Mar restaurant specializes in seafood and Portuguese cuisi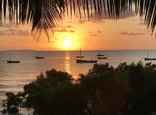 Casa Chibububo offers self-catering wooden houses with a unique style, 2 m above ground level and 20m from the beach. The lodge comprises of 1x 22 sleeper self-catering house, 9 x 8 sleeper self-catering houses, a restaurant, bar and swimming pool.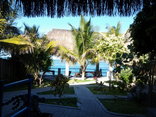 Overlooking The Bazaruto Archipelago we offer accommodation in front of the beach in the vibrant coastal town of Vilanculos. Rooms feature private bathrooms and air-conditioning, and there is also a deck with sea views.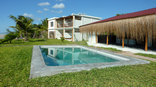 Located on one of the most beautiful beaches in Vilanculos, overlooking the bay of Bazaruto, Mozambique, Casa Babi is designed to meet the needs of travelers, divers and non-divers, who wish to spend some time enjoying our unique decor.
The Bahia Mar Club, found where the azure waters of the Indian Ocean touch the palm fringed beaches of Vilanculos, is the ultimate destination for visitors exploring the fabulous Bazaruto Archipelago in Mozambique.