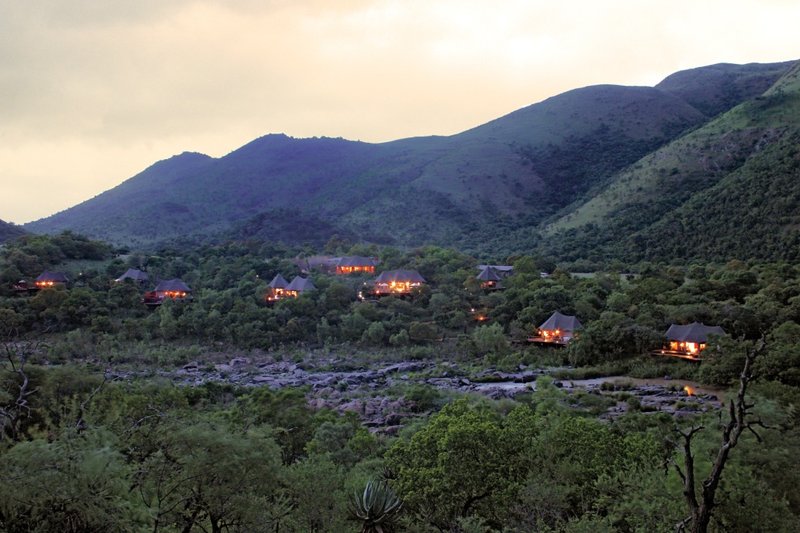 Nkomazi Game Reserve
is a destination of outstanding scenic beauty.
Nkomazi is an ecological Aladdin's cave of natural treasures, from its towering ancient mountains to its broad river valleys and impressive grasslands containing countless animals and rare flora such as the Barberton Daisy. This area is often referred to as the holy grail of geology with some of the oldest rock formations on the planet.
**No Children under the age of 12 years allowed at the Reserve**
Nkomazi Game Reserve Activities:
- Relaxation Retreat
- Mountain Biking
- Fly fishing
- Star gazing
- Guided Nature walks
- Game drives
Lodge Facilities:
- Dining tent
- Majilis lounge tent with viewing deck
- Outdoor boma dining area
- Relaxation Retreat
- Gift boutique
Tent Features:
- Comfort cooling/heating
- Ceiling fan
- International dial telephone
- Tea and coffee making facilities
- En-suite bathroom, with indoor shower
- Outdoor bath
- Private minibar
- Electronic safe
- Hairdryer
- Fitted international adaptors
- Private expansive teak sun decks with private plunge pool
Accommodation at Nkomazi Game Reserve:
Stretching over 15, 000 hectares, Nkomazi is a place where guests can experience tranquillity, witness the free-roaming wildlife and admire the landscapes of scenic beauty under the African sky. The reserve represents a kaleidoscope of Africa's habitats in its ability to support both high and lowveld game species on the high-lying grassland and the low-lying bushveld areas therefore supporting an ecological balance.
Nkomazi boasts 10 luxury tents at Komati Tented Lodge. These tents are specially positioned to blend into the landscape and linked by walkways and paths through the bush. All tents are furnished with luxury campaign style furniture, creating a traditional "Out of Africa" feel with all the added comforts and luxuries of 5-star accommodation.
Situated on the banks of the Komati River, surrounded by towering mountains, broad river valleys and impressive grasslands, Nkomazi offers unique safari based activities to allow for a complete tailor-made experience.
Tent Configuration
All 10 tents can sleep a maximum of 2 adults per tent.
- 9 King bedded Noble Tents
- 1 Royal Tent with private lounge tent
All meals are included in the rates. Meals are served in the dining tent or in the boma, depending on the weather conditions.
Check in times: 15h30 (Gate pick-up time is a 14h30)
Check out times: 10h00 (Transfer time to gate is at 10h00)
Amazing value, excellent food, friendly accommodating staff. The accommodation was superb, our guide went out of his way to show us the animals informing us as we went and was always careful to conserve the nature reserve. Will definitely be going back.