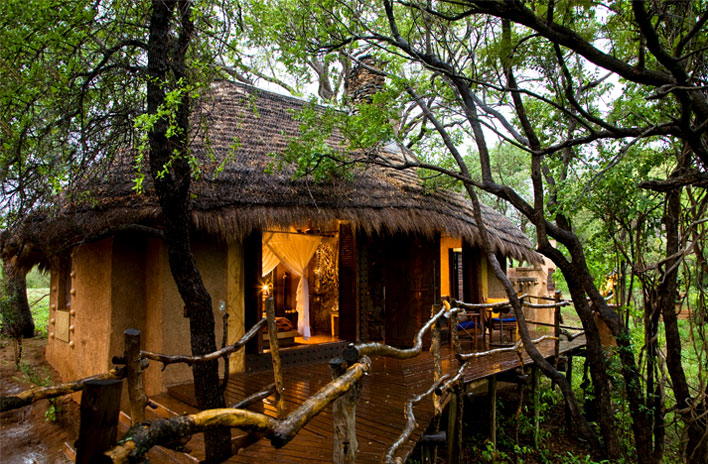 Considered one of the leading pioneers in ecotourism in South Africa,
Makalali Private Game Reserve
is home to over one thousand wild animals including Africa`s "Big Five". Experienced guides will take you on open air game drives or on guided bush walks and introduce you to a whole new world of bush lore and animal habits.
Dining is very casual and relaxed, but where the emphasis is on mouth-watering cuisine, which will tempt even the most jaded appetite. Our chefs prepare a variety of African dishes, where the accent is on a fusion of flavours, from the popular South African 'braai' (barbeque) to the traditional potjiekos. Experience a traditional boma dinner, around a fire under the African stars or a delicious bush breakfast to start your day
Makalali, unlike most game reserves, is very child-friendly, and offers a range of activities and kiddies menu, aimed specifically at entertaining and caring for our younger guests. The Lodge is also perfect for small conferences, romantic weddings, private dinners and our experienced staff will provide the necessary expertise to make your event a resounding success.
Makalali Private Game Lodge
encapsulates the spirit of Africa, with its warm, traditional hospitality and its breathtaking location. Come and be prepared to experience a destination which will captivate and leave you with unforgettable memories.
Makalali is situated in a malaria area and precautions are essential. We recommend long sleeved shirts and trousers for game drives and the evening. Mosquito nets and insect repellent are provided in your room.
Bring comfortable, light clothing, walking shoes, sun hats and sunscreen plus a swimsuit in summer and warm clothing for game drives in winter.
Accommodation at Makalali Private Game Lodge:
Accommodation
The lodge consists of three camps - Tandane, Mkhiwa and Emtomeni. Each camp has six luxury suites, a plunge pool, private viewing deck, dining area and boma. All the camps are private, yet within easy access of one another and are all situated on the banks of the Makhutswi River.
Tandane camp
Tandane means "place of love". The centre consists of a unique thatch-covered main building, an open kitchen and entertainment area. This is Makalali's conference venue and ideal for conferences, private dining, weddings, gala events, etc. The use of flame torches creates a mystical and fiery African ambience at night.
Mkhiwa camp
Mkhiwa means Sycamore Fig and is named after the large fig tree which stands over the main area creating some welcome shade.
Emtomeni camp
Emtomeni, Mkhiwa's sister camp, means Jackelberry tree. This camp is able to accommodate groups who require more than six rooms at a time. However each camp can still run separately with its own dining area, to create that personal touch.
Luxury Suites
Suites have an en-suite bathroom plus an outdoor shower, fireplace and a raised, private, timber viewing deck (sala) set amongst the Jackalberry trees. The sala is an ideal spot for a private luncheons or dinners.
Rooms are individually decorated in African design styles with sculptured metalwork lamp shades, taps and ceramic basins and Mosquito nets.
Room Facilities:
- insect repellent
- mosquito nets
- electronic digital safe
- hairdryer
- bathrobes
- ceiling fans
- air conditioning
- fireplace stocked with logs from the reserve
- shaver plugs
- electrical outlets provide 220 volts, alternating current 50 (Hz)
- insect proof screening on all windows and sliding doors
Dining at Makalali Private Game Reserve:
Dining at Makalali is a culinary adventure. The cuisine is a combination of regional African cuisine which represents a melting pot of cooking styles left behind by centuries of exploration on this great continent. Our waiters are called Muchinda's, which means a servant to the king, and guests are treated accordingly.
Dining is casual and relaxed and at Makalali, our chefs provide an array of dining experiences, from dinner in the bush or the legendary 'boma dinner' under the stars. Other options include the indoor-outdoor dining area where you can enjoy a plated dinner or a more casual family style dining with other guests. The private 'sala' dinner is ideal for guests wanting a romantic setting for an intimate occasion.
We understand that children enjoy lighter, smaller meals and we have therefore catered to their specific needs. This menu has a choice of all their favorite foods to satisfy their taste buds. Our chefs have prepared appetizing meals using fresh, healthy ingredients and these include favorites like: Fish & Chips, Spaghetti Bolognaise, Hamburgers, Roast Chicken with Rice and Pizza. Please liaise with your Camp Manager / Chef to arrange your children`s meals.
Banqueting Functions & Events
Makalali is renowned for its cuisine and has been nominated as one of the "Top ten eating establishments in SA". Our chefs can provide an array of dining experiences for any function or event and will customize a menu especially to your requirements. Choose to dine at our entertainment centre, a legendary "boma" or under the African stars in the bush, the choice is yours.
Facilities:
Wedding Services
Makalali is a very special place to tie the knot. Here, excellent service, superb facilities and the spectacular bush setting all go hand-in-hand to create a unique location for your special day. Surrounded by nature and wildlife, you and your guests will have a memorable experience forever.
Babysitting
Makalali offers a child care service, where babysitters will attend to your children during meals and game drives, etc. Please notify your camp manager should you require the above-mentioned service. There is a standard fee for babysitting per hour.
Gallery / Curio Shop
The Makalali Gallery features a unique selection of arts and crafts from all over the African continent. Please speak to your ranger or camp manager to arrange a visit to this facility.
Private Landrover
Subject to availability and prior notice, this service can be provided.
Airstrip
A gravel airstrip is available for private charters. The runway is not fenced and thus careful lookout for animals and birds is advised. Prior permission is required before landing.
Swimming Pool
Swimming towels are provided for use at the poolside. Place your bar order with your 'michunda'. We recommend that you do not use your camp swimming pool after dark unless it has been arranged with your camp manager.
Therapist – Massage Treatment
Pamper yourself with a massage from our in-house therapist. Costs are available on request.
Board Games
There are a number of board games available at the reception for your families' entertainment.
Room Service
Should you wish to enjoy our private dining service, please advise us and we will arrange accordingly.
ATTRACTIONS/ ACTIVITIES:
Rafting/ Abseiling
Makalali is located close to the mighty Olifants River in South Africa's Limpopo Province. Makalali staff can arrange river rafting and abseiling excursions for guests.
Hot air balloon rides
We offer morning or afternoon rides for up to 10 guests per balloon ride. However, these hot air balloon rides coincide with the game drives.
Golfing Excursion
Golf excursions can be arranged to the Hans Merensky Golf Course, next to the Kruger National Park. Your camp manager will book your game.
Cheetah Breeding Project
The Cheetah Breeding facility specializes in the captive breeding of cheetahs and other animals. Essential research is also being conducted on other endangered species.
Cultural Experience
Makalali can arrange an experience of the local Shangaan culture at a tribal museum. Day to day tasks and activities are performed, just as their ancestors did.
Moholoholo Animal Rehabilitation Centre
Visit the Moholoholo Animal Rehabilitation Centre for a hands-on experience with African wildlife being rehabilitated for return to the wild.
Panorama/ Escarpment day trip
Enjoy the splendour and history that lies embedded in and around Makalali's borders and the greater lowveld area and Drakensberg escarpment. This full day trip will take you onto and through the rugged yet picturesque plateau of the Drakensberg Mountains and through the Lowveld plains. Places of interest include the Blyde River, Bourke's Luck, Pilgrims Rest and Graskop.
Tribal dancing and drumming
We are able to arrange tribal dancing and drumming performed by local dancers. This is available at an additional cost.