Welcome to Karoo Lodge.
Where else in the world will you find a sky painted from a different palette each day, 5 natural water sources feeding a bountiful almost subtropical valley, majestic mountains standing guard over the sun drenched Karoo plains, delicious hearty meals, outstanding accommodation and the most wonderful and hospitable hosts?
Karoo Lodge nestling in two acres of tranquil gardens, is a haven to the most discerning traveller passing through this oasis of the Great Karoo.
Take time, enrich your life and discover the hidden jewel of the Karoo - Prince Albert, whilst enjoying the quality and comfort offered at Karoo Lodge.
Your hosts, besides being most caring and hospitable, are an absolute fountain of information when it comes to Prince Albert and the surrounding countryside.
Accommodation
Drive through the gateway down the tree- and shrub lined driveway to the secure well lit parking area where you will no doubt be met by your hosts.
In the temperate winter months a welcome sherry will be provided to dispel any thoughts of winter, whilst in summer a refreshing iced tea cooler is offered to be enjoyed either in your spacious suite, on your private patio or at the pool deck.
Each suite has a private entrance easily accessible from the garden and is beautifully furnished with comfortable beds, a lounge and a separate dressing area.
Bed linen is 100% cotton and both goose feather and down and anti allergic sponge pillows are supplied, together with bath sheets and toiletries.
The bathrooms are luxurious and very unique. Large corner baths and very large showers which have beautiful floors adorned with river pebbles from the area. All ceramics and faucets are of continental design and origin.
Karoo Lodge suites are all equipped with tea and coffee making facilities, drinking glasses, ice-bucket, cold water flasks, a mini bar fridge (unstocked), ceiling fans, clock radios, 3 and 2 point electric sockets (220/30 AC) and hairdryers.
Cuisine
Those in search of authentic South African Cuisine with the influences of the Karoo, need to go no further than the Karoo Caffé. At the Karoo Caffé you will find the forces of North –South and East at work bringing together our ancestry, coming from all parts of Europe, of the East, and not least, from Africa.
Here in the Karoo we have the true organic foods. This kaleidoscope , this "Rainbow Nation", apply not only to the people, but to the gastronomic delights of the Greater Karoo.
Karoo Caffé caters for most special dietery requirements subject to prior arrangement.
Activities
Things To Do include:
- 4 x 4 trails
- Albert's mill
- art gallery
- astronomy
- bird watching
- buildings
- dairy tours
- scenic route drives
- fossils
- golf
- hiking
- museum
- mountain biking
A very neat and relaxing place. I will definitely go back.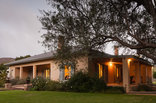 For luxury accommodation in Prince Albert, Western Cape, At 85 on Church is centrally located and close to all amenities. It is a spacious home with three bedrooms and three bathrooms set in a large, established garden with swimming pool and barbecue.
From:
R380.00
per person sharing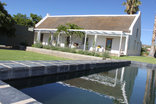 Grading:

Guest Rating:

(1 review)
African Relish is a Recreational Cooking School, set in the Karoo town of Prince Albert. Our culinary hall is the only purpose built facility of its kind. Here our guests will enjoy luxury accommodation and discover the culinary pulse of the country.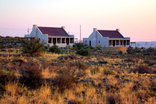 We would like to welcome you to our 4 Star child, wheelchair & pet friendly luxurious accommodation married with all your "home from home" comforts overlooking the village of Prince Albert.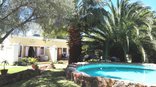 Satour/Portfolio accredited. True Karoo hospitality at this spacious Victorian home (circa 1865) 5 double en-suite garden bedrooms. Hearty Karoo breakfasts. S/pool in park like garden with views to the Swartberg Mountains. German and French spoken.
From:
R400.00
per person sharing
Grading:

Guest Rating:

(1 review)
Three star restored Victorian Hotel-Historical Monument-14 en suite bedrooms, 5 garden cottages,Sattelite TV, swimming pool,Two air conditioned restaurants and ladies bar
From:
R500.00
per person sharing