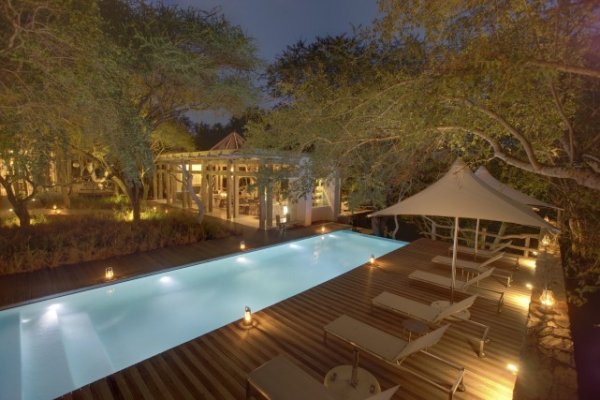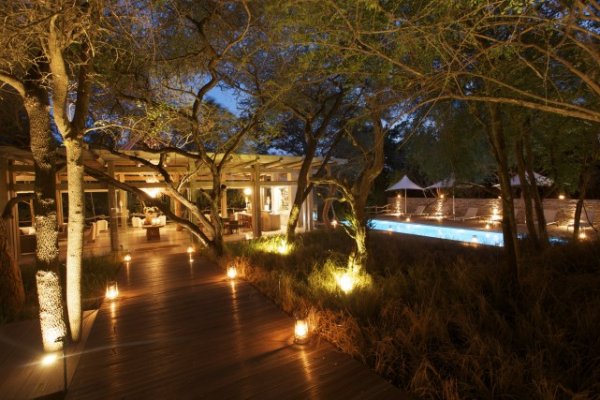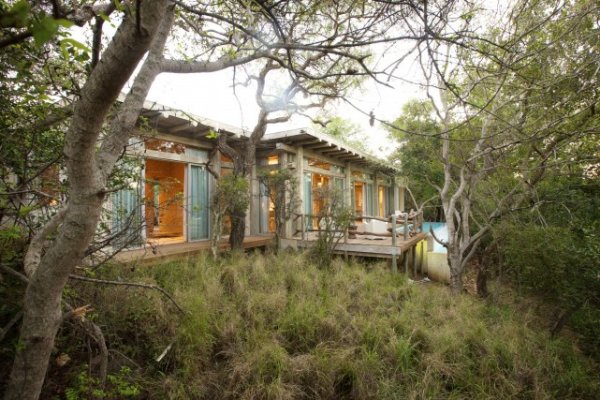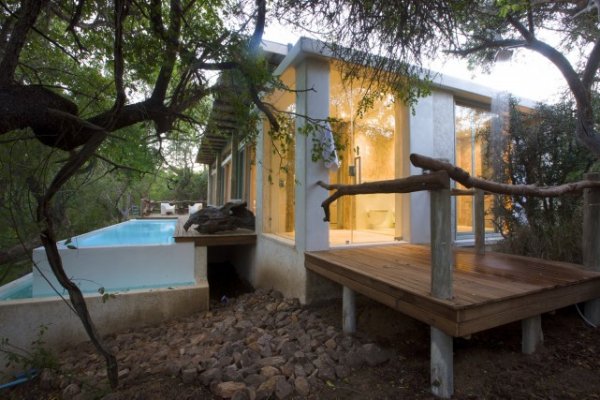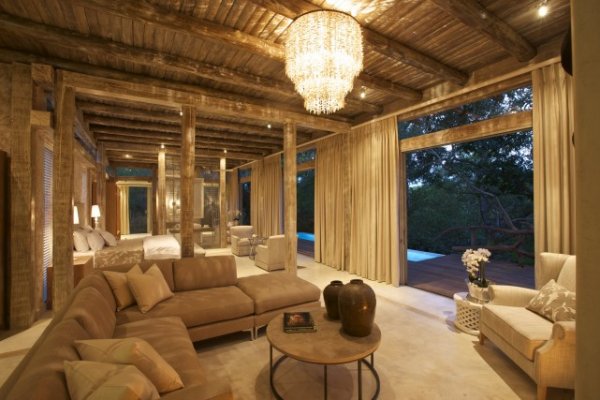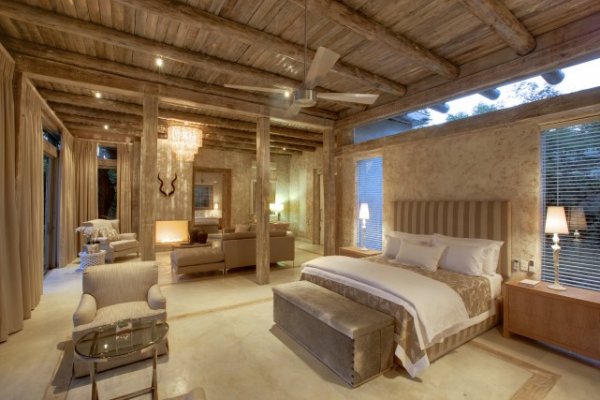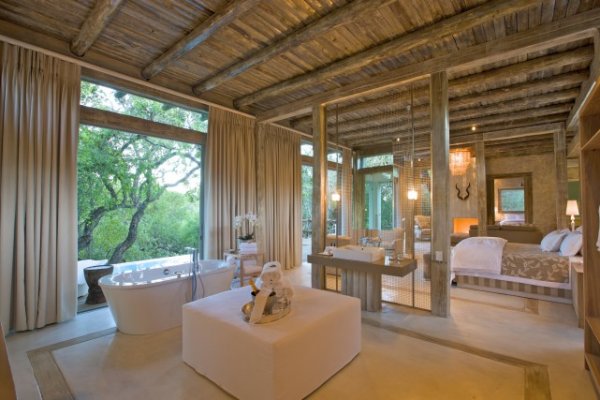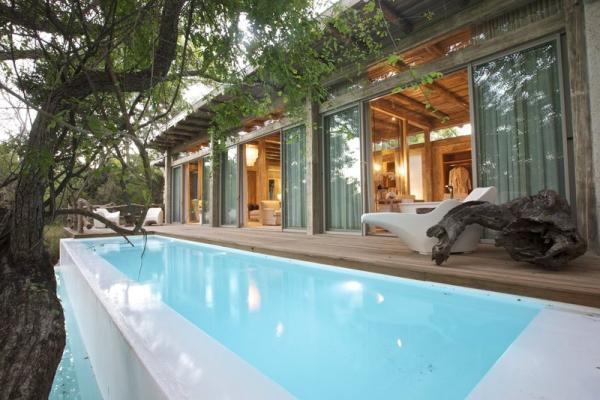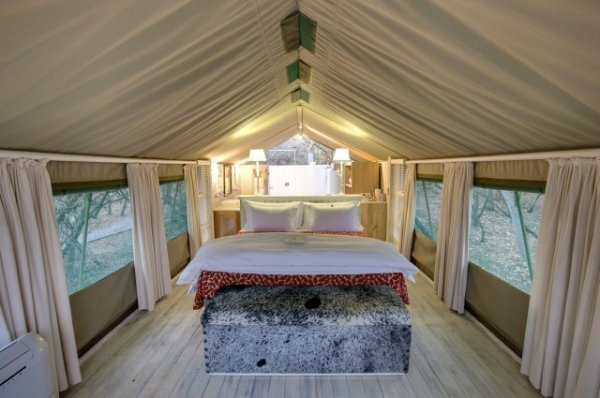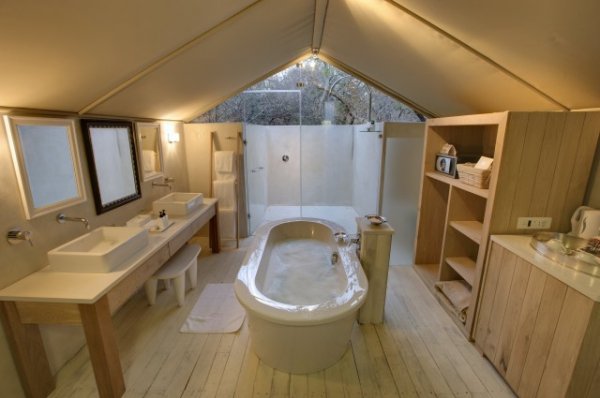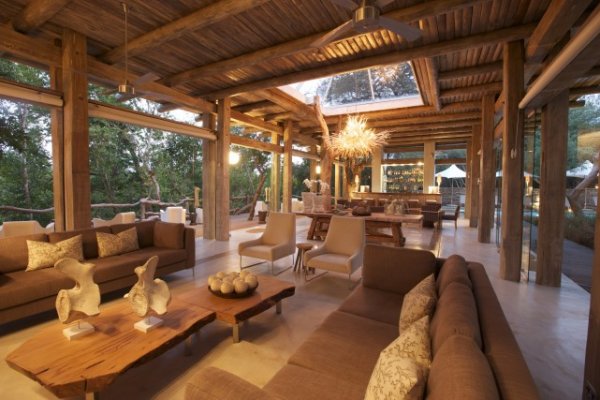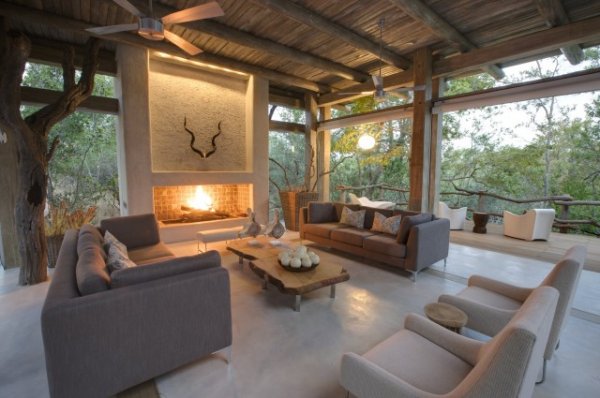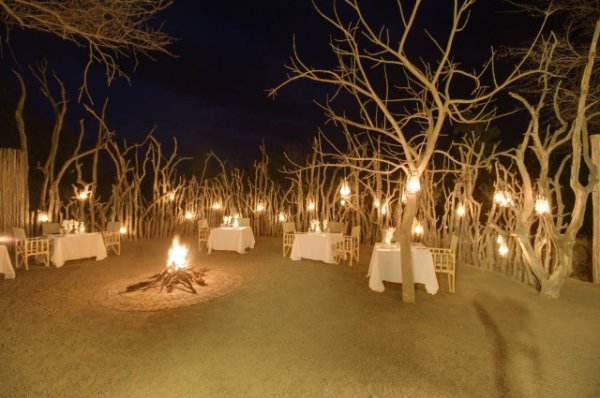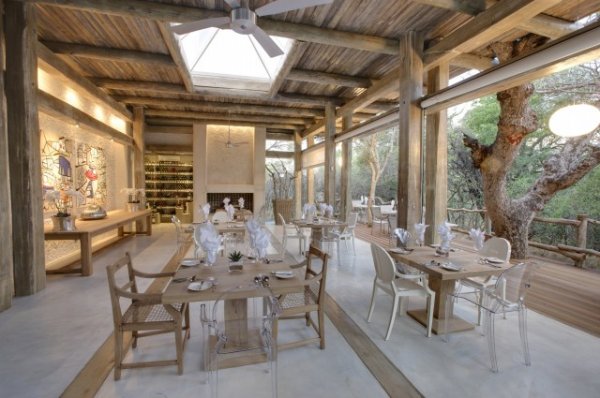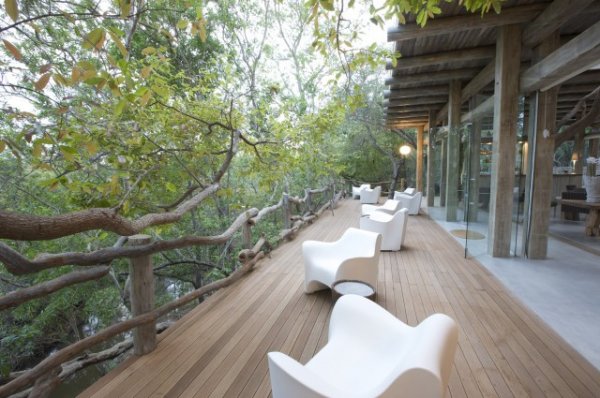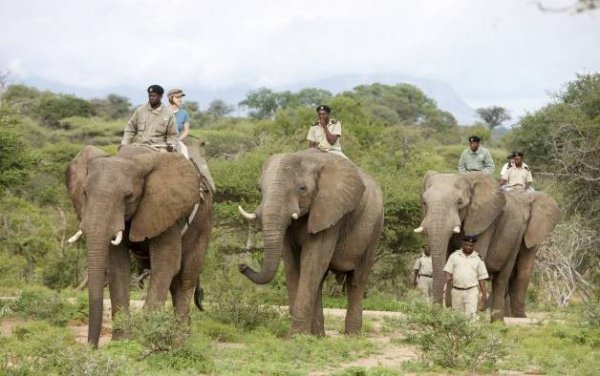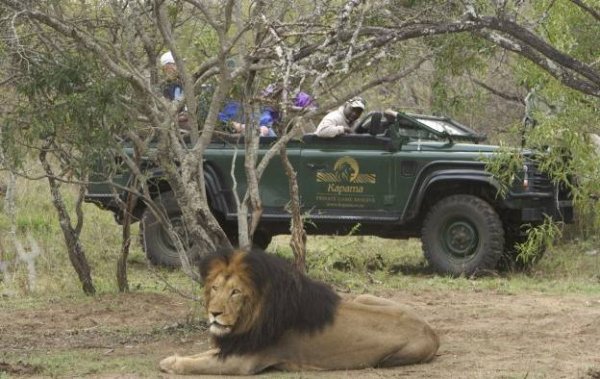 Previous
Next


















Book Now
Located within the Kapama Private Game Reserve and set on the banks of the Klaserie river which flows throughout the year, the seven luxury tents and five exclusive suites that make up Kapama Karula "the place of peace" are in every way true to their name.

The river glides smoothly forming sparkling pools that attract smaller riverine animals and a myriad of birds in every season.

Kapama Private Game Reserve is in Limpopo Province, an area renowned for superb safari vacations. Kapama's 13000 hectares has all the big game of Africa with 42 mammal species and approximately 350 bird species.

This equates to huge natural diversity and includes the famed "Big 5" lion, leopard, elephant, buffalo and rhino. Game drives are conducted through the rolling savannah grasslands and riverine forests that make up this appealing African reserve.

Kapama Karula Accommodation:
This extraordinary camp, based on the recently acquired Gwalagwala camp has now been rebuild into one of the finest Camps in many respects. Consisting of seven luxury air-conditioned tents and five large exclusive suites are the epitome of luxury.

Each with a his and hers basin, inside and outside shower and sliding glass doors that will wrap around the suite 260 degrees to offer guest the opportunity to have unrestricted views onto one of the most sought after locations the Klaserie river.

The 115m suites are air-conditioned and comes with every form of luxury most can think of.

The new lounge, dining room, bar, pool and pooldeck as well as other guest entertainment areas will impress the best of connoisseurs. All of course with unrestricted views onto the Klaserie river.

Game Drives (included in the tariff)
Expect a wake up call at between 5am and 5.30am and gather for tea or coffee and rusks before heading out at first light. If you are lucky, the big cats will still be around after their night of hunting.

This is Big 5 country (Lion, Leopard, Elephant, Rhino and Buffalo) all of which are possible to see during a two-day safari in Kapama Game Reserve.

There are also many other species to be seen, large and small, as well as fascinating plants and colourful birds. Stop halfway through the morning game drive for hot drinks and rusks from the Landrover snack box and return at around 9am for breakfast. During the rest of the day, you are likely to see wildlife like nyala antelope and vervet monkeys around the lodges.

Bush Walks (included in the tariff)
Get some African soil under your feet with a bush walk after breakfast. Explore the environment with your ranger, learn about curative properties of plants and identify animals from their footprints and dung.

Large game is avoided when on foot but animals can often be seen from a safe distance. Please note that this will be done under ranger discretion.

Kapama Wellness Centre
Exquisitely nestled in the African bush is a piece of paradise designed to uplift your mind, body and soul. Complete with a state of the art gym, equipped with cardio and weight training facilities, the centre energizes and uplifts in the healing presence of nature.

While connecting with the call of the wild indulge in an array of uniquely designed spa treatments. These include facial, body and beauty treatments. Two signature treatments romantically merge the needs of couples. The Marula Rasul Steam Treatment is a sensual experience for two. Merging the wisdom of the Orient with the raw energy of Africa, this magical treatment balances the elements of water, fire, earth and air within the body.

Another unique treatment for couples is the Kapama Pinotage Bliss; combining a deep body massage with an aromatic bathing experience in a detoxifying vine extract.

Hot air Balloon
The giant candy-striped balloons lift off at first light and drift at the mercy of the wind for about an hour. This usually means that you pass right over Kapama Game Reserve and the skill of the balloon pilot is such that you can skim the top of the trees and spot the wild animals below.

The hot air balloon landing can be bumpy, so hold on tight then celebrate with a glass of bubbly. This memorable experience is highly recommended.

Elephant Back Safari
This is an once-in-a-lifetime opportunity here in Kapama Private Game Reserve to ride on the back of an African elephant. Meet the herd in the early morning or late afternoon and learn just how to get onto the back of an elephant and move to its rhythm as they walk through the bush.
Clothing and Accessories:
Our summer months are from August to April with the hottest period from October to February. One should expect rain storms or drizzle on any of these days. It hardly ever rains continually though and generally the rain storms last for only an hour or so.

We provide rainproof ponchos for guest to use on the vehicles during game drives and there are sufficient umbrellas for guest to use at the lodges.

Our winter is from May to July with the coldest period being towards the end of June and July. We provide fleece blankets for guests to use on the vehicles during game drives.

During our winter months
It may at times be very cold during in the early morning and during the evening safari. A warm fleece jacket, a fleece scarf and a warm hat will be needed. A warm pair of gloves may also be an added advantage. You may also want to bring a warm track suite to wear instead of a dress or light trousers.

During the summer months
Although it is not generally very cold during these months is may be chilly in the early morning so it is advisable to bring a light warm jacket and a hat that will not blow off in the wind.

You may also want to pack some short sleeve shirts and short pants for the trip as the midday temperatures can be extremely warm during this period.

Pack a costume as you might want to spend the noonday period lazing around one of our swimming pools. We have swimming pool towels available for guest use at all our lodges.

Because of the heat it is also advisable to bring sun screen or a sun block lotion with a high protection factor. You may also require some lip balm and sunglasses.

Insect repellent is also something that could come in handy and this may be in the form of a lotion or repellent spray. The rangers also have repellent spray available on their vehicles should you run out or mislay yours.
Health and Climate:
Kapama Private Game Reserve is situated at an approximate altitude of 500m above sea level and enjoys moderate temperatures throughout the year.

Summer weather is experienced in October, November, December, January, February and March. Day time temperatures can reach highs of 42ËšC and lows of 20ËšC, this is also the main period when most rain falls, receiving approximately 550mm of rain annually.

The colder winter months of May, June and July experience daytime highs around 26 degree C and night time lows of 8 degree C. The spring and autumn months represent mid points between the hot and cool seasons.
Rooms and Units Available:
Family Superior Suites
Fully inclusive of meals and game activities. Suitable for 2 adults and 2 or 3 children.
Sleeps 5 Adults
---
Superior Suites
30 square meters and each have inside outside showers, his hers basins, bath, full mini bar fridge, coffee station with coffee machine, safe box, air conditioning, overhead fans, telephones, international adapter, WiFi connection, gas fireplace.
Amount of similar units: 10
Sleeps 2 Adults
---
Facilities & Services available:
Children under 12
Honeymoon Couples
Airport Shuttle Service
Babysitting Service
Laundry Service
Dining room
Gym
Spa
Cots available
Curio Shop
Fax & Photocopy Machine
Internet Access
Parking (off-street - open)
Afrikaans
English
Hiking / Walking Trails
Swimming Pool
Cancellation Policy:
if cancellation is received prior to 3 weeks before date of arrival, 75% of the payment will be refunded and a cancellation fee of 25% retained. Less than 3 weeks prior to date of arrival - No refund will be given
Directions:
Via JOHANNESBURG, N12 or N4, WITBANK, BELFAST, DULLSTROOM, LYDENBURG, R36 to OHRIGSTAD, STRIJDOM TUNNEL, HOEDSPRUIT, R40 to KLASERIE, KAPAMA

Take either the N12 or the N4 from Johannesburg to Witbank and Middelburg. Turn onto the R540 towards Belfast, Dullstroom and Lydenburg. Dullstroom is set on the highveld and is an ideal point for exploring the region.

The village has a quaint old-world atmosphere and is famous for its trout fishing. This is an ideal halfway stop on the way to Kapama Private Game Reserve. From Lydenburg proceed on the R36 to Orighstad, through the Strydom Tunnel to Hoedspruit.

This scenic drive through Mpumalanga has awesome landscapes and unforgettable views. Drive up the mountain passes onto the escarpment and look down onto the wonders of the lowveld. At the Strydom Tunnel there are a number of stalls selling ethnic curios from the area.

At Hoedspruit, take the R40 to Klaserie.

For Kapama Lodge, continue on the R40 and turn left at the Eastgate Airport turn-off and continue for 15 km. Turn right at the Guernsey turn-off and continue on the gravel road for another 10 km. The Kapama Lodge entrance will be on your left-hand side.

For Kapama River Lodge, Buffalo Camp and Kapama Karula, continue on the R40 until you reach the entrance on your left-hand side.
---

Click to display the map