The distinct thatched peaks peeping over the tree-line with hints of burnt orange flashing through lush Leadwood indicate your imminent arrival at
Hoyo Hoyo Safari Lodge
, set on the banks of the Mluwati River in the heart of the Kruger National Park.
The unique architecture is a celebration of the local Tsonga culture and integrates traditional suites with splashes of tribal design and the earthy tones which define the interiors. The overall effect encapsulates the hearty spirit of warmth and welcoming that is so characteristic of the Tsonga people. Expect an authentic encounter with the local Tsonga culture in extraordinary bush surroundings; the Kruger National Park, one of Africa's renowned conservation areas and home to the Big Five.
Join the cape-turtle doves and arrow-marked babblers welcoming in a new day as you head into the bush for a feast of the senses; the smell of damp grasses: pinks, oranges and yellows of the gorgeous African sunrise and the hissing of hundreds of crickets preparing for a warm bush day. Spend an afternoon lazing at the infinity pool, watching the monarch butterflies flit past while the geckos scurry across the deck, or retreat to the comfortable lounge for a quiet read surrounded by traditional Tsonga craft and the light breeze of a relaxed afternoon.
Accommodation at Hoyo Hoyo Safari Lodge
Guests are accommodated in six circular air-conditioned Tsonga traditional suites with traditional earth-coloured walls and tapered thatched reed roofs. Tsonga tradition runs throughout these comfortable traditional suites; the warm glow of brightly coloured walls, traditional ornaments and little embellishments on lamps, door handles and mirrors bring this local culture to life.
Relax on your private deck looking out on to the bush, take a long, leisurely shower in the open air or melt in to your comfortable king-size bed for an afternoon siesta. It is a relaxing, informal bush experience on your terms.
Room facilities and amenities include:
- Safe
- Hairdryer
- Separate bath and outdoor shower
- Bathroom amenities
- Insect repellent
- Mosquito Nets
- Umbrellas
- Air Conditioning
- Tea and coffee-making facilities
Facilities at Hoyo Hoyo Safari Lodge
Hoyo Hoyo Safari Lodge
offers indulgent spa treatments and a soothing massage in the seclusion of your private deck with the scents of ylang ylang, vanilla and cedarwood soothing body, mind and soul. There is no Wi-Fi or cellphone signal at this exclusive and remote safari lodge, allowing complete relaxation for our guests.
The sparkling swimming pool promises a refreshing dip while providing the opportunity to enjoy the rich and varied wildlife that comes to the river for a cooling drink.
Additional Information about Hoyo Hoyo Safari Lodge:
The camp is situated in a Malaria area. Gate entry fees are applicable and are charged per person per stay.
Please Note Kruger Gate Times:
05h30 – 18h30 – January, February, November & December
05h30 – 18h00 – March & October
06h00 – 18h00 – April, August & September
06h00 – 17h30 – May, June & July
All guests must enter at Orpen Gate a minimum of 1.5 Hours and Paul Kruger Gate 3 hours before gate closure. PLEASE NOTE: If guests
are not in time at the respective gates, they will not be permitted to enter the park and they will have to find alternative accommodation
for that night.
Bird Watching
Our guides are more than happy to share their unrivalled knowledge of our feathered friends with our guests. There is so much to learn about birds on our concession. From the fierce marshall eagle to the smallest and most delicate blue waxbill.
Self Drives
Enjoy the wonders of Kruger from the comfort of your personal vehicle or rental car. Stop off at one of the many picnic sites for an ice cream or an ice cold drink during summer time.
Bush Dinners
Join us for a lovely dinner under the African Skies, in an unfenced area of our private concession in the Kruger National Park. This is a privilege that is reserved for our guests only. Nowhere else in Kruger will you be able to dine with the Big Five.
Imbali is in a malaria area and malaria tablets are recommended all year round (Please consult your doctor). Hoyo Hoyo Safari Lodge is in a high-risk malaria area, guests are advised to take maximum precaution. Water is safe to drink, while bottled water is placed in your room, courtesy of Hoyo Hoyo Safari Lodge, Kruger Park.
Climate
Summer: Min Temp 17 C / 63 F – Max Temp 37 C / 99 F Winter: Min Temp 9 C / 48 F – Max Temp 28 C / 83 F
Summer rainfall region, generally hot in summer.
Thunderstorms often occur in the late afternoon, but do not last long. Winters are dry, with cold nights and early mornings.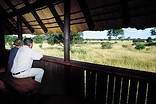 Guest Rating:

(3 reviews)
Talamati Camp is situated in a large open valley, affording superb game viewing opportunities. The luxuriant grassveld in the area attracts large herds of grazers, and the predators never lurk too far behind.
From:
R1488.00
per unit, Max: 3