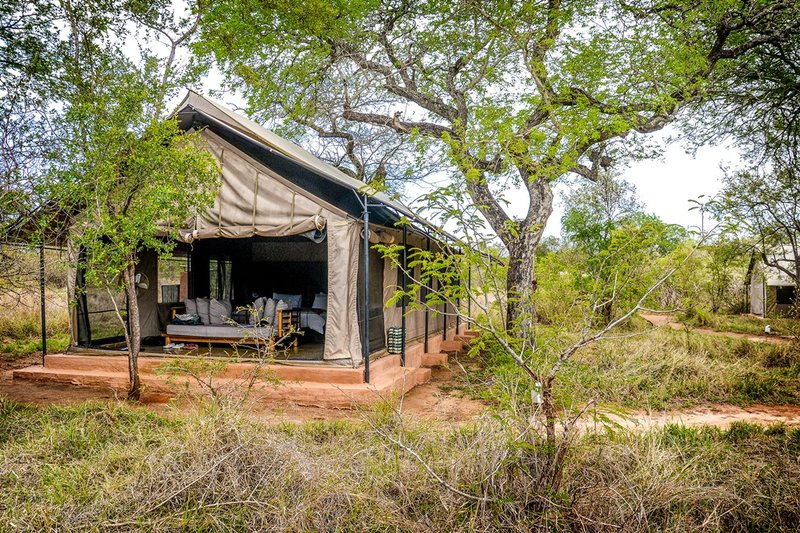 Honeyguide Khoka Moya Camp
is situated on the border of the Kruger National Park in prime Big Five Country - the beautiful and unexploited 23000 hectare Manyeleti Game Reserve. In the vast Manyeleti, Honeyguide feels utterly remote, yet is a short flight or a scenic 6 hour drive from Johannesburg.
At Honeyguide Khoka Moya Camp guests are accommodated in exclusive tented-suites, offering the nature lover a close encounter with the sounds and ambience of wild Africa without sacrificing luxury ,safety or comfort.
True to its Shangaan name, Khoka Moya provides the ideal venue "to capture the spirit" of the African bush and experience the essence and exhilaration of living close to nature. It is a haven to those in search of solitude, silence and contemplation.
The communal lounge, dining and bar area encircles an open artrium where al fresco evening meals are served around a massive log fire. The climate-controlled wine cellar offers many fine South African vintages to meet your personal tastes. Manicured green lawns flow throug to the pool and outside bar.
Accommodation at Honeyguide Khoka Moya Camp:
Honeyguide Khoka Moya Camp is situated on both sides of a riverbed, and offers an authentic African experience without sacrificing luxury, safety or comfort.
Simply designed and built of corrugated iron, the large colourful lounge and dining areas of the camp overlook green lawns leading to the swimming pool.
Honeyguide Khoka Moya comprises 15 large tents furnished in a contemporary yet comfortable style.
Each tent is en-suite with king sized bed with a double shower and separate toilet. A private outdoor seating area in front each tent allows guests to relax and take in sights and sounds of the bush.
Rooms:
Khoka Moya Camp is situated on both sides of a river bed, offering an authentic African experience without sacrificing luxury, safety or comfort.
Guests are welcomed at our large, colourful lounge and dining areas of the camp overlook the green lawns which lead to our swimming pool. At Khoka Moya we also have an extensive climate controlled wine cellar and bar.
Each of the 12 large tents are furnished in a comfortable, contemporary style. Each tent has king sized beds we can (convert these to twins should this be required) and a large sized day bed. The tents are en-suite with double showers,his & hers basins and a separate toilet.
Khoka Moya Camp welcomes children of all ages. The tents measure 60 square metres and can comfortably
accommodate families of four, all protected with mosquito nets.
Babysitting can be arranged at Khoka Moya Camp, provided advanced notice is given for the necessary arrangements
to be made.
Honeyguide Khoka Moya Camp Activities:
Guests awake at first light to the sound of beating drums.
The next sound is that of footsteps as waiters serve tea, coffee or fruit juice in the tents.
A morning safari in an open game drive vehicle led by an experienced guide and tracker for about 3 hours traversing part of the large Manyeleti concession. During the drive, you will stop for tea or coffee and light refreshments.
On return to camp, you will have time to freshen up before enjoying a hearty breakfast.
After breakfast, guests are invited to join a short foot safari to explore the small wonders of the bush with an emphasis on the abundant bird, insect and plant life in the proximity of the camps.
For safety reasons, children under the age of 16 years may not go on foot safari outside the camp perimeters. However a variety of activities will be available for them to enjoy.
Guests may also choose to relax at the pool, browse through the small library or retire to their tents.
The afternoon begins with a three-course lunch served in the dining area.
After lunch, guests will have time to return to the tents to collect their jackets, cameras and binoculars in preparation for the afternoon game drive.
The afternoon game drive will take about 3 hours. Guests are reminded to take warm clothing as the drive continues into the night enabling guests to experience the sounds of the night and affording a view of the nocturnal animals.
During the afternoon game drive, guests will stop at suitable spot for sundowners and light refreshments.
Game Drive Times
Summer time
Morning game drive - 06h00
Afternoon game drive - 16h00
Winter Time
Morning game drive - 06h30
Afternoon game drive - 15h30
Honeyguide Khoka Moya Camp Map:
Our experience at the Honeyguide Khoka Moya Camp was excellent. The tent accommodations were spacious, clean and comfortable. The staff were friendly and helpful. Most importantly our safari guide and tracker were superb and extremely knowledgeable. They took into account unique interests of each of the members in our party, going out of their way to track and find giraffes (which appeared to be scarce), finding leopards, lions, hippos, rhinos, spotted hyena, etc., etc. and taking time to explore the smaller insects (termites, spiders, beetles, ...) for the entomologist in the group. We would highly recommend Honeyguide Khoka Moya.
We had a fantastic time. The tented camp is brilliant. We enjoyed every minute of it and the food is fantastic.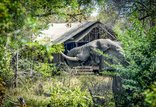 Mantobeni Camp is designed to reflect Hemingway's Africa. There are 12 Luxury en-suite tents which are nestled in a Tamboti grove overlooking a dry river bed. Our main area is comprised of a large lounge area,a splash pool & sun loungers and full bar
From:
R4300.00
per person sharing