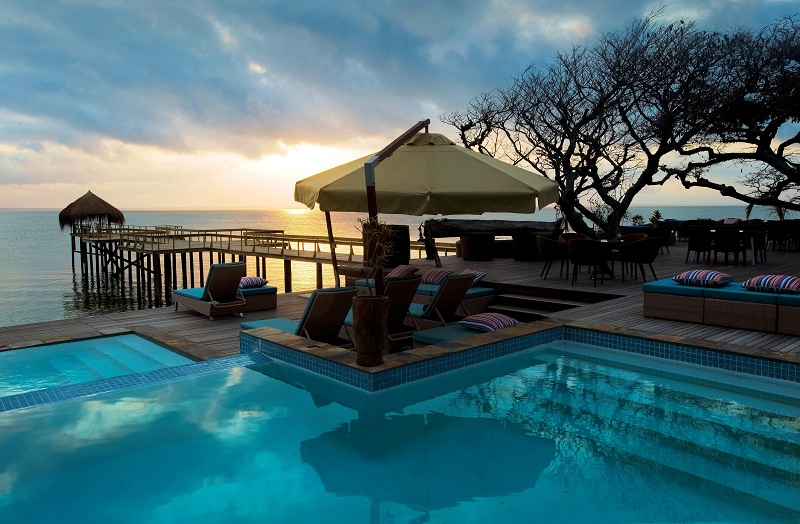 Dugong Beach Lodge
, discover paradise on the East African seaboard.
Situated along the Southern Mozambique Coast within 30 000 hectares of pristine marine and wildlife territory in the Vilanculos Coastal Wildlife Sanctuary, Dugong Beach Lodge combines two biospheres which make for a unique wilderness and beach experience.
Please Note
Due to the remoteness of Dugong Beach Lodge power is obtained from a combination of solar and generator power. The generator operates for a few hours as the sun begins to set until approximately half an hour after the last guest has gone to bed. Limited essential lighting & ceiling fan can still operate after the generator has been switched off due to solar power.
The water has been professionally tested and although it is safe for drinking, mineral water is available.
Accommodation at Dugong Beach Lodge:
Kick off your shoes, get the sea sand between your toes, relax and enjoy the endless, unprecedented beauty of Dugong Beach Lodge. Experience a delightful picnic on a deserted island, enjoy leisurely walks on a perfect white-sand beach with translucent waters, marvel at the spectacular vistas at Worlds View or sip cocktails in the interflowing pool with an island-style bar and martini seats offering spectacular views of the ocean.
The Lodge offers 14 luxuriously appointed, air-conditioned chalets with direct access to the beach via individual walkways.
14 bedrooms, as two units are villas consisting of 2 bedrooms with separate entrances - rooms do not have inter leading doors. Each Villa has 2 bedrooms and a plunge pool. All rooms have outdoor showers and twin beds can be converted to double beds. Each chalet has a private deck furnished with day beds for relaxation and where private dinners can be enjoyed. There is an inter flowing swimming pool with an island-style bar and martini seats with spectacular views of the ocean.
In room facilities at Dugong Beach Lodge:
- All rooms are sea facing with private decks
- Bathrooms overlook private courtyard and have outdoor shower
- Lounge, Dining Room and Sun Deck all have ocean views
- Jetty
- Interflowing Swimming Pool and Island Bar
- Internet Facilities
- Television and DVD Player in Main Lounge
- Small Library
- Curio Shop
Wading:
Please note that you may be required to wade to the transfer boat depending on the tide. Please ensure that you are prepared and correctly dressed for this – therefore sandals and easy roll up pants or shorts are advised. Guests arriving at the Airport may have a short wait until the next flight lands in order to facilitate a combined boat transfer.
Unique features and Activities
- Bangwe Island Excursion
- Water Skiing
- Magaruque Island Excursion
- Windsurfing
- Sundowner Cruise
- Ocean Safaris
- Nature Drives and Walks
- Hobie Cat
- Cowry Point Excursion
- Parasailing
- Bird Watching
- Diving
- Snorkelling
- Kayaking
- Dhow Cruise
- Fishing
Boat Transfers:
Scheduled boat transfers from Vilanculos to Dugong Beach Lodge or Vice Versa at USD 85 per person (one way).
All guests visiting the Lodge - situated in the Vilanculos Coastal Wildlife Sanctuary - will be liable for a Conservation fee of USD 15 per person per stay. This cost is NOT included in the accommodation rate and is payable directly at the Lodge upon check out.
Please note that all Island Excursions exclude the Parks Fee of USD 25 per person.

Click to display the map
Clothing & Accessories:
Being within the tropics the Archipelago seldom gets cold, but some evenings during the winter months of June and July a light jacket or pullover will be necessary. Dress is informal: Summer – lightweight clothing and swimming costumes. Winter – warm clothing for evenings. Binoculars, Camera, Comfortable walking shoes, sun hats, sunglasses and sunscreen.
Health & Climate:
The average day time temperature from April through to September is 25 deg C. The summer months of November through to February can be extremely hot reaching 30 deg C. The region enjoys summer rainfall, though storms seldom last long.
Please note that this is a Malaria area. Consult your physician for advice regarding a suitable malaria prophylactic. All personal medication should be brought with you.