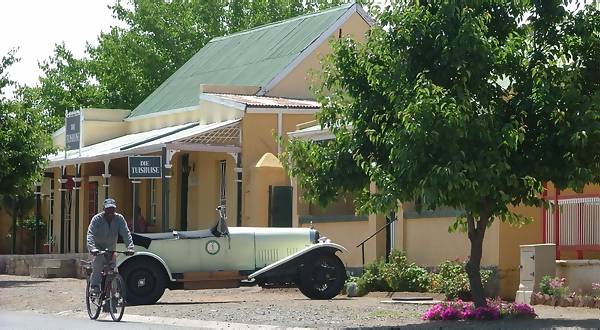 Die Tuishuise consist of 25 refurbished Karoo style cottages ideally located in Market Street, Cradock.
Die Tuishuise have been awarded the coveted "Simon van der Stel" Gold Medal for restoration.
These unique houses have been restored to their former splendour, recreating the gracious bygone era of the 1840"s.
Guests are afforded the rare opportunity to escape the present and enjoy the historically rich surrounding, as well as the personalised service and amenities required by today's discerning traveller.
Facilities include a restaurant, lounge, laundry and ironing facilities, night porter and open or covered parking.
Dinner is served in the Manor House on the corner of the street. Join us for a pre-dinner sherry before sampling the delicious array of Karoo food. Dining at the Victoria Manor is a country affair, an indulgence of superb traditional Karoo and South African cuisine.
We also cater for special occasions, such as weddings and celebration teas
Die Tuishuise offers a really unique and different experience (the accomodation, Xhosa dancing, the "Karoo" food), a refreshing change from the safari, sea and sand. It adds another flavour to the taste of South Africa.
Rooms:
Each house is decorated in its own distinctive theme of period prints and antique furniture, to reflect an atmosphere of understated elegance, reminiscent of the lifestyles Settlers at the turn of last century. Each house has it's own lounge, kitchen and bathroom.
Experience old fashioned bath time bliss in a typical bathroom dating back to the 1800's.
Die Tuishuise Activities:
Cradock is a place of literary legends, war heroes and anti-Apartheid struggle icons. But it is perhaps best known for street level, day-to-day, warmth and kindness – so typical of much of the Eastern Cape . For nature lovers, Die Tuishuise are a great base from which to explore the unique landscapes, animals and plants of the nearby Mountain Zebra National Park .
Buy a windmill from one of the windmill sellers one of the things that Cradock is famous for.
Visit the Moutain Zebra Park, the most scenic park in South Africa.
visit the Olive Scheiner Museum, home to one of South Africa's most famous authors.
Or hike into the veld to see egg rock.
Visit one of the many coffee shops in town selling bric a brac.
visit a karoo farm.
Experience rare san etchings on rocks or fossils of the protomammals that roamed here eons ago.
Tube or paddle down the fish river.
Explore Lingelihle home to the Famous Cradock four

Click to display the map
---
Fantastic atmosphere, truly wonderful people at the reception on arrival and dinner and breakfast way above average. We had such a good time, we have already booked for the end of the year.
Rating:
Reviewed by Johann Zietsman over a year ago
---
Lovely stay over with very comfortable accomodation in self contained house. Food far better than we expected in a small town. Highly recommended.
Rating:
Reviewed by Kevin Shames over a year ago
---
Our stay at Tuishuise in Cradock was a wonderful experience with a delightful dinner and super clean house with fireplace . Recommended for a stay over or a weekend getaway.
Rating:
Reviewed by Dawie Vosloo over a year ago
---
We loved staying in our own little house, with it's garden and garage, and watching the life of the street from the verandah. Service was very good and we were well taken care of.
Rating:
Reviewed by Liz Botha over a year ago