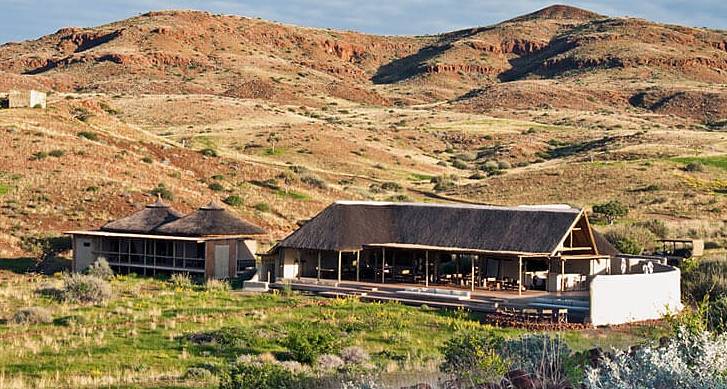 Damaraland Camp is situated in the Torra Conservancy – an inspirational community partnership – with sensational views of the surrounding desert plains, ancient valleys and distant peaks of the Brandberg Mountains.
Highlights of Damaraland Camp:
- Owned and largely run by the local community, who have injected their own distinctive optimism and cheerful nature into the Damaraland Camp experience
- Superb stargazing in crystal-clear night skies from one of Namibia's best safari camps
- The Torra Conservancy supports healthy populations of rare desert-adapted elephant
Accommodation at Damaraland Camp - Classic Camp:
These camps are designed in traditional safari style and are mostly stylish canvas constructions, often raised off the ground on wooden decks. Located in exceptional wildlife and wilderness areas, all offer superb facilities and accommodation. The camps range in size from 3 to 12 tents.
New technology blends with ancient construction methods to create innovative, eco-friendly luxury in the desert, with the camp's 10 elevated adobe-styled, thatched units (including a family unit). A spacious, thatched living area is complete with a fireplace, bar, and swimming pool. An open campfire and outdoor 'boma' can be enjoyed during calm evenings.
This camp combines well with
Desert Rhino Camp
,
Little Kulala
and
Serra Cafema Camp
.
Large game is not concentrated year-round here, with the natural cycle of rainfall dictating the seasonal movement of wildlife along the Huab River, which can be explored from camp.
Wildlife at Damaraland Camp:
Damaraland Camp in the Torra Conservancy exists within one of the driest, most desolate regions in all of Africa. In this arid environment the ceaseless processes of life revolve around harnessing the near non-existent water in the most economical way possible.
Obviously this scrub landscape cannot support vast, concentrated herds of wildlife, but it nevertheless boasts a varied and breathtaking assortment of desert-adapted species around Damaraland Camp.
The Torra Conservancy supports healthy populations of rare desert-adapted elephant and some black rhino. Gemsbok (oryx), kudu, springbok, Hartman's mountain zebra, southern giraffe, gemsbok, lion, cheetah, and spotted and brown hyaena also live in the area. Birding is excellent, with over 240 species recorded.
Things to do at Damaraland Camp:
Activities at Damaraland Camp revolve around exploring the Huab River system, surrounding desert plains and ancient valleys framed by the Etendeka Mountains. Guided nature drives and walks are a feature as well as engaging with the communities of the area.
- Nature drives
- Cultural activities
- Guided nature walks
- Rock art excursions
Read more about
Namibia Visitors Information
.