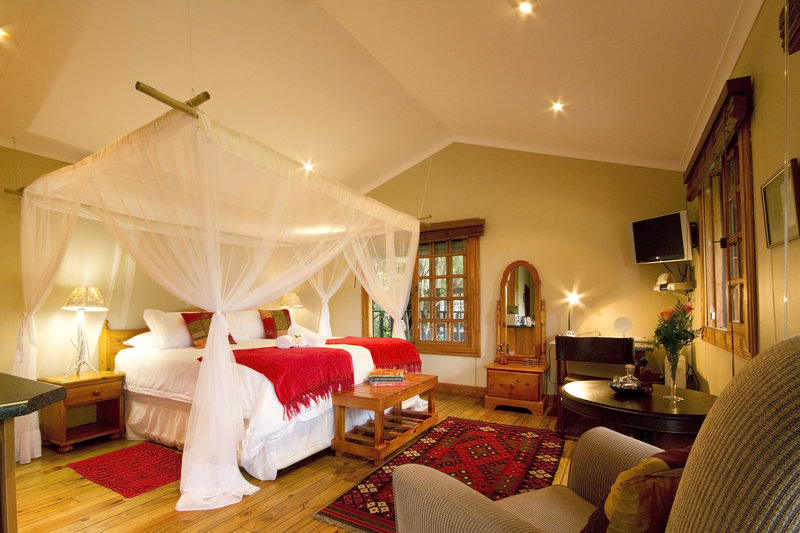 Beetleloop Guesthouse
, your "Home away from Home" accommodation!
With four-star style and friendly staff, Beetleloop Guesthouse aims to tailor an overnight experience to fulfill every guests' individual requirements.
We offer complete comfort in a natural setting and a variety of options that will lure you back to experience more of our warm hospitality over and over again.
Beetleloop is situated in the heart of Nelspruit, yet nestled on the edge of a Nature Reserve allowing your senses to be captivated by the serene beauty and relaxed African ambience. The Guesthouse and Cabins blend beautifully into the surrounding bush and gardens. Indigenous trees attract a wide variety of birds, ensuring a fascinating experience for avid bird watchers. Small mammals such as Red Duiker, Klipspringers, Banded Mongoose, Porcupine and Thick Tailed Bush Babies (Galago's) may also make an appearance. Here you will most certainly find peace and tranquility.
Accommodation at Beetleloop Guesthouse:
Accommodation options vary from a spacious self-catering family cottage to wooden cabins, as well as large luxury rooms to smaller 'budget' rooms. Each room has an en-suite bathroom, quality approved linen and beds, a wonderful range of Healing Earth amenities, air conditioners, complimentary WiFi and a list of other facilities to add to the comfort of your stay.
We offer delicious and hearty warm breakfasts which are pre ordered upon arrival, as well as home cooked dinners by request. Packed meals can also be arranged.
Meal Times
Monday – Friday:
- Breakfast is served between 07h00 and 09h00. Breakfast packs may be arranged for earlier departures.
- Dinner is served between 18h00 and 19h00.
Saturday, Sundays and Public Holidays:
- Breakfast is served between 08h00 and 10h00.
- No dinners are served over weekends.
Lunch and Dinners by prior arrangement only.
Breakfast at R120 per person
- A hearty breakfast with bottomless beverages, continental options and a hot cooked breakfast of your choice.
Lunch at R100 per person
- A healthy lunch pack can be prepared for the on-the-go visitors.
Dinner at R295 per person
- A home cooked meal with salad, dessert & a soft drink.
Dinner at R180 per person
- A home cooked meal and a soft drink.
Our mission is to welcome you, make you feel at home, see to your individual needs, treat you to a home cooked meal, share our love for nature with you and then personally see you off again on your departure, only with the hopes of a return visit from you again in the future!
Complimentary Services
- Unlimited Wi-Fi Access
- Night Security
- Controlled Gate Access
- Secure Parking
- Additional Fridge or Freezer space available
Surcharge Services
- Romantic Turndowns and Extras (Bubbly, Rose Petals and Candles)
- Laundry and Ironing
- Baby Sitting by prior arrangement
- Mobile Therapist (Charge directly to Therapist)
- Dinners and Lunch by prior arrangement