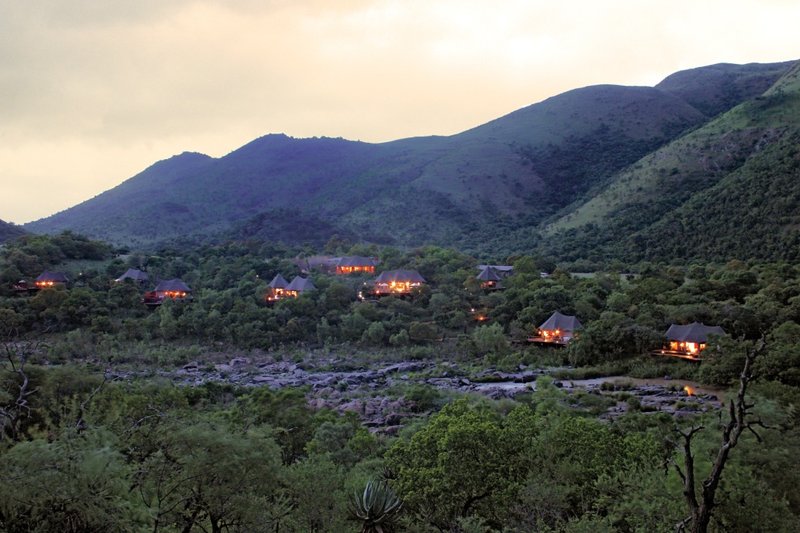 OVER three & a half billion years ago - when the world was very young - some of the hottest lava from the earth`s core blasted its way to the surface of the angry planet.
Peppered later by heavenly fall out – meteors of up to 30km in diameter - then buckled by the earth`s tectonic movements, the rock strata near Barberton, Mpumalanga, bears witness to the birth of life itself.
Today the dramatic & beautiful area known as the Makhonjwa Mountains (that define the north-western Swazi Frontier with South Africa) are internationally renowned as a place to view the Genesis of Life - a unique living laboratory in which rock sequences record the picture of the early oceans, the first atmosphere & evidence of the formation of the first Continent.
One hundred & twenty years ago its rich veins of ore – from rocks which contain fossils so old they faithfully record the Planet¡¯s earliest life forms - also led to the Gold Rush for which Barberton became famous.
In keeping with their ancient geology, these timeless Mountains are also a unique biosphere of grassy plains & forested Valleys filled with rare & endangered Plant & Animal Life.
And today there is a new Genesis taking place for at the Frontier of time & where Africa is at its most dramatic - the area is a telling location for South Africa`s newest eco-destination, Nkomazi Game Reserve, where Wildlife, Vegetation & Geology are inextricably interconnected.
A 17 000 hectare Malaria Free Wilderness, Nkomazi ("place of water") has been returned to its original state by the Award Winning Conservation Team from Shamwari Dubai World (who have also successfully "re-wilded" both Shamwari Game Reserve in the Eastern Cape & Sanbona Wildlife Reserve in the Western Cape). Nkomazi is a Dubai World Africa Property.
Where great natural beauty & 3.7 billion years of history meet, the Nkomazi Conservation Project has celebrated the return of wild animals to a region where they once again roam in great abundance.
For within Nkomazi is an ecological treasure trove of rolling plateaus & lost, forested valleys, waterfalls, dramatic mountains & lush savannah - water & soil weaving together a world in which so many kinds of life prosper in harmony. One of South Africa¡¯s most important biological hotspots, the Barberton Mountain Land has a plant biodiversity higher than that of the entire Kruger National Park & second only in South Africa to the Cape Fynbos & Succulents.)
Representing this kaleidoscope of Africa`s habitats in its ability to support both Highveld & Lowveld Game on the high lying grassland & the low-lying bushveld areas, Nkomazi supports an impressive ecological balance including the Famed Big 4 - not to mention three of Africa`s rarest butterflies!!!
And after a Morning Game Drive in the Wilderness or later, from rocky granite sentinels to watch the sun descend over the reserve`s North Eastern Boundary, guests will then be able to return to the luxury & opulence of the Komati Tented Lodge.
Set on banks of the Komati River, the Lodge defines luxurious Tented Accommodation in Victorian; "Africa Campaign" styled Tents, positioned to blend into the landscape for quietness, solitude & undisturbed bush mystique.
Here Guests will also experience a sumptuous comfort as each of the En-Suite Tents enjoys a private setting, Air Conditioning, Outdoor Baths, Shower, Private Plunge Pool & viewing deck. Meandering pathways lead to the main camp (with its outdoor boma & superb Lounge Tent) where cuisine to define the sense of place has been created by South African master chef Garth Stroebel.
Furnished with luxury Camping Style Furniture to create a time honoured "Out of Africa" feel (with all the added 5 star Comforts), the tent décor uses traditional textured & patterned fabrics in a serene colour palette evocative of the local vegetation while the Private Decks surrounding each Tent lend an Indoor-Outdoor flow, allowing Guests to feel embraced by & at one with the sumptuous landscape.
Meanwhile, a treatment at the Lodge`s River Relaxation Retreat will rejuvenate & relax doing its small part to restore the delicate balance of all living things at Nkomazi Game Reserve.
Accommodation:
Guests will experience not only the quietness and solitude, but a sumptuous comfort that basks in the sense of the age-old life of Africa.
The Komati Tented Lodge offers tented suites in a private setting with five star amenities. Each tent has an extra large king size bed, comfort cooling/heating and en-suite shower with an outdoor bath, and private expansive teak sun decks with a plunge pool.
Meandering pathways lead to the main tent where traditional fare can be enjoyed at your own leisure, while a treatment at the River Retreat will rejuvenate and relax - doing its small part to restore the delicate balance of all living things.
Relax in comfort and African style among wildlife of diverse habitats along the clear streams of the Komati River.
Amazing value, excellent food, friendly accommodating staff. The accommodation was superb, our guide went out of his way to show us the animals informing us as we went and was always careful to conserve the nature reserve. Will definitely be going back.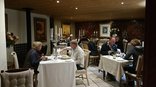 Grading:

Guest Rating:

(13 reviews)
Situated in between the Hlumuhlumu mountain range in Mpumalanga, Hlumu Lodge has 12 individually designed Cabins, Each Cabin is equipped with linen, towels, tea/coffee making facilities, ceiling fans, heaters and is serviced daily.
From:
R290.00
per person sharing
Guest Rating:

(24 reviews)
Bruce & Claire warmly welcome guests to their spacious guest house, situated in Badplaas. Cornerstone Guest House is within driving distance of the famous Badplaas Forever Resort. It offers accommodation for a maximum of 8 people sharing.
From:
R450.00
per person sharing
Grading:

Guest Rating:

(87 reviews)
Forever Resorts Badplaas (previously Aventura Badplaas) is a popular holiday destination with accommodation, walks, horse riding, game viewing, supertubes, hot mineral pools, play parks and river rides.
From:
R750.00
per person sharing