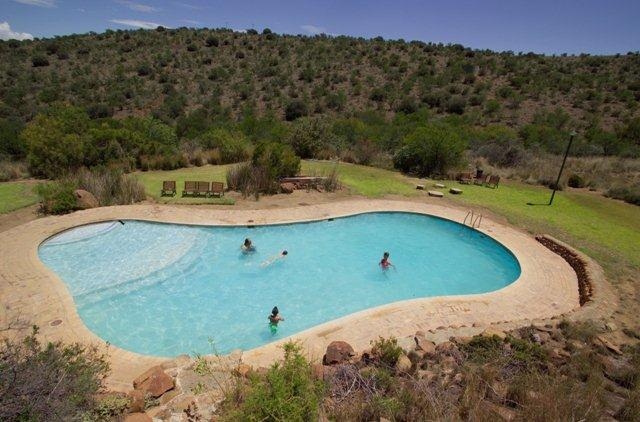 Mountain Zebra National Park
is situated on the R61 road. The gate is 12km from Cradock on the road towards Graaf-Reinet, and is 262km from Port Elizabeth. It is a further 13.7km to reception. The park is also home to various antelope species.
The craggy heights of the Mountain Zebra National Park's Bankberg embrace rolling plains and deep valleys, and has become an entrancing preserve for the Cape mountain zebra.
The proclamation of the park in 1937 saved these animals from extinction, and currently their population stands at 350.
Mountain Zebra National Park contains a rich variety of plant species and in spring the veld is covered with flowers. Fynbos and renosterveld bush flourish in the temperate climate where the rains come mainly during early summer and winter.
Wildlife
The highlight of the Mountain Zebra National Park's mammalian fauna is obviously the Cape mountain zebra after which the park is named. These zebra differ from the plains or Burchell's zebra, by having narrower stripes, absence of shadow stripes and orange facial colouration.
Mountain reedbuck and grey rhebok frequent the higher areas, whilst caracal occupy the niche of primary predator.
Other noticeable species of the mountain plateau are the red hartebeest, eland and springbok. In the more wooded valleys visitors should search for kudu, and two of the park's more recent reintroductions, the African buffalo and the black rhino.
Facilities at Mountain Zebra National Park
Fully licensed a la carte restaurant, also serving light refreshments.
Shop where curios and basic commodities may be purchased.
Swimming pool in Restcamp for overnight visitors.
Fonteinkloof and Weltevrede picnic sites with braai faciltiies, picnic table and ablutions. There is a swimming pool for day visitors at Fonteinkloof picnic site.
Unleaded petrol and diesel fuel is available in the Rest Camp from 07h00 - 17h00.
No ATM facility available in the park. The closest bank facilities are available in the town of Cradock (24km from the park).
Important Notice
1. Accommodation rates do not include
Conservation Fees
which are payable at the entrance gates.
2. Please ensure that you are familiar with the
Rules & Regulations
of National Parks before making a booking.
3. Travellers should please note that the N10 road between Cradock and Cookhouse (the main access road from Port Elizabeth) is closed from 12h00 - 16h00 every Tuesday and Thursday for road work. Please keep this in mind when planning your travel to and from Mountain Zebra National Park.
4. There will be delays every Monday, Wednesday and Friday morning on the N10 (especially at Olifantskop Pass) and the Patryshoogte Road due to delivery of abnormal loads from Port Elizabeth to Cookhouse for the construction of the Cookhouse Wind Farm.
Accommodation at Mountain Zebra National Park:
Mountain Zebra National Park's Rest Camp is located about 12 kilometres from the entrance gate and offers comfortable family cottages, a campsite with communal facilities, a restaurant and a shop. The Guesthouse and two Mountain Cottages are located further into the Park.
All accommodation is serviced daily and provided with bedding, towels and soap.
Accommodation is self-catering and a braai unit is provided at all units and campsites.
Family cottages (FA4)
have a lounge with fireplace and two bedrooms, one with a queen bed and the other with two single beds. The bathroom has a bath and shower. The open-plan kitchen is fully equipped. Cottages are furnished with an air conditioner and television. Two units are universally accessible (FA4Z).
*
Doornhoek Guesthouse
This restored Victorian homestead (GH6) has a scenic view, overlooking the Doornhoek Dam. Six people can be accommodated in three bedrooms, all with en-suite bathrooms (bath). One bedroom has two single beds while the others have queen beds. There is a fully-equipped kitchen as well as a comfortable lounge and stoep area. The guesthouse is tastefully decorated with Victorian style antiques providing an unique experience.
The
Camping
ground is located close to the Reception, with 20 sites. All sites are equipped with 220V power points and a braai unit. Campsites are allocated on a first-come, first-served basis and cannot be pre-booked.
There is a communal ablution with showers and baths as well as a communal kitchen with fridge, freezer, microwave and stove plates.
A washing machine and dryer are available. Tokens can be bought at Reception at R10 per token. One token washes a medium-sized load.
A maximum of six persons, one caravan with a side tent and one vehicle, or one tent and one vehicle, or one autovilla or one motorised caravan are permitted per site.
The camping area is sited on a mixture of earth and grass. Some sites are shaded. Sites are closed periodically to allow grass to regrow.
Cradock is accessible via the N10 highway and the Park is situated on the R61 between Cradock and Graaff-Reinet.
There are signposts within the town of Cradock to direct you to the Park.
Gate Hours
1 October to 31 March: 07:00 - 19:00
1 April to 30 September: 07:00 - 18:00
If visitors need to arrive or depart outside of gate hours, a fee of R100 will be charged. Arrangements should be made in advance with Reception
Approximate travelling distances:
3 hours from Port Elizabeth (domestic airport)
9 hours from Cape Town (international airport)
9 hours from Johannesburg (international airport)
4 hours from Bloemfontein (domestic airport)
9 hours from Durban (domestic airport)