Namib Rand Nature Reserve, one of Southern Alrica's largest private conservation areas, is situated on the edge of the Namib Desert, close to Sossusvlei.
Extending over more than 180 000 hectares, the reserve shares a comnpon border of some 120 kilometres with the Namib-Naukluft Park in the west and is protected by the Nubib mountain range in the east.
The particular attraction of NamibRand is the diversity of different desert landscapes. Virtually all facets of the Namib are represented here. Expansive sand and gravel plains interspersed by vast stretches of golden grass savannah alternate with majestic mountain ranges.
Encroaching from the west are tongues of dunes, their colours ranging from yellow-gold and ochre to rose, russet, maroon and deep brick-red, paling and deepening as the day wanes.
It is these flamboyant colours, the result of oxidation of the ancient quartz grains, that make the area a visual utopia for artists and photographers.
The variety of flora and fauna is as fascinating as the colour nuances of the landscape which change as the day progresses. Camelthorn trees - recognised by their distinctive umbrella shapes, cracked grey bark and green canopies grow throughout the dunes areas and along the dry river beds.
An interesting variety of desert succulents occurs amongst the rocky outcrops and on mountain slopes, including conspicuous species such as Hoodia and Euphorhia. Game found in the reserve include gemsbok, mountain and plains zebra, springbok, red hartebeest, blesbok, bat-eared fox, spotted hyena, aardwolf, cape fox, caracal, African wildcat and black-backed jackal.
The more rocky areas are inhabited by kudu, klipspringer, baboon and leopard, while the dunes are home to a rich and diverse microfauna of males, gerbils, snakes, geckos, beetles, spiders and ants.
Over a hundred species of birds have been recorded at NamibRand, amongst which are sandgrouse, weavers, secretary birds, korhaans, eagles, falcons, vultures and several varieties of larks.
Facilities & Services:
Rooms:
Dune Camp
Positioned on the edge of a 250-metre high dune, the Dune Camp sleeps a maximum of 12 guests in a totally unspoilt setting. Guests stay in comfortable dome-shaped tents pitched on wooden platforms, each furnished with standard beds (covered with down duvets), bedside tables and a suitcase rack.
A spacious veranda, allowing for safe sleep-outs under the stars, and a private bathroom fitted with a hot shower, two washbasins and flush toilet make for a rather civilized camping experience.
The lapa is comprised of a lounge, dining area and an open-plan kitchen, which allows guests to chat to the chef while he is preparing three course dinners.
The sundowner deck with its elevated fireplace is the central meeting point of the camp providing a cosy and relaxed ambience.
Whilst the lodge aims at accommodating those guests in need of relaxed comfort and space, the camp is a more down-to-earth and close to nature experience.
Ideally suited for the younger and more adventurous traveller, the charm of the camp lies in its tranquil, intimate atmosphere, capturing the romance of a bygone era.
Wolwedans Dune Camp Activities:
Accompanied by experienced guides, visitors are introduced to the many facets of NamibRand Nature Reserve's unique desert habitat - walking, driving, or from the air in a balloon.
Wolwedans Dune Camp Map:
Other Accommodation near Wolwedans Dune Camp:
Accommodation options within 8km from Wolwedans Dune Camp include: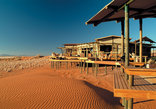 Situated in the heart of NamibRand Nature Reserve, close to Sossusvlei. 9 rooms/Chalets nestled on the top of a dune offering magnificent views of the surrounding desert. Ideal for individualistic nature lovers.
From:
R3900.00
per person sharing