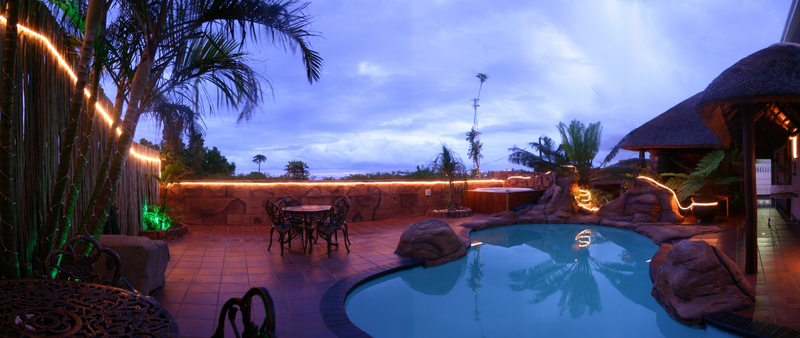 Situated to the south of the Central Business District of the city of Durban, on the Bluff, and a mere 10 minutes` drive away from Airport,
Villa Le View
Guest House is remarkably suitable for both business travelers seeking convenience and leisure visitors wanting a calmer, less "touristy" experience - pristine beaches are a short drive from the guest house.
The guest house offers ideal comfort and simplicity for the stressed out traveller. Four rooms feature a unique twist on the colonial charm and contemporary living ambiance.
Facilities at Villa Le View:
- Swimming pool
- Entertainment area
- Jacuzzi
- Sea Views
- Golf course views
- Secure parking
- Patio/Balcony
- Dinner by arrangement
Accommodation at Villa Le View:
Each room has a unique character, with a colour scheme flowing through: Red, Green, Blue and Orange. Each has a comfortable double bed, large en-suite bathrooms and basic amenities.
Two rooms have their own private balconies with magnificent 180 degree views of the Indian Ocean, accentuated by by being on one of the major hills of the Bluff.
The eclectic mix of bohemian finishes with vintage ball-and-claw dressing tables and wardrobes, alongside stylishly decorated contemporary tiled floors and full en-suite bathrooms (save for one room, where the bath gives way to a large shower), provides a subtle balance between feminine and masculine.
Rooms features:
- Complimentary tea & coffee
- Colour television with satellite channels
- Bedside telephone with outside dialing
- Air-conditioned
Services includes:
- Laundry
- Internet Access in all rooms
- Network Printer
- Airport Transfers
- Tailored & Set Day Tours
- Secretarial Services Arranged
- Spa & De-stress Packages arranged
I enjoyed my stay at the cottage, a very calming atmosphere for resting and getting away from the hustle of Johannesburg.