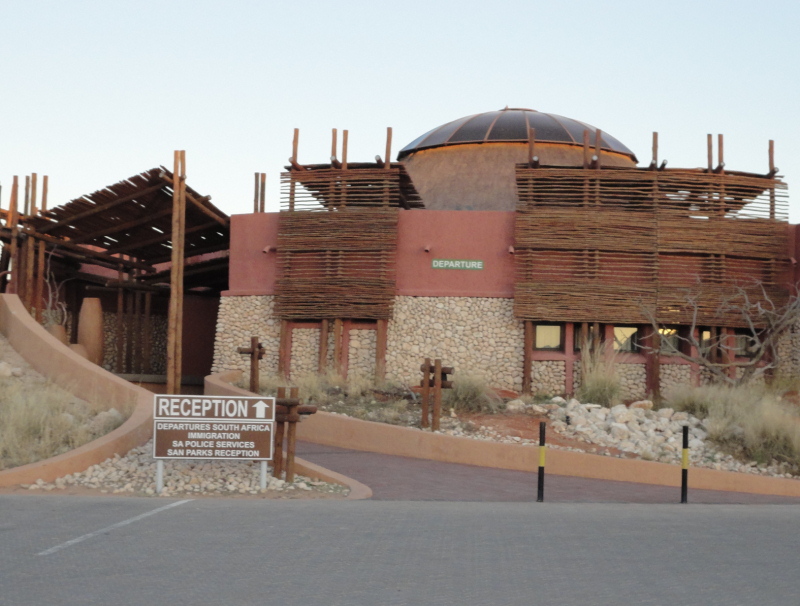 Twee Rivieren Restcamp - Kgalagadi Park
is the
Kgalagadi Transfrontier Park's
largest rest camp and administrative headquarters. It is situated on the banks of the Dry Nossob Riverbed.
Activities and facilities at
Twee Rivieren Restcamp - Kgalagadi Park are diverse, as are the animals and plants found both within the camp and in the surrounding areas.
Twee Rivieren Restcamp is the main camp at the entrance to the park has a landing strip for light aircraft.
Twee Rivieren Restcamp has a reception, shop, fuel, restaurant, information centre and swimming pool. This is the only camp with 24 hrs electricity and cell phone reception.
Things to seek at Twee Rivieren Restcamp:
Species that can be seen throughout the year include White-browed Sparrowweaver (which breeds in the camp), Crimson-breasted Shrike, Brubru, Pririt Batis, Black-chested Prinia, Yellow-bellied Eremomela, Common Scimitarbill, Red-eyed Bulbul, Marico Flycatcher, Red-headed Finch and Yellow Canary. These species are however all widespread in the park.
During the summer months species such as Diderick Cuckoo, Willow and African Marsh Warbler, as well as Barn (European), Greater Striped, South African Cliff and White-throated Swallow amongst others may be seen. All occurring swallows are widespread in the park during summer.
Rufous-cheeked Nightjar can also be heard at night during summer.
Other species present in summer are Spotted Flycatcher, Cape White-eye and Long-billed Crombec.
The winter season is a good period for spotting Fairy Flycatcher and Dusky Sunbird that move into the park. Spotted Eagle Owls are resident in camp and Pearl-spotted Owlet and Whitefaced Owl may occasionally be heard or seen. European, White-rumped, Little and Bradfield's Swift ay be seen during the rainy season while passing through.
Facilities at the Twee Rivieren Restcamp include:
• Laundry tubs in camping areas and ironing facilities (no irons)
• The camp has limited freezing facilities and cannot provide a freezing service to tourists.
• Shop sells commodities that you would find in your local supermarket, including fresh meat, milk, cheese, eggs, bread, wine and beer.
• Petrol (premium and unleaded) and diesel.
IMPORTANT ANNOUNCEMENT REGARDING FUEL AT TWEE RIVIEREN RESTCAMP:
We engaged with Total South Africa to initiate a process to upgrade our Filling Stations in the Park and a contractor has been appointed to start with the work on the Filling Station at Twee Rivieren that will commence shortly. The upgrade will include the replacement of the underground fuel tanks, driveway, water drainage system and fuel pumps. The project will be completed over a period of three months with construction work to take place daily between 08h00 and 16h30 from Mondays to Saturdays. During this process we will only sell diesel fuel from a temporary above ground supply tank that will be situated in the camp reception area. It is not possible to store and sell unleaded petrol from a similar tank system and we hereby request park visitors to fill up their vehicles on route to the park at Askham that is situated ±74km's from the park on the R360. Diesel and Unleaded fuel will be available at our other two main camps Mata Mata and Nossob. We look forward to your visit to the park and please accept our apology for any inconvenience that you might experience with fuel supply at Twee Rivieren during your visit. We aim to improve our facilities in the park for the benefit of our valued customers.
Kgalagadi Accommodation
options include six different camps of varying size, facilities and cost.
Accommodation at Twee Rivieren Restcamp:
Six-bed family chalet, two bedrooms, bathroom (shower), living room, air conditioner and fully equipped kitchen.
Three- and four-bed family cottages, one bedroom with 2 single beds, bathroom (shower), living room with extra beds, air conditioned and fully equipped kitchen.
Cottages with two single beds and a double sleeper couch (suitable for children under 12 only), bathroom (shower), airconditioner and fully equipped kitchen.
Important Notice
1. Accommodation rates do not include
Conservation Fees
which are payable at the entrance gates.
2. Please ensure that you are familiar with the
Rules & Regulations
of National Parks before making a booking.
The entrance at Twee Rivieren Gate is situated approximately 260 km north from Upington. This road has been upgraded with a tarred surface.
Gate Hours are:
Summer - 06:00 - 19:30
Winter - 07:30 - 18:00
Camping sites are adequately laid out and consist of the basic requirements (Braai, power point, water, rubbish bin and lights). Facilities are well maintained and kept clean. Reception and staff are very friendly and helpful. Restaurant atmosphere is good and food are well prepared. Two campers indicated that the blue power adapting plugs are not available in the store and maybe worthwhile to consider keeping some stock. I will definitely be back.
Our stay was pleasant.
Rooms clean and tidy. Well serviced. Private and quiet. One request please; can the gates to the park be opened earlier so the sunrise can be experienced inside and not outside the park. A lovely spot. Well be back
Neat, well maintained, solid service.