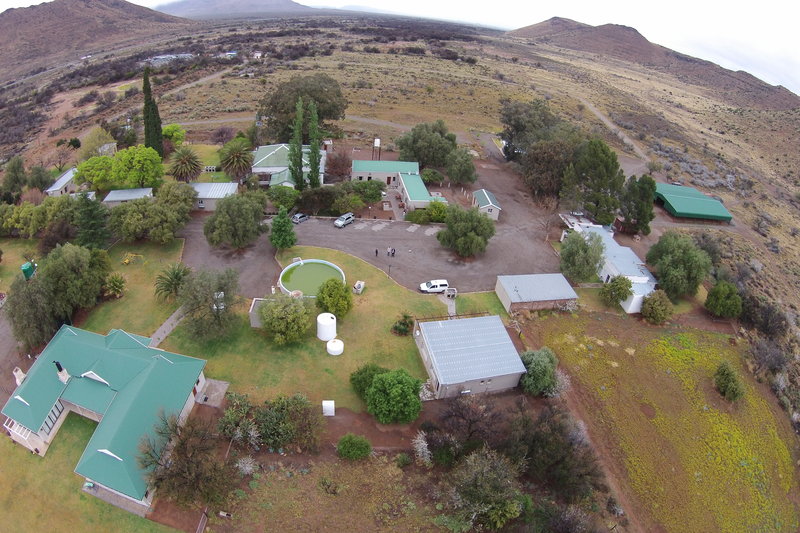 At
Travalia Guest Farm
we are proud of our clean and comfortable overnight accommodation. Tourists and Holidaymakers can, without any hesitation book at Travalia Guest Farm, because excellent service, a neat clean and comfortable bed with a warm bath /shower is our guarantee.
Travalia Guest Farm is situated 500 metres from the N1 highway and 1 km south of the Shell Ultra City Three Sisters. It is situated on a farm with a very peaceful atmosphere, lovely gardens, green lawns and a play park for energetic children.
Tasty meals are available in the form of braaipacks, consisting of Karoo Lamb chops and sausage or traditional meals such as leg of lamb, chicken pie etc. Braai breads are also made for clientele as well as the provision of wood. Travalia Guest Farm is fully licensed and cool drinks beer wines etc are available at the main reception. Breakfast and other farm produce are sold at the farm store.
Accommodation at Travalia Guest Farm:
Each one of our 26 spacious rooms are equipped with an air conditioner, it s own bathroom, braai facilities, as well as electric blankets for the cold Karoo winter nights.
All rooms have en-suite bathrooms with either a bath or shower, please enquire to suit your needs.
Rooms 1-4 are situated in the main farm house.
Rooms 5-9 are situated in a quad outside the main farmhouse and all rooms are equipped with fans and heaters. (Electric blankets during winter).
Rooms 10 – 24 are duplex chalets all with air conditioning.
Cottage: This is a house on its own with a fully – equipped kitchen for self – catering needs.
To maintain the farm atmosphere, a dam on the farm has been transformed into a swimming pool which can be enjoyed and many walk, jogging, hike and mountain biking trails can be used.
Sheep and cattle are farmed on the farm as well as a game namely Kudu, springbok, blesbok, and a variety of smaller antelope.
The Herholdt family started the business in 1989 (and are still running it today) and now 23 years later are sleeping 13 000 guests a year are you one of them?
We are wheelchair friendly.
We are also pet friendly at an additional fee.
Restaurant at Travalia Guest Farm:
The restaurant serves typical karoo fare, including desserts. Meals include leg of lamb, lamb shank, chicken pie, apple pudding, malva pudding, ice- cream and chocolate sauce. Main courses are all served with vegetables.
Braai packs are also available for those who want to enjoy the fresh Karoo air. Braai breads and salads can also be requested to compliment a full braai tray complete with casserole, braai tongs, plates, knives, forks and serviettes. Fires are lit on the customers requested time.
Breakfast is served from 07H00 to 12H00 at the farm stall, which also have a full lunch menu and is open till 18H00.
Facilities at Travalia Guest Farm:
- Separate braai (bbq) facilities are situated in the garden in front of every room (meat, braai grids/roosters and other braai necessities are available)
- There is a large farm dam that has been converted into a swimming pool
- At Travalia we also have a fully licensed restaurant, liquor cold drinks, ice and other drinks are also available from reception
- Jogging trails