In the heart of the Garden Route, Natures Valley lies at the foot of the Grootrivier pass, 30km east of Plettenberg Bay.
Where the World renowned 'Otter Trail' ends, Natures Valley lays nestled between land and sea and is arguably South Africa's most beautiful and tranquil destination. Think of dense forest, mountains, cliffs, rugged coast, sandy beaches, rivers, waterfalls, lagoons and a picture of Natures Valley may start to form.
Alongside all this natural beauty, countless activities are on offer like hiking, fishing, bungy jumping and surfing, to name but a few. In this exquisite location, we offer simple stylish accommodation in our timber home, where our family has lived and run a bakery for the past 36 years.
Rooms:
The Wood offers one double room and one twin room, both with on suite bathrooms. Each room has a private entrance via a spacious balcony where our guests spend most of their time watching the world go by. Once inside, pale linens contrast pleasantly with timber walls, a clean earthy finish which compliments this beautiful and peaceful destination.
Self catering accommodation:
Separate from the main house is a self contained cottage which can accommodate up to 6 guests. If being self sufficient and independent is more your thing, this will suit your needs.
The Wood Guest House Activities:
- Hiking and Bird watching in Natures Valley: The trail to Salt River mouth begins a stones throw away from 'The Wood'. The mouth can be reached via the coastline or through the forest. Speak to one of us and we'll point you in the right direction. The forest route is a little more strenuous, as it goes over the mountain but offers breathtaking views and excellent birding. The coastal route on the other hand is no less beautiful so you might want to try a circular route. Do take care as you do need to be sure footed. Alternatively try the Kalandakloof trail. This trail begins opposite the camp site and winds along the bottom of the Grootrivier Pass. It follows the river through dense forest and banana plantations and heads up to the top of the pass to a viewpoint overlooking the lagoon and beach. This trail allows you to descend along the pass or via the circular forest route.
- Tstsikamma National Park: Visit this world famous National Park where the renowned Otter Trail begins. Dramatic and rugged coastline meets yellowood forest teaming with birdlife. Take a walk along the forest trails and perhaps brave the suspension bridge across the storms river mouth. Take along a picnic or try out the restaurant and curio shop.
- Bungy Jumping: At 216m high, this is the worlds highest commercial bungy jump, so if adrenaline is what you seek, look no further. Alternatively try the flying fox, a 200m cable slide (phoofie slide) onto the archway of the bridge. A combination of the two is also an option. If all this sounds a little crazy but you would still like to 'experience' the height, why not try a bridge walk.
- Tree Top Canopy Tours: Enjoy the forest from above. Cable slides wisk you from one location to the next, 30m above the forest floor. A unique adventure that can be safely enjoyed by the whole family.
- Birds of Eden: The largest single free flight aviary in the world, incorporating indigenous forest, waterfalls and elevated walkways. Previously caged birds from many parts of the world enjoy free flight here. Allow yourselves time to appreciate this experience.
- Monkeyland: An opportunity to interact with free roaming primates from all corners of the globe. Book for an excursion to see first hand the work that is being done.
- Tenikwa: A wildlife awareness centre offering intimate encounters with various small indigenous cats, birds and other endangered species.
Other activities include:
- Abseiling
- Scuba Diving
- Whale and dolphin boat cruises
- Horse riding
- Sailing charters
- Quad bike adventures
The Wood Guest House Map:
Very neat and lovely decorated. Peaceful and very friendly host and hostess. Delicious breakfast with home made jams. We loved every moment.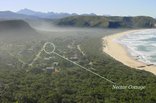 Nectar Cottage lies in the only village inside a South African National Park: Nature's Valley on the Garden Route, which is surrounded on all sides by nature - a 100 paces from the pristine beach, a beautiful river lagoon, and the Tsitsikamma forest.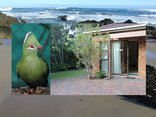 Sea Why, Nature's Valley, is a self catering apartment, with its own private facilities and separate entrance. The unit comprises one bedroom (en-suite) and a living room with open plan kitchen. The living room leads to a separate private patio / braai.
Set in a lush garden amidst the trees in the Tsitsikamma Forest, Natures Valley Guest House is a place where you can put up your feet for a while and enjoy the unspoilt nature.
From:
R330.00
per person sharing
From Plettenberg Bay the scenic route winds through rural farmlands and indigenous forests to Nature's Valleys and Lily Pond - with its unique architectural design and contemporary decor.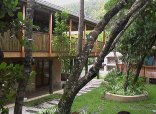 Grading:

Guest Rating:

(2 reviews)
Situated in the heart of Natures Valley, which is part of the Tsitsikamma National Park, we are surrounded by spectacular beaches and the sound of crashing waves is interspersed only with that of the garden's singing bird.