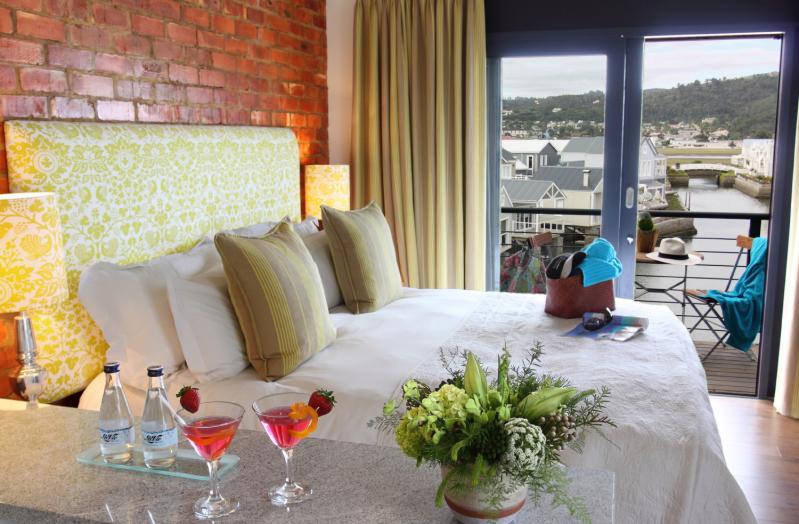 Immerse yourself in the innovative setting of the new
The Turbine Hotel & Spa
, recreated into a luxury boutique hotel on Thesen Islands, Knysna's old power station.
The unique heritage site contains 24 exquisitely decorated bedrooms and suites, an Amani Spa to relax and rejuvenate and 2 conference venues which are ideal for meetings and exhibitions. A visit to our Island Cafe, nestled between 3 restored turbines and Thesen's main canal is a must for locals and visitors alike!
Accommodation at The Turbine Hotel & Spa:
17 Standard Rooms, 6 Suites and 1 Honeymoon Suite, with breath-taking views of Thesen Islands and the Lagoon:
Standard Rooms – 17
- All room with individual décor and art
- Split King XL beds
- Flat screen 32" television plus DVD player – full DVD library
- Telephone
- Internet connection facilities
- Desk
- Original equipment display with original art
- Full bathrooms with separate bath and shower, two basins, heated towel rails
- Fully air-conditioned (heating and cooling)
- Ving card access system
- Fully stocked mini bar with fridge
- Full tea/coffee station
Suites - 5
In addition with the other rooms:-
- Sleeper) couch – 4 only
- Bar and stools
- Microwave
Honeymoon Suite - 1
- In addition with the other rooms:-
- Lounge suite plus bar
- Ice machine
- Double shower and stand alone bath plus bidet
Lift - Disabled room and downstairs disabled bathroom
The Turbine Hotel & Spa Activities:
Amani Spa
The picturesque Amani Spa is one of tranquility and relaxation, offering a wide variety of body, facial and beauty treatments, and a unique pedicure experience in our exclusive Spa Massage Pedi Chair.
Enjoy the Spa's Rasul, a traditional Arabic ritual, a cleansing treatment that takes place in an exotically mosaic tiled steam chamber, which unites the four fundamental elements of earth, air, fire and water into a special experience for both body and soul, leaving you feeling cleansed, renewed, relaxed, and your skin silky soft.
Where we create magical moments and turn them into special memories.
Lagoon Cruises on our Turbine Trixie Pontoon - R250 per person, 90 minutes, Weather dependant.

Click to display the map