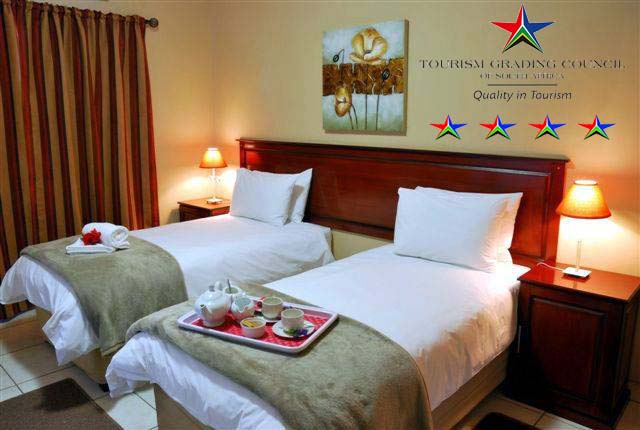 The Oval Boutique Guesthouse
was newly built in 2009/10 with the emphasis on convenience to our guests. It is situated in the heart of Dundee, in Northern KwaZulu Natal, close to all amenities and gateway to the famous Battlefield sites.
Our Boutique Guesthouse has 16 modern spacious rooms all en-suite.
The attractive licensed uJubane restaurant can seat 60 people offering a substantial menu to please individual tastes.
The Oval outdoor center seats up to 30 people equipped with up to date contemporary amenities and can cater for Bridal/Baby Showers, Office Parties or meetings. A fixed rate, which includes meals and drinks is also offered.
Accommodation at The Oval Boutique Guesthouse:
Our Boutique has 16 modern spacious rooms all en-suite. Budget rooms are also available.
The rooms are equipped with DSTV, air conditioners, wireless internet access and fridges on request. Rooms are fully serviced daily. An easily accessible guesthouse appeals to both corporate and leisure travelers alike.
The Oval Boutique Guesthouse Activities:
The coal mining town of Dundee is situated in a valley of the Biggarsberg mountains in KwaZulu-Natal, South Africa. It is part of the Endumeni Municipality, Umzinyathi District. It is very rich in coal deposits.
Attractions:
* Indlovu Brewery
* Visit the Talana Museum

Click to display the map