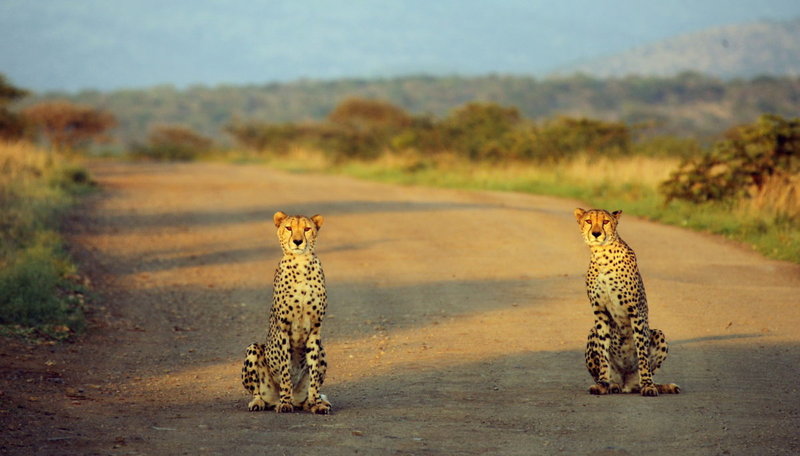 Situated 23 kilometres north of Hluhluwe in Zululand,
Thanda Private Game Reserve
is a celebration of the Zulu nation and their vibrant cultural tapestry.
Thanda, meaning 'love' in Zulu, is an expression of the magical union of the power of Zulu culture, wildlife, romance and exclusivity.
Free your adventurous spirit with the thrill of Big Five game viewing, the exhilaration of diving with dolphins, or the wonder of whale watching from sun-drenched beaches.
The Elephant Coast has 21 different ecosystems and is home to a rich variety of fauna and flora. Sand forests, lakes, lagoons, wetlands and pristine stretches of beaches are home to many animals such as hippos, crocodiles, giant turtles and over 460 bird species.
Thanda Private Game Reserve
is a unique beach and bush destination, with Sodwana Bay located merely an hour away. It´s the magic of romance and Zulu culture that makes Thanda unforgettable.
Thanda Safari Lodge
Step out onto your wooden deck. Take a dip in your plunge pool. Enjoy dinner served in your own private boma. Or admire the African sunset from the circular daybed atop your thatched outdoor sala.
Thanda Safari Lodge is known for its 9 beautiful bush suites – each self-contained for absolute privacy. Shaped like a traditional Zulu homestead, the 220m² suites have panoramic views of the surrounding game reserve.
Each suite is a tribute to abundance, Africa-style - with a spacious lounge and majestic master bedroom and double-sided fireplace. The bathroom has a vanity, his-and-hers basins, egg-shaped bath, enclosed toilet as well as indoor and outdoor showers.
Use your suite as a secret hideaway for relaxation, romance or reflection - or as the base from which you head out to enjoy one of our many magnificent experiences.
Thanda Safari Lodge's public areas are colourful and drenched in light, with touches of beading, welcoming leather and authentic wood. They include an inviting library overlooking a waterhole that is favoured by elephant and other game, a private business area, a cigar bar and an impressively stocked wine cellar.
There`s also the lounge: our guests` starting point for the steaming coffee and biscuits and delectable high tea that herald every game drive. Featuring African art, huge windows, fascinating books on African legends, plush sofas and dark wooden accents - brightened by rich hues - our lounge epitomises African hospitality.
Guests of Thanda Safari Lodge and Villa iZulu enjoy exclusive access to the Thanda Spa, which is located in a lush yet hidden corner of the lodge property. It offers a glorious menu of treatments including reflexology; aromatherapy; hydrating; exfoliating and detox body treatments; facials; African massages; hand and feet treatments; hydrotherapy baths; hot and cold Kneipp therapy pools, and more.
Amenities at Thanda Safari Lodge
- Telephone
- Personal Bar
- In-Room Safe
- Hair Dryer
- Wireless
- Laundry
- Air Conditioning
- Game and Books
- Private Plunge Pool
- Private Dining Boma
- Outdoor Relaxation Sala
- Sun Deck
- Outdoor Shower
- Double Vanity
- Separate WC
- Wine Cellar
- Library
- Business Area
Tented camp
Within Thanda Tented Camp you will encounter minimal lighting and no artifice, with beautiful nature and jaw-dropping scenery enhanced by flickering firelight from the boma and warm paraffin lanterns to guide your feet along the walkway.
This is the bush as nature intended: open, inviting, unconstrained. So if you`re the kind of traveller who values the genuine over the glorified; reality over richness, this is where you want to be. You will encounter unparalleled closeness to the bush and its sounds; unspoilt views of the night`s millions of stars; and absolute authenticity.
Thanda Tented Camp offers a relaxed and real safari experience. It comprises 14 spacious tents, each with a private sun deck and en-suite canvas bathroom. In addition the 15th tent, the Jabula Tent, is particularly suited to bridal couples, honeymooners, families and those seeking extra beautiful accommodation for special occasions.
To add to the genuine bush atmosphere, the camp is non-electrified. However, it does have limited solar and battery power with a back-up generator to power the tents for a few hours each day. To deter wild animals, there is a partial electrified fence along the perimeter of Thanda Tented Camp.
The camp's shared areas include a reception area, a curio shop, a recently refurbished Hemingway-style lounge area, a dining area featuring authentic African curios, a large rim-flow pool surrounded by loungers and umbrellas, a new waterhole to entice large and small game, and a new boma – all decorated in rustic natural shades and complemented by the rich, warm hues of the African sunset.
Thanda Tented Camp does not admit children under 8 years old.
Amenities at Thanda Tented Camp
- Personal Bar
- In-Room Safe
- Sun Deck
- Outdoor Shower
- Double Vanity
- Ceiling Fan
Wellness centre
Savour the very best of African-inspired and European treatments at Thanda`s award-winning wellness centre during your stay.
The safari-spa offers world-class body and facial treatments, as well as full-day packages to pamper, rejuvenate and uplift the body while the mind goes on safari.
Our Child Policy
Age Requirements
- Thanda Safari Lodge: Two children under the age of 16 can share a suite with two adults.
- Villa iZulu: Children up to the age of 16 are permitted to share.
- Thanda Tented Camp: We regret that no children under the age of 8 can be accommodated at Thanda Tented Camp. One child under the age of 16 can share a tent with two adults.
Terms & Conditions
- Single beds are available for children under the age of 16 sharing with their parents.
- A children`s menu is available. Please speak to the Duty Manager if your children have any specific dietary requirements.
- Babysitters are available at a nominal extra rate and must be booked on arrival.
- Children under 3 may not dine in the boma, dining room or on decks. A private boma experience may be arranged for families travelling with children under 3.
- Alternatively, room service dinner and a babysitter can be arranged.
- Children under 6 are not allowed on game drives unless a private vehicle is booked.
- Children under 16 are not allowed on bush walks. However, special bush `rambles` in the vicinity of the lodge can be arranged for younger children.
- Please note: We are more than willing to discuss exceptions to all child-related rules, within reason, in cases where a family or group has reserved Thanda Safari Lodge or Thanda Tented Camp in their entirety.
Thanda`s Nannies
Thanda`s nannies are mothers themselves. And, while you`re out on a game drive, they`ll take care of your children (all ages) as if they were family.
We had a superb stay in the Royal Villa at Thanda! The position of the villa was great, saw so many animals at the water hole from the comfort of the deck. We saw the big five and more due to the great knowledge of the guide and tracker on the game drives. The staff were outstanding, we wanted for nothing, the was food excellent. The villa is stunning and very comfortable, our family had a memorable stay and would love to return in the future.
I have never experienced the sheer attentiveness of all the staff, from the guides, waiters, receptionists, cleaners,,, ALL. The accommodation was completely luxurious, the privacy phenomonal, the details attended to were amazing. God willing, we will be back!!