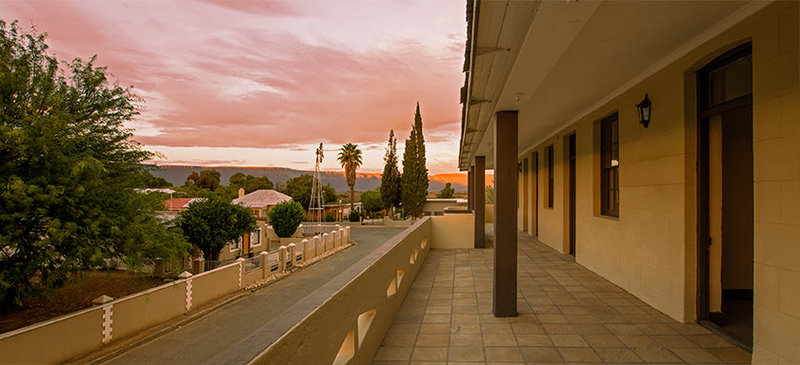 When entering the
Tankwa Lodge
, visitors are still welcomed with true warm country hospitality.
The Lodge offers 25 rooms all with en-suite showers and bathrooms, a Splash Pool to cool off in the summer heat, Conference facilities for up to 80 people, a Beer Garden, Secure parking and Restaurant and Bar which is currently independently owned and operated.
Formed in 1851 on the Oorlogskloof River and named after religious reformer Johan Calvin, Calvinia lies at the foot of the dolerite-topped Hantam Moutains.
Hantam
 being a Khoi word meaning -
where the red bulbs grow
.
It is the region`s key growth point and one of the country`s largest wool-producing areas. Calvinia enjoys 80% starlight and the night sky is an attraction for many city-dwellers and astronomers.
Accommodation at Tankwa Lodge:
- There are 25 air conditioned rooms.
- Breakfast are included in the price.
- All rooms en-suite.
- Air conditioned.
- Swimming pool.
- DSTV.
- Secure parking.
- 24 hour reception.
- Braai areas.
What to do at Tankwa Lodge and surrounding areas:
Flower Season and Hantam Meat Festival: (August - September)
The Hantam Vleisfees (Meat festival) is an annual event which is held in Calvinia in the Northern Cape and the small but beautiful town comes alive with festivities. The first Vleisfees was held in 1990 and has grown bigger and better each year. It is a popular event with music concerts and street parties and the popular Miss Vleisfees competition. The festival has a farm-animal expo, lots of farm products for sale such as fresh milk, butter, cheese and lots of delicious foods from braais, stews and potjies to mention only a few. A must experience for the whole family.
Activities and attractions:
4X4 Routes: There are various routes, some steep in Anglo Boer War history, along the escarpment with picturesque views and San paintings, or along the riverbed with huge Namaqua fig trees clinging to the rock surfaces. A must during spring when thick carpets of flowers adorn the countryside.
Akkerendam Nature Reserve: Offering walks for the fit or the frail. Afford you to take in the magnificent scenery, study the Sterboom and up to 65 species of birds.
Dutch Reformed Church: Design by Gaysford, a Potchefstroom architect, the church is in neo-gothic style and cost 1,200 pounds to build.
Grave of Abraham Esau: Anglo-Boer War martyr
Museum: House in the art deco Old Synagogue built in 1920, exhibits portray the lives of the early European settlers. A cedarwoodhorsemill and old locomotive train relate the history of the area.
Spring Flowers: Durning the Flower Season (September - October) each year, up-to-date maps direct flower-lovers to the best shows.
Hantam Meat Festival: (Last week-end in August) A local farmers festival, well known all over Southern Africa.