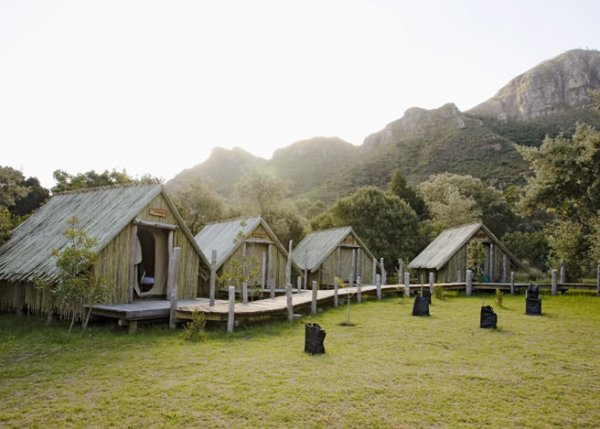 Situated at the south-western tip of Africa, the
Table Mountain National Park
(TMNP) encompasses the incredibly scenic Table Mountain Chain stretching from Signal Hill in the north to Cape Point in the south and the seas and coastline of the peninsula.
The narrow finger of land with its beautiful valleys, bays and beaches is surrounded by the waters of the Atlantic Ocean in the west and the warmer waters of False Bay and has within its boundaries two world-renowned landmarks - majestic Table Mountain and the legendary Cape of Good Hope.
Four tented camps are located within the TMNP.
The beautiful, rustic but luxurious camps are built from timber felled and milled in the Table Mountain National Park. Following the principal of "Touching the earth lightly", only previously damaged sites were selected, and the design ensures minimum environmental impact.
The camps provide hot water, open fires, and fully equipped kitchens for self catering clients. However, you can also book the camps with bedding included, a guide to accompany you and even have your luggage transported.
The 4 tented camps link up as accommodation hot spots on route on the famous Hoerikwaggo Trail.
A minimum of 2 persons and maximum 12 people can be accommodated.
An on site guide will be provided.
Orange Kloof Tented Camp
(currently closed for safety reasons)
Situated close to Hout Bay, adjacent to Constantia Nek.
Forest and mountain experience: Overnight in a tented camp in the ancient Afromontane forest of Orange Kloof. Enjoy the pristine Orange Kloof forest before hiking out the Kloof up Disa Gorge and onto Table Mountain.
1x 4-bed plus 4 x 2-bed tents - communal kitchen and ablutions.
Silvermine Tented Camp
Within the Silvermine section of the TMNP, off Ou Kaapse Weg. The Silvermine tented camp in the upland mountain wetlands near the Silvermine Dam.
6 x 2-bed tents - communal kitchen and ablutions.
Slangkop Tented Camp
Next to the beach and lighthouse in Kommetjie.
6 x 2-bed tents - communal kitchen and ablutions.
Smitswinkel Tented Camp
Close to the entrance gate to Cape Point along Plateau Road. The camp is set in the shadows of a weathered Flowering Gum plantation. Enjoy walking in the Cape of Good Hope section of the TMNP.
6 x 2-bed en-suite and kitchenette per tent
Additional services
* Guiding – R 325.00 minimum for a group of 6 persons or R 150.00 for the first person and R 35.00 for the 2nd to 6th person * Bedding – R 75.00 per set per person
* Transportation of luggage – R 100.00 per person
* Fire wood – R 10.00 per bundle
Please note prices are subject to change without prior notice.
Important Notice
1. Accommodation rates do not include
Conservation Fees
which are payable at the entrance gates.
2. Please ensure that you are familiar with the
Rules & Regulations
of National Parks before making a booking.