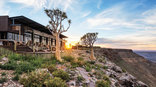 Fish River Lodge in Southern Namibia is the only lodge perched directly on the rim of the Fish River Canyon offering guests breathtaking views of the canyon from sunrise to sunset.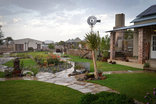 For an authentically unique place to stay, look no further than Alte Kalkƶfen. The Old Lime KilnĀ Lodge is arguably one of Namibia's best kept secrets. Situated between Namibian towns of Keetmanshoop and Luderitz.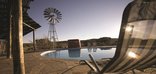 Canyon Roadhouse stands proudly amongst impressive granite boulders in seemingly abandoned surroundings. The beauty of an untouched nature is a foretaste of the splendour of the nearby Fish River Canyon.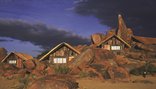 Canyon Lodge forms part of the privately owned Gondwana Canyon Park which stretches over 520km, and consists of 30 units/bungalows each having natural rock walls, thatch roofs and full en-suite facilities.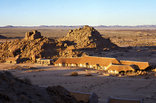 Situated just 20 km from the famous Fish River Canyon, CaƱon Village hugs the foot of a sweeping rock face in Gondwana CaƱon Park.