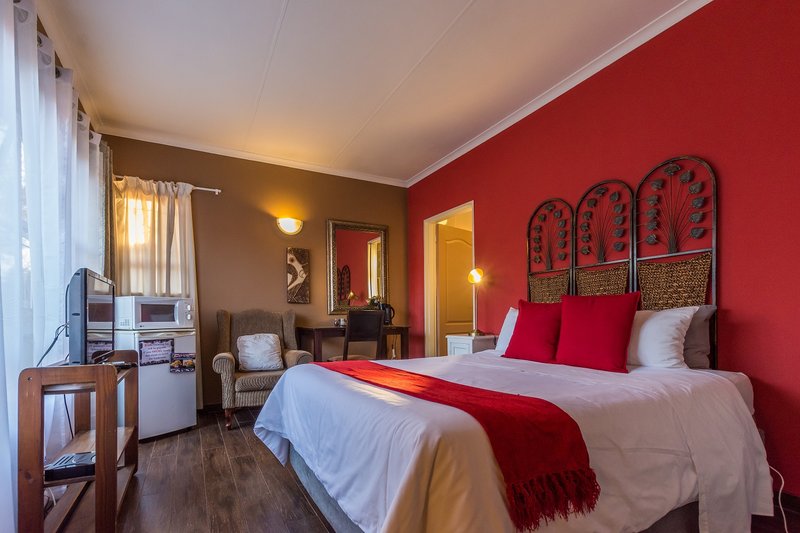 Silverstone Guest House
provides clean and stylish accommodation. We strive to make your stay as comfortable and memorable as possible.
Facilities at Silverstone Guest House:
- Eleven en-suite bedrooms, eight rooms with showers, three rooms with showers over bath tubs
- Each bedroom has one dedicated safe and secure parking
- Each bedroom has its own separate entrance
- 50 DSTV channels in each room
- Coffee and Tee Facilities in each bedroom
- Spacious entertainment area and pool
- Can accommodate up to 30 guests per night
- Fans in all of the bedrooms
- Wireless internet
- Heaters and extra blankets in all rooms
Guests have a choice of cereals, muesli, yoghurt and fruit, English breakfast or omelet with a choice of various fillings. Complimentary juice, coffee, tea, toast etc, available with every breakfast. Room service is available at request.
Each bedroom has one dedicated off street parking, which is very safe and secure.
Accommodation at Silverstone Guest House:
Bedroom 1: max four guests, en-suite (with shower)
Bedroom 2: one or two guests, en-suite (with shower)
Bedroom 3: one or two guests, en-suite (with shower and bath)
Bedroom 4: one or two guests, en-suite (with shower and bath)
Bedroom 5: one or two guests, en-suite (with shower)
Bedroom 6: one or two guests, en-suite (with shower and bath)
Bedroom 7: max four guest, en-suite (with shower)
Bedroom 8: one or two guests, en-suite (with shower)
Bedroom 9: max four guests, en-suite (with shower)
Bedroom 10: max four guests, en-suite (with shower)
Bedroom 11: one or two guests, en-suite (with shower)
Silverstone Guest House Activities:
- Cradle of Humankind world heritage site
- Sun City (1 hour and 45 min drive)
- Gold Reef City
- Northgate Coca Cola Dome
- Melville Nature reserve
- Melville Restaurant Village
- The Lion Park
- Monte Casino

Click to display the map