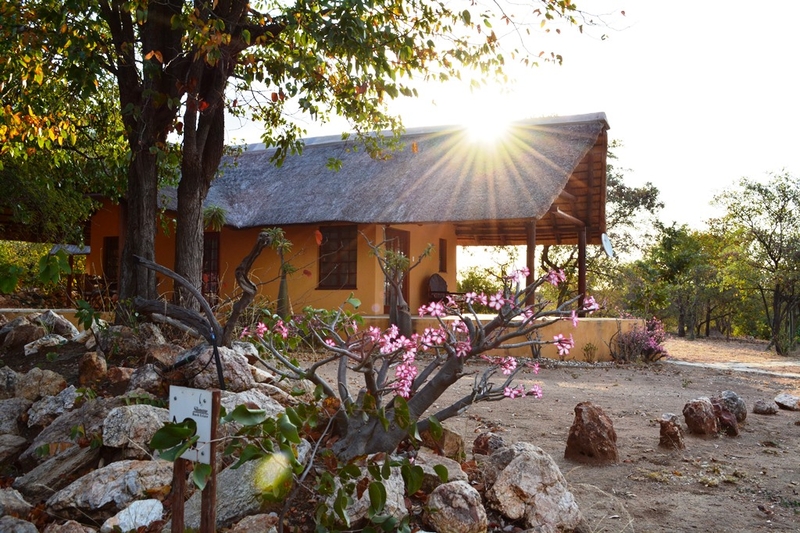 Silonque Bush Estate:
the perfect accommodation in Phalaborwa, Limpopo, South Africa!
Silonque Bush Estate welcomes you here in the heart of the Limopop province where you can feel at home and find your peace to get the ultimate experience of African continent. Silonque Bush Estate is the perfect place to feel welcome and live life to the rhythm of African time!
Silonque Bush Estate is a holiday/residential estate founded more than 10 years ago by Dutch developers with a dream. It is bordering the world famous Kruger National Park, near the town Phalaborwa. Silonque Bush Estate offers you everything "African bush life" is famous for. Unique surroundings, spacious houses with sufficient space inside as well as outside and a fantastic view of the African nature.
Silonque Bush Estate's developers were inspired by nature and the unique surroundings, but also by the people that get inspired by nature. The focus is on a unique bush experience.
Silonque Bush Estate is 67 hectare and is part of the much bigger Silonque East nature reserve. There are no fences separating the different areas. This enables the wild animals to roam freely through the entire Silonque East nature reserve.
Animals that we have on Silonque Bush Estate are: impalas, warthogs, giraffes, zebras, elephants, waterbucks, different bird species.
Phalaborwa, also called 'the city of two summers' because the subtropical weather, is the only town that directly borderes Kruger NP. Phalaborwa is the home of the famous African marula tree and Amarula Cream Liqueur. It also has great other touristic activities to offer. Tourism and wildlife play an important role in the surroundings of Phalaborwa.
Phalaborwa is situated in the north eastern Lowveld. Phalaborwa is the Sotho word for 'better than the south'. Phalaborwa experiences high summer temperatures, with a daily average temperature of 31 degrees Celsius. The rest of the year Phalaborwa offers comfortable and pleasant weather, with warm days and cool nights. There is an average annual rainfall of about 450mm. The rainy season starts in September and lasts until April. In winter we have a dry period, there is little or no rain. All leaves will disappear but the most beautiful trees and flowers will make the nature still nice and coloured. This is also a perfect time to spot animals because the bush is very thin at this time of the year.
Phalaborwa conveniently borders the Kruger National Park. Since opening in 1961, the Phalaborwa Gate has served as a convenient entry point to the Northern and Southern areas of the Park.
You will have never a dull moment in Phalaborwa: enjoy game drives in the Kruger National Park, river safaris, have a visit at Amarula Lapa, play golf at the Merensky golf course and many more.
Activities near Silonque Bush Estate:
Golf in the wild, The panorama route, Jessica the Hippo, Nandzana safaris, Amarula Lapa – The home of Amarula, Helicopter flight, Kruger National Park, River safari, Hoedspruit Endangered Species Centre and Township tour.
Accommodation at Silonque Bush Estate:
Thatched-roof units feature African-inspired décor and neutral colours. Each unit at Silonque Bush comes equipped with a private entrance, flat-screen satellite TV and a terrace offering views of the African bush. The bathroom includes a bath and/or shower and free toiletries.
Guests can prepare meals in the privacy of their self-catering unit which offers a fully equipped kitchen. Barbecue facilities are available in every house.
Luxury one bedroom houses
- 2 persons
- 1 sleeper couch
- Part of a 2 under 1 roof house (2 one-bedroom units)
Luxury two bedroom houses
- 4 persons
- 1 sleeper couch
Luxury three bedroom house with private pool
- 6 persons
- Private pool
Luxury three bedroom house with balcony
- 6 persons
- Possibility to put an extra bed in all bedrooms
- Sundeck overlooking Kruger National Park
All houses have:
Ensuite bathrooms per bedroom, Fully equipped kitchens with cutlery, pots, pans, a cutting board, big knives, braai facilities, a microwave, an oven, a stove, a fridge/freezer, a kettle, glasses and plates, Living room, Satellite TV, Free Wi-Fi, Terrace overlooking Kruger National Park and the African nature and Daily housekeeping.
You can choose for self-catering or bed and breakfast. For groups bigger than 6 persons, we are happy to arrange a traditional South African 'braai' (BBQ) upon request.
If you want to create your own 'braai' you are easily able to do that at your own house! All our houses are equipped with a 'braai' to experience the real African lifestyle. From the moment you arrive, the bush feeling will start immediately. Don't be surprised when impalas or waterbucks decide to spend the night in your garden.
Silonque Bush Estate Facilities:
Breakfast service (between 7:00 – 10:00), Breakfast package service (if you want to enter the Krugerpark early), Grocery service (just give us your grocery list and we will make sure your drinks are cold and fridge is full when you arrive at our estate), Two swimming pools, Tennis court, 24 / 7 (camera) security, Bookings for tourist attractions can be made at our office or in advance, Laundry and ironing service and Airport pick up (from Phalaborwa).
Facilities available in the houses:
Terrace ('stoep'), Satellite TV with various channels, Flat-screen TV, Safety Deposit Box, Air Conditioning, Living area, with relaxing couch, Fans, Private entrance per house, Bathrooms all have a Shower/bath and a toilet, Hairdryer, Free toiletries, Refrigerator, Microwave, Electric kettle, Kitchenware, Oven, Stovetop, Toaster and Barbecue.