Rooms:
There are 71 luxury rooms, all en-suite (shower or bath or both) and all rooms have television including the M-Net pay channel.
All bedrooms are air conditioned.
All bedrooms have direct dial telephone facilities.
Fax and e-mail facilities are available.
Facilities are designed to cater for the requirements of disabled people.
Room service is available 15 hours each day.
* Please note rates do not include peak period.
Royal Hotel - Ladysmith Activities:
Ladysmith dates back to about 1850, and was named after the Spanish wife of Sir Harry Smith.
The town saw considerable expansion after gold was discovered on the Witwatersrand, and today remains an important railway junction.
The Royal Hotel has been witness to all these times, and remains a focal point of Ladysmith today.
A pleasant town, with many interesting features and sites to visit, some of which are described below.
Siege museum:
Located alongside the Town Hall and civic offices, the building served as a ration center for civilians during the tough times experienced during the siege.
The excellent museum displays many relics of the siege period, and is well worth a visit.
Siege walking and driving guides:
An excellent guide is available from the information office at the Town Hall, or from the siege museum.
Covering over 80 historically significant sites in and around Ladysmith.
Historic battlefields:
Names such as Spioenkop, Colenso, Wagon Hill, Elandslaagte, and Tugela Heights all mark battles of the region.
Town hall and town hall museum:
See the superb architecture of this beautiful building, and get all the historical facts since it was built in 1893.
The professionally staffed information office is just a few minutes walk from the Royal Hotel
Soofi Mosque:
Completed in 1969, acknowledged as one of the most beautiful Muslim Mosques in the southern hemisphere. A national monument.
Check open times with Hotel reception.
Statue of Ghandi:
Mohandas Ghandi was a stretcher bearer with General Buller's relief forces at the end of the siege.
See the statue erected to his memory. The hotel will make arrangements with the caretaker.
The inscription at the foot of the statue reads "Truth, and freedom from conflict" in Afrikaans.
Other attractions:
The Wagon Hill battle site, the Spioenkop Nature Reserve, and the Ladysmith/Enmnambithi Cultural Centre are some features not to be missed. The latter houses the Ladysmith Black Mambazo Hall.
All Saints church:
A beautiful Anglican stone church, with superb stained glass windows, and memorial tablets in honour of some 1800 (of 3200) British soldiers who fell in the defense of the town.
A visit to this little church is a deeply moving experience.
Royal Hotel - Ladysmith Map:
The food is very good. History outstanding - keep it that way (for old hotel lovers). The bed is rather hard; a lot of noises during the night - bad for light sleepers and no problem for good sleepers. The staff is very good and friendly.
What a charming old fashioned hotel. I really enjoyed my stay!
The Hotel Rooms were large and comfortable, staff warm and friendly. The surrounding areas very interesting and ideal for persons with an interest in history. The Buffet meals we had were very acceptable and good value for money.
Good value for money. Helpful, friendly staff. A good restaurant - very good buffet dinner. It is a historic hotel, so not surprising that the rooms are rather gloomy although quite pleasant. Spacious accommodation although some aspects a bit dated.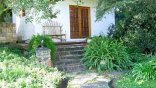 Grading:

Guest Rating:

(4 reviews)
Set in a beautiful "jungle like" garden. Situated in Central Ladysmith. Our eighteen comfortable en-suite rooms are heated, air-conditioned equipped with tea & coffee facilities, TV with selected DSTV Channels.
From:
R385.00
per person sharing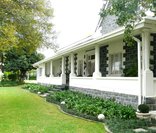 Hunters Lodge is centrally situated in the busy town of Ladysmith. We pride ourselves on providing a restful oasis for the weary traveller and offer a home from home atmosphere - arrive as strangers and leave as friends.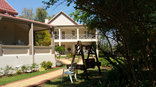 Ideally located, Central to the Ladysmith Central Business District, Totally Safe and Secure. Peaches & Cream is a beautiful, secluded and gracious colonial home nestled in a lush indigenous garden in the historically rich town of Ladysmith.
From:
R550.00
per person sharing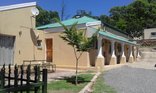 The Boer & Brit Self Catering Guest House offers 9, well-equipped, spacious units sleeping between 2 and 6 people, each with their own entrances, private bathrooms, kitchenettes with a fridge, microwave, stove, coffee- and tea-making facilities.