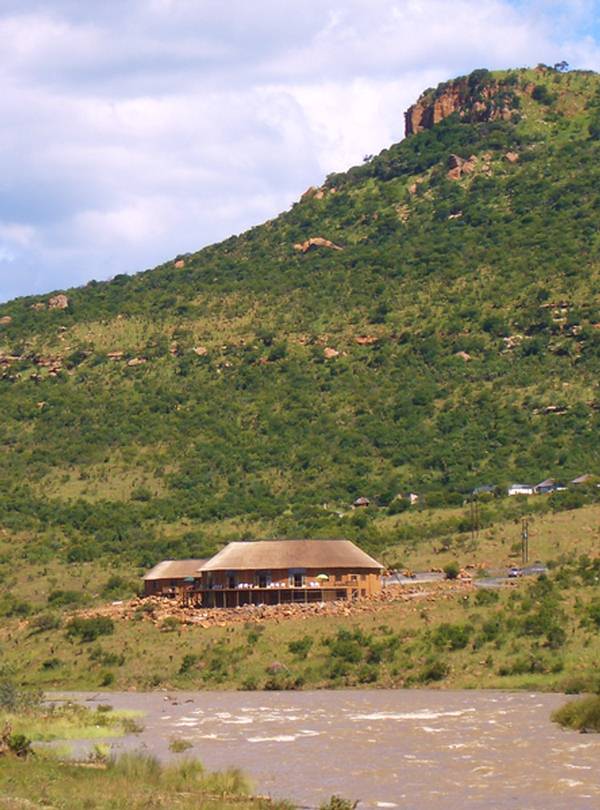 The new Rorke's Drift Hotel stands overlooking a wide sweep of the Buffalo River on the slopes of Shiyane (The Oscarberg), in the rolling hills of Zululand.
The historic crossing, that gives the area its name, is within its grounds and the comfortable modern facilities are priced to meet the needs of the discerning traveller. The visitor will enjoy peaceful relaxation in the rural landscape, surrounded by iconic history and natural countryside.
The main building is over 100m around its circumference and the unique design of a double angle roof and a central hub with indirect lighting envelops the reception area, the lobby, lounge, bar and restaurant.
High French windows allow access to the generous deck that commands a view of the Buffalo River both upstream and downstream and over the rolling countryside to the Sihayo cliffs.
Part of the lower floor contains a conference suite and cinema and a further meeting room overlooks the ground floor from a mezzanine that is accessed by a curved staircase.
A display area for the culture of the area as well as a hotel shop is located in the lobby, and the library in the Bushman Room allows for quiet contemplation or study.
The hotel grounds have been landscaped to preserve the natural and attractive rocky terrain so raised walkways join the main buildings and invite visitors to the pool with a view, that has been cut into the original rock.
Other facilities include the car parking area, tubing on the river, local attractions and destinations.
Rooms:
The accommodation is in separate round 'Forts' of similar design, but these have an open courtyard at their centre and the double ensuite rooms are entered from it.
Each room has a French window allowing access to a small deck or seating area and is equipped with a fridge, tea making facilities, hair dryer and all the usual bedroom facilities that include a walk-in shower, separate toilet and double wash hand basins.
Rorke's Drift Hotel Activities:
Visiting the original Drift that was made by James Rorke in 1835, and wonder at its clever design.
Take a guided trail to the Bushman cave paintings that overlook the valley from the slopes of Shiyane. Follow the trails that were used by the British soldiers when they invaded Zululand in 1879, and where they retreated after the Zulu Army overwhelmed their camp at Isandlwana.
Visit the cemetery across the Buffalo River; the resting place of soldiers and pioneers.
Visit the museum and the Rorke's Drift Battlefield and see how 100 British soldiers prevented the Zulu Army from invading colonial Natal and threatening Durban. Learn how their feat of arms was recognised by the award of 11 Victoria Crosses.
- Climb the famous hill for views over the far reaches of Zululand
- Take the track down to the nesting place of the Bald Ibis; a bird unique to KwaZulu-Natal
- Relax on our sandbank
- Chill in the library
- Refresh in the Kwa Jim Bar
- Sample the menu in the Shiyane Restaurant
- Meet friends in the Indaba Hub
- Catch some rays by the pool
- Stay in our 'Forts' and explore the local area

Click to display the map