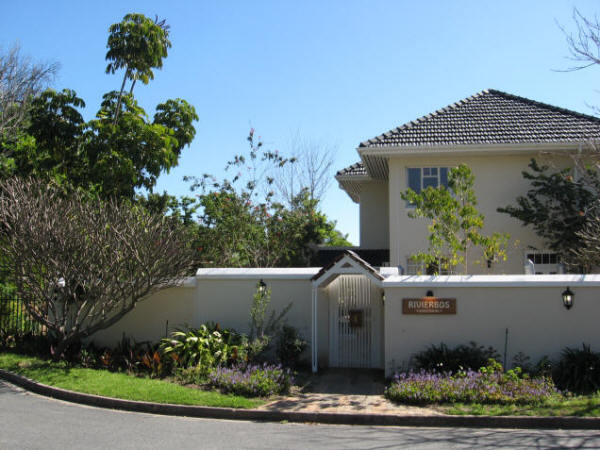 Rivierbos Guest House
is ideally located on the bank of the Eerste River in a quiet, leafy cul-de-sac off historic Dorp Street, in the heart of picturesque Stellenbosch.
Numerous restaurants, cultural attractions, coffee shops, supermarkets, boutique shopping, cinemas, vibrant student nightlife and the Stellenbosch University campus are within a scenic 5-15 minute walk.
Rivierbos Guest House embodies an ideal blend of quaint charm, attentive service and modern comforts. Add central location and no traffic noise, and you have the sensible alternative in affordable accommodation. The refreshing, secluded ambiance at Rivierbos allows guests to reside in a tranquil setting, while still being able to experience all that Stellenbosch offers. The vibrant and historic university town of Stellenbosch is the perfect base from which to explore the famous Cape Winelands. The beaches of Strand and Gordon's Bay are 20 – 25 minutes by road from Stellenbosch; and Cape Town International Airport, 30 minutes.
Rivierbos Guest House facilities:
Secure on-site vehicle parking is available.
We offer a cozy guest lounge and free wireless Internet access (WiFi).
We gladly arrange transportation from and to Cape Town International Airport (cost involved) and can offer advice on a variety of local tours and leisure activities.
Whether you are visiting on holiday or for business, Rivierbos is the perfect blend of old world charm and affordable modern comforts - within walking distance of all that Stellenbosch offers.
Rivierbos Guest House accommodation:
Rivierbos Guest House offers 11 tastefully appointed non-smoking guest rooms, each with en suite bathroom.
(We have 6 double rooms and 6 twin rooms.)
Rooms are equipped with:
* Hair-dryer
* Colour television
* Tea/coffee making facilities
* Cooling fan and wall-mounted heating panel.