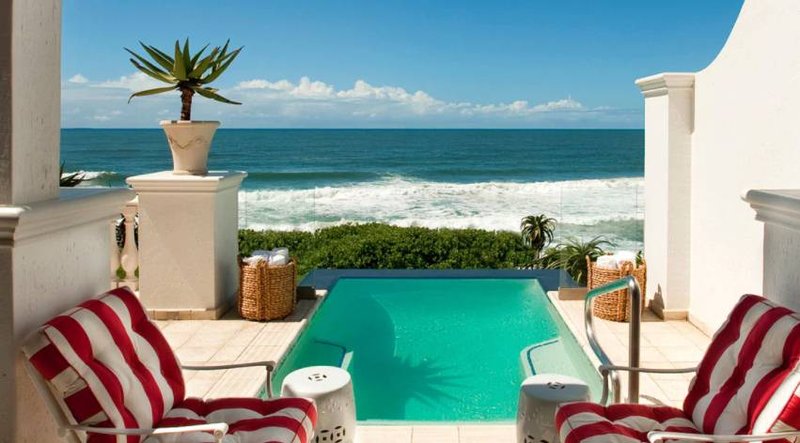 Perfectly situated on the ocean's edge, a brief 5 minutes walk from Umhlanga Village Centre, the
Oyster Box Hotel
is conveniently located for quick and easy access to Afro-chic Durban city centre, International Airports and numerous stylish shopping centres…yet has a feeling of classical charm and elegance like nowhere else on earth.
Nearby tourist attractions of immense interest to travellers include Gateway Theatre of Shopping, Ushaka Marine World, Sun Coast casino, the historical Natal Midlands and majestic Drakensberg Mountains, as well as excellent big 5 game parks, lodges and historical battlefields.
For those wishing to play a few rounds on some of South Africa's finest fairways excellent golf courses are a mere minutes drive away. And of course the new Moses Mabhida Stadium built for hosting the 2010 FIFA World Cup is within easy reach from the hotel.
From the moment the Oyster Box opened its doors in 1947 the hotel rapidly became one of Africa`s best loved and most distinguished hotels. The combination of colonial charm, impeccable service, lush tropical gardens and breathtaking seaside setting swiftly gained it a reputation that was legendary the world over.
This iconic landmark has been lovingly refurbished to offer guests a vibrantly contemporary experience, whilst still evoking feelings, memories, and the warm nostalgia of days gone by. Meticulous attention to detail ensures that former guests will be delighted to discover the old glory has not just been retained, but carefully enhanced. All of the warm hospitality and gracious elegance which guests so fondly remember are harmoniously blended with a wealth of modern facilities and contemporary touches to satisfy today`s most discerning of tourist, business person and honeymoon couple.
The Oyster Box, like its famous lighthouse, once again acts as a beacon of exceptional hospitality, luxurious accommodation and personal service unmatched in all Africa and the world at large.
The setting, the architecture, the décor, the cuisine – everything conspires to create a magical experience that affords a wealth of exceptionally pleasurable experiences and warm memories. Whether it`s a complimentary glass of Oyster Box`s signature iced tea which welcomes you on arrival, a relaxing treatment in the beautifully designed Oyster Box Spa, the way your children and pets are made to feel immediately at home, the chef`s inspired selection of culinary delights, complementary transfers to the nearby shopping centre, or that long cool cocktail on the Oyster Bar terrace at the end of another blissful day under African skies, there's no shortage of special moments you'll fondly remember for a lifetime.
Setting the stage of magical memories
Sitting grandly on the dramatic shoreline of the Indian Ocean overlooking the iconic lighthouse of Umhlanga, the statuesque Oyster Box had become the truly perfect place for that special day. Occupying a special place in the hearts of the countless guests who had enjoyed its warmth, caring service and relaxed elegance since it first opening in 1947, for both intimate and large receptions and functions the Oyster Box Hotel remains to this day celebrated as having been the place for the finest celebrations and special occasions in the nation. No other hotel offered such a rich array of beauty of backdrop from elegant internal environments to the spectacular seaside views of the Indian Ocean.
Exceptional moments, exceptional memories. It happens at the Oyster Box
Exceptional cuisine in an exceptional setting
Whether enjoying sundowners while watching the mesmerizing waves of the Indian Ocean in the distance at the Lighthouse Bar, casual dining with friend at the Ocean Terraces, fine dining with that special someone at the Grill Room, or sinking into a comfortable armchair and swapping stories over a cold beer with a mate in the Chukka Bar, culinary experience of the Oyster Box Hotel is one which truly celebrates the palate.
A bouquet of entertainment choices offering an array of cross-cultural cuisine. Carefully crafted to meet the wishes and whims of guests from across the nation and world, the Oyster Box is proud to offer tasteful, ethnically inspired menus perfect for guests seeking anything from special fine dining occasions to simple, relaxed meals or just a small bite. Perfection for the palate. It happens at the Oyster Box.
Accommodation at the Oyster Box Hotel:
With 86 different types of luxurious rooms, suite and villa to choose from The Oyster Box can accommodate the varied individual needs of every type of visitor.
Meticulously refurbished, each one is superbly designed to provide the utmost comfort and style. All of the colonial charm has been lovingly preserved – the exquisite tiles, murals, paintings and antique furnishings have all been retained in their original glory. The décor also makes excellent use of natural stone and timber, complemented by calming colours that reflect the soothing shades of the surrounding ocean and tropical vegetation.
Please Note
- a minimum of 10 days stay is required over December.
A generous array of deluxe amenities, thoughtful extras, personal features and services are provided for the pleasure and comfort of guests, including:
-Flat Screen Satellite TV with over 25 channels to choose from.
-Deluxe bath amenities, luxurious bathrobes and slippers.
-Housekeeping service twice daily.
-Soap and pillow menus.
-Heated towel rails.
-Well stocked mini-bar
-Fresh fruit and flowers in all rooms, plus a selection of current magazines.
-In-room CD/DVD players and iPod docking stations.
-Private in-room safes (laptop size).
-Finger-tip controlled heat and air-conditioning.
-Extensive 24-hour room service menu.
-Two direct dial telephones with voicemail.
-High-speed Wi-Fi.
-Beach gear - sun umbrellas, beach bags, balls, bats and suntan lotion.
-Children's Club with qualified child minding staff so adults can relax