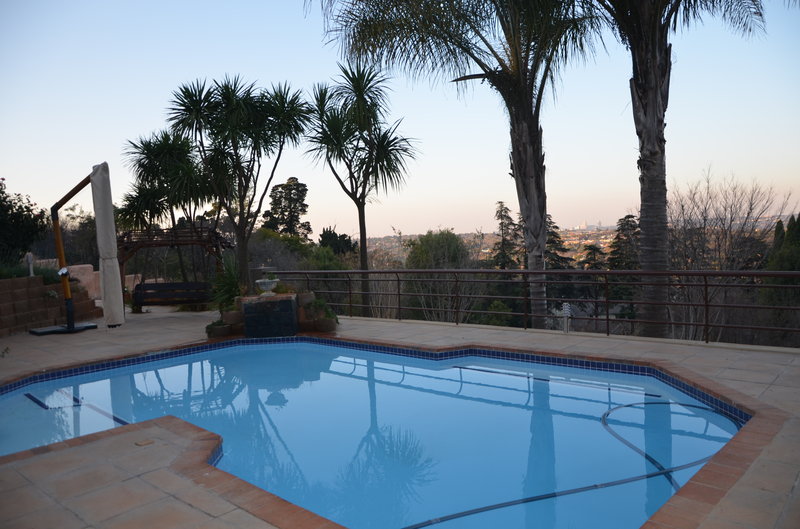 Over The Moon Guesthouse
is situated on the slopes of Northcliff Ridge, a sensitive and tranquil environmental area, with stunning views of Johannesburg, Rosebank and Sandton.
We offer all the luxuries the frequent traveller needs to make the stay as comfortable and pleasant as possible and are centrally located to the business centres of Johannesburg, Rosebank and Sandton with easy acces to main roads and highways.
Over The Moon Guesthouse has gone green and uses solar powered electricity for most of our requirements, but does have back-up power in the unlikely event that the need for it arises.
Accommodation at Over The Moon Guesthouse:
The Executive Suites
- Stunning views of Johannesburg and Rosebank and Rosebank
- Luxurious and spacious air conditioned room with kingsize double bed
- Modern full en-suite bathroom (with bath and shower)
- Dressing room with ample cupboard space
- Private patio
- Complimentary Wifi
- Satellite television
- Work station
- Electronic safe
- Mini Bar and complimentary refreshments
- Selection of tea and coffee
The Standard Room
- Luxurious and spacious air conditioned room with kingsize double bed
- Modern full en-suite bathroom (with bath and shower)
- Dressing room with ample cupboard space
- Private patio
- Complimentary Wifi
- Satellite television
- Work station
- Electronic safe
- Mini Bar and complimentary refreshments
- Selection of tea and coffee
Over the Moon Guesthouse Activities:
Services at Over The Moon Guesthouse:
- Laundry service
- Dinner on request
- Airport Shuttle Service (at additional cost)
- Travel desk
Facilities at Over The Moon Guesthouse:
- Gym
- Private meeting room
- Sport and Recreation close by
Activities in the area:
- Golf (3 km)
- Virgin Active Gym (1.5 km)

Click to display the map