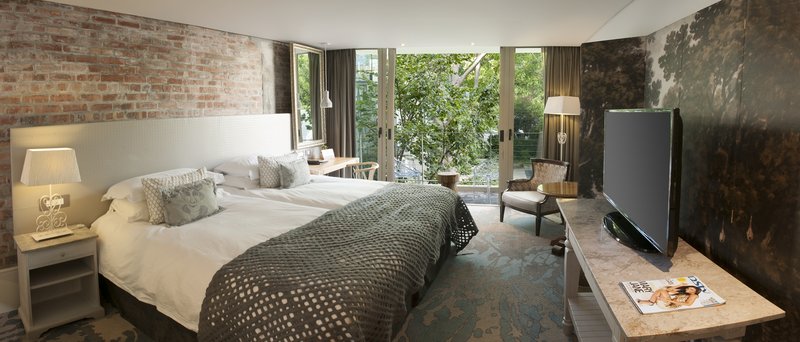 Oude Werf (the old Churchyard) is South Africa's oldest hotel, built on the site of its first church in the Wine 'capital' and university town of Stellenbosch. Since 1802, this country inn has been extensively rebuilt, with most recent renovations turning this national monument into a deluxe modern hotel that still retains its historic ambiance and easy, personal hospitality.
'Modern' meets 'Vintage' throughout the Hotel, which steps past a Georgian-style facade into its inn-house, and beyond, to the vine-covered courtyard and interior of a newly-designed restaurant. An adjoining vintage-styled bar and lounge spills out into a shady central garden and pool deck.
The Hotel has 58 rooms of various sizes overlooking the garden, restaurant and Church Street. These are decorated in an easy, contemporary style, subtly combined with period-inspired details and offer king, twin or double beds and en suite bath + shower or shower-only layouts. Standard deluxe features include satellite TV, high-speed internet access, wall safe, tea/coffee-making facilities and mini bar stocked on request.
Dining at Oude Werf has been a Stellenbosch 'must' for 2 centuries. Chef Albert van der Loo continues a tradition exploring the many flavours of the area, and its top wines. Country-style breakfasts, casual lunches, hearty dinners or 'high tea' can be enjoyed indoors or out in a unique new eatery that features an in-situ kitchen, running water and a shady vine-covered courtyard..
Centrally located, the hotel is a stroll from many leisure experiences - the cafés of Church Street, museums, galleries, architectural and heritage sights. Board a shuttle to one of 150 wine estates outside the town. Book a wine-drive safari. Hike or peddle through a mountain reserve, or golf at a premier course. Explore beyond to towns like the 'gourmet capital' of Franschoek, the beaches of Gordon's Bay or to Cape Town's city and Peninsula, 45 km away - excursions which can all be arranged by the Hotel.