Sesfontein Accommodation listings with guest ratings, grading and rates - request a quote and book online. Whether on holiday or for business travels, browse the listings below to find your ideal accommodation.

Filter the results for accommodation in Sesfontein by type:
Accommodation in Sesfontein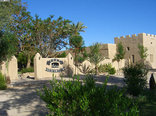 Renovated old German fort at Sesfontein on the Hoanib River in the north western area of Namibia.