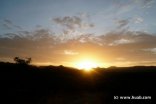 Eight very spacious bungalows blend into their spectacular setting on the banks of the ephemeral Huab River. Care is consciously taken to ensure the environment is not abused and previous damage is reversed where possible.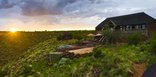 Perched on the rim of the Etendeka Plateau, the Grootberg Lodge stands sentinel over the Klip River Valley. Twelve rock and thatch chalets gaze out over the gorge, where Black Eagles hunt just below your private deck.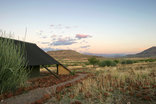 In the foothills of the Grootberg massif, in stunning scenery set amidst the ancient Etendeka lava flows of northern Damaraland, you will find Etendeka Mountain Camp. The emphasis here is on Nature, and this eco-friendly camp bears testimony to her.