Kleinzee is a small diamond mining town on the west coast of the Northern Cape west of Springbok on the R355.

Kleinzee Accommodation listings with guest ratings, grading and rates - request a quote and book online. Whether on holiday or for business travels, browse Kleinzee Accommodation listings to find your ideal accommodation.

Filter the results for accommodation in Kleinzee by type:
Accommodation in Kleinzee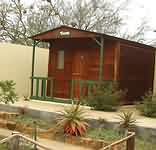 The Houthoop Guesthouse & open-air Restaurant is situated on a Dorper sheepfarm 15km from Kleinzee. Offering rooms in the guesthouse and wooden huts close by.
Accommodation near Kleinzee
Voetbaai Chalets is situated in Port Nolloth between the Altantic Ocean and Namaqualand. It is a peaceful and tranquil environment with relaxing surroundings.
49.6 km FROM Kleinzee
*The distances are measured as a straight-line and do not necessarily reflect the actual travelling distance.