Delareyville, named after a General of the Boer forces in the Anglo-Boer War, is a small farming town in North West in a maize and peanut farming district.

Delareyville Accommodation listings with guest ratings, grading and rates - request a quote and book online. Whether on holiday or for business travels, browse the listings below to find your ideal accommodation.

Filter the results for accommodation in Delareyville by type:
Accommodation in Delareyville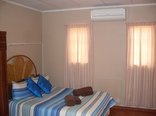 Salty Waters provide overnight accommodation for travelers en-route the N14 to the Kalahari Gemsbok National Park & Kgalagadi Transfrontier. Relentless sun alleviated only by torrential rain makes summer in NW something of an endurance test aim to come!