Every turn in the road paints an unforgettable picture: valleys filled with Namaqualand daisies and other spring flowers that pulse with sheer energy and joy. Next to some eye-catching succulents, a porcupine and a tall aloe pay witness to a baboon overturning a rock and pouncing on a scorpion.
During early August and September, seemingly overnight, the dusty valleys of Namaqualand are transformed into a wonderland, carpeted with wildflowers. With its winter rainfall, Namaqualand is home to the richest bulb flora of any arid region in the world and more than a 1 000 of its estimated 3 500 plant species are found nowhere else on earth.
Escape to the land of contrasts, where the rigorous climate has created a myriad of life forms superbly adapted to their specific habitat. Fields of flowers, star studded nights, quiver trees, enormous granite outcrops and the icy Atlantic are but a few wonders that await the visitor to what is truly the Creators' playground.
5 Things To Seek
Carpets of flower (in season)
Quiver trees
Klipspringer
Unspoilt coastline
Quartz Patches
View Room Types and Rates
Important Notice
1. Accommodation rates do not include
Conservation Fees
which are payable at the entrance gates.
2. Please ensure that you are familiar with the
Rules & Regulations
of National Parks before making a booking.
Take Note
Pets are not allowed in a National Park.
Vehicle fuel and ATM facilities are available in the nearby town Springbok (87km away)- not in the park itself.
It is an offence to pick flowers or to remove plants or any other material from the park.
There are limited toilet facilities in the park.
Vehicle repairs, post office and police services are available at Kamieskroon. Medical services only in Springbok, which is 67 km away.
Accommodation at Namaqua National Park:Skilpad Rest Camp
It provides 4 chalets, each with 2 single beds in the bedroom and a ¾-sleeper couch (suitable for 1 adult or 2 children) in the open plan living room / kitchen. A dining area is available on the enclosed veranda and an indoor fireplace and an outside braai area is also provided.
The units come equipped with ceiling fans and 220V electricity. One unit (#3) has been adapted for use by guests with challenged mobility. The kitchen is fully equipped with crockery and cutlery, cooking utensils, glassware, a 4-plate stove, microwave, fridge / freezer combo, kettle and toaster.
Chalet (CH2/4)
- 1 bedroom with 2 single beds
- 220V Electricity
- 3/4 Sleeper Couch suitable for 1 adult / 2 Children
- Airconditioned bedroom
- Ceiling Fan
- Enclosed veranda with dining area
- Indoor fireplace, braai area outside
- Limited road network for sedan vehicles
- No shop, restaurant or filling station in Park
- Open plan lounge / kitchen area
- Provide own firewood!
- Wc and shower
Namaqua National Park Activities:
Adventure and Outdoor:
* Caracal Ecotrail (4x4 only)
* Circular drive with viewpoints during the spring flowering season.
* Several short nature trails.
* Picnic sites.
* A seasonal visitor information centre.

Click to display the map
Health & Climate:
Namaqualand falls within the winter rainfall region of South Africa.
The highest rainfall period is between June to August.
Average winter temperatures vary between 7 degrees and 19 degrees Celsius, while summer temperatures vary between 20 degrees and 42 degrees Celsius.
Very comfortable, would definitely like to go again once they have had sufficient rains and very friendly people. Beautiful place. Thank you.
Well equipped and thoughtfully designed chalet with fireplace cum braai and glass enclosed "sun-stoep" catering for all seasons/weather. Stunning view over the mountains! We definitely recommend it to nature lovers.
Beautiful setting. Clean, spacious, amazing views and very peaceful! Will definitely visit again.
I have been to many parks in South Africa - this must be rated as one of the best - Well done.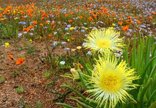 Kallabaskop Lodge is next to the National Namaqua Park. With the National Skilpad Park only 6 km away from our Lodge. Flower season is amazing with a wide variety of flower fields to experience.