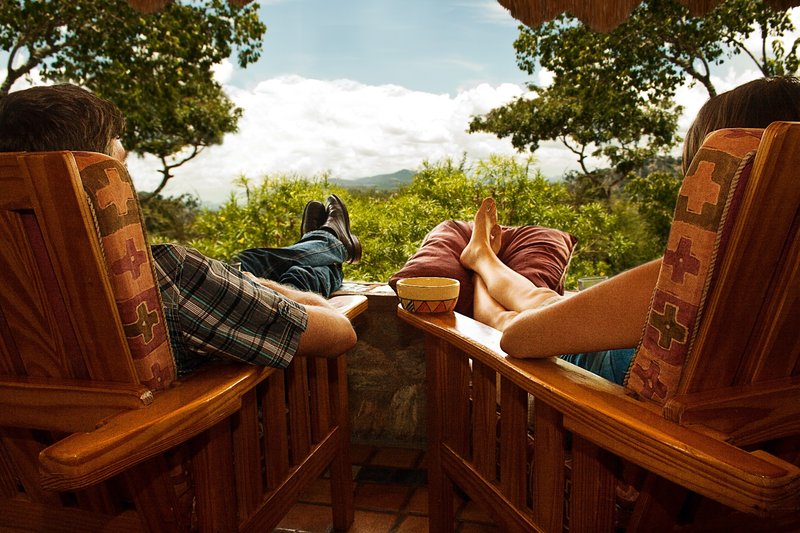 If you are looking for the ultimate getaway in the Eastern Highlands, with the promise of complete tranquility and spectacular scenery,
Musangano Lodge
is the ideal location.
Visitors soon fall under its spell because of its serene and peaceful atmosphere, charming accommodation, superb cuisine and stunning views, which invite to linger and unwind.
Spaced well apart for privacy, our tastefully furnished, comfortable and spacious units are set on the lower slopes of a tree-covered hillside, blending well into the surrounding Miombo mountain woodland. Guests may choose between the larger Lodges for families and friends or smaller Chalets for two.
Our PaMuchakata Restaurant has acquired an enviable reputation for serving delicious food, a blend of Central European and Southern African cooking - the best of the culinary arts of two worlds.
Tucked away amidst the magnificent green hills of Africa, Musangano is a mere three hours drive from Harare and half an hour from the border town of Mutare. It is ideally located for exploring the attractions of the Eastern Highlands like the Vumba Mountains, Nyanga National Park and Honde Valley. When you feel like stretching your legs, there are a variety of activities at hand on site and nearby to suit all ages and interests. Furthermore we offer the rare opportunity to organize trips into the neighbouring communities so that the visitor can get a first-hand experience of the lives of Zimbabweans today.
Finally – referring to the meaning of Musangano Lodge and our vision of 'the place where people meet' – we would be very happy to welcome you at our little paradise.
Accommodation at Musangano Lodge:
We have five spacious Lodges with spectacular views over the Eastern Highlands, their homely exterior inviting you to indulge in the comforts inside. You will feel completely at ease in the large living/dining area, tastefully furnished in an ethnic style with a fully-equipped kitchen. Between four and seven guests can be easily accommodated in the two or three cosy yet luxurious bedrooms with ample seating space for all in both the lounge and the outdoor covered porch. If you visit us in the winter, the fireplace will ensure a warm visit, and for summer visitors the covered veranda is a great place to enjoy a braai under the stars.
Conferences at Musangano Lodge:
If you are in need of a location for your next workshop, seminar or function, then look no further. Musangano Lodge has gained an enviable reputation as an excellent venue and has hosted workshops for a wide variety of organizations, government ministries and embassies.
We offer the perfect setting with our exquisite food, well-appointed accommodation, efficient and helpful staff and last but not least, our amicable and relaxing atmosphere.
The conference room, which is conveniently situated a short distance away from the reception and dining room, can accommodate 20 to 30 workshop participants, and 30 to 50 guests for banquets or receptions. The venue is surrounded by lush gardens and provides an ideal setting for intimate board meetings, strategic planning workshops or secluded retreats.
PaMuchakata Restaurant at Musangano Lodge:
Indulge your taste buds while you stay with us and visit our restaurant, PaMuchakata, aptly named after a local tree which holds much value in the Shona culture. The dense foliage embodies the ancestors' protection over those still living, the fruit is a popular delicacy and the tree itself is a coveted spot under which to hold rituals as it is considered a direct link to the spiritual world. We want to contribute to this notion by serving you freshly prepared food that nourishes both body and soul. Our menu is a fusion of the best of Southern African and Central European cuisine, with the option of dining under the stars or within the ethnically-themed restaurant.
Explore and Enjoy:
Musangano Lodge is the perfect place to relax, unwind and indulge. However, when you feel like stretching your legs there are a variety of activities at hand to suit all ages and interests.
Activities on site:
- Marked Nature Trails
- Swimming Pool, Children's Playground and Outdoor Games
Activities nearby:
- Mountain and Road Biking
- Chikundu Game Park
- Osborne Dam