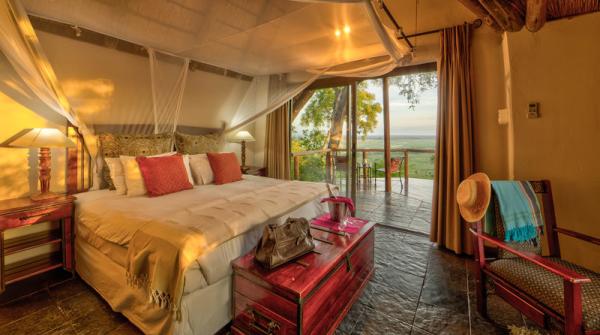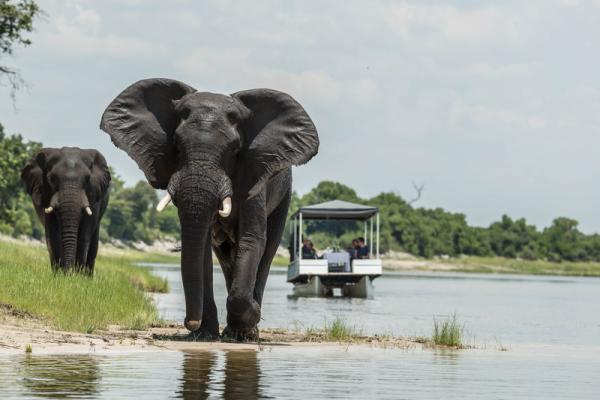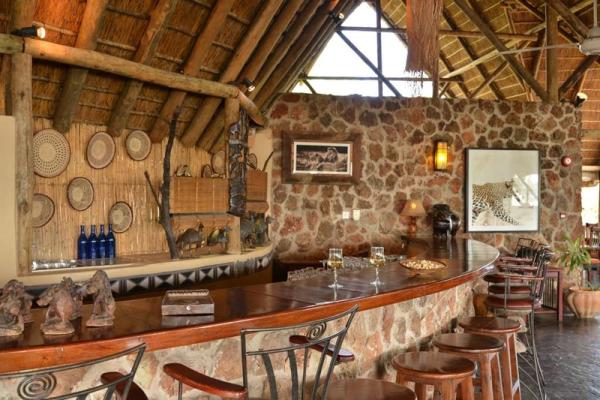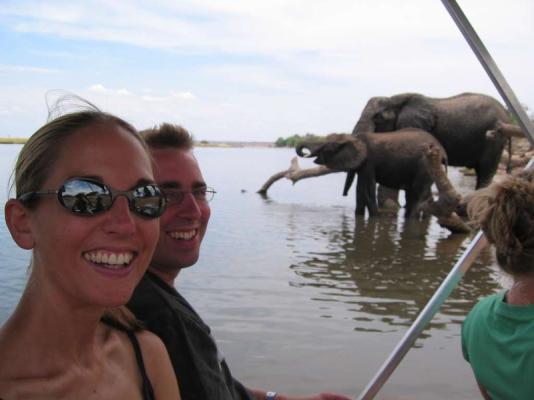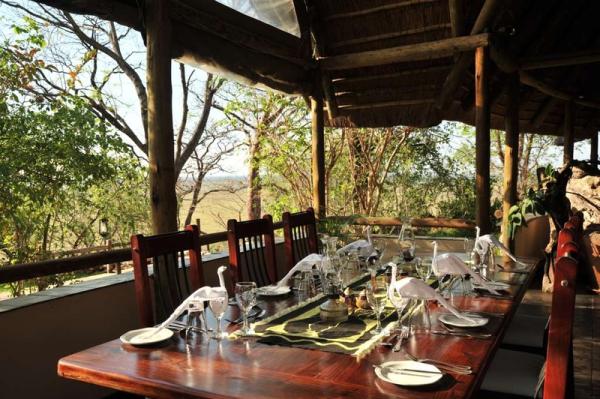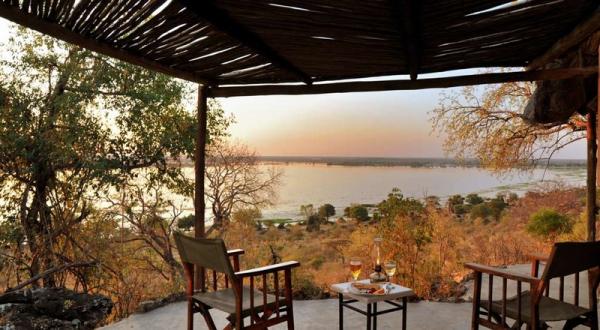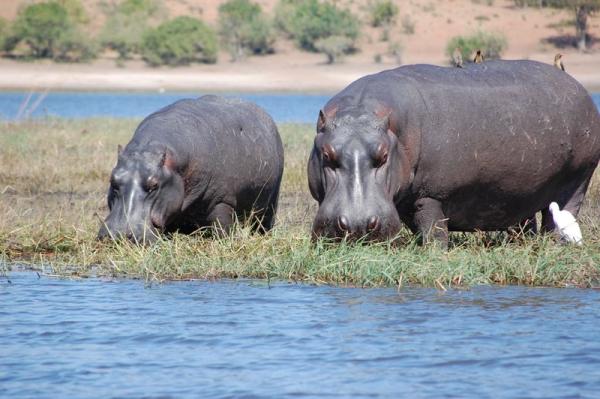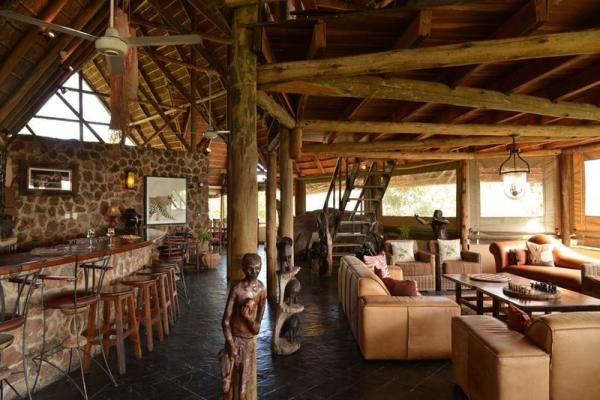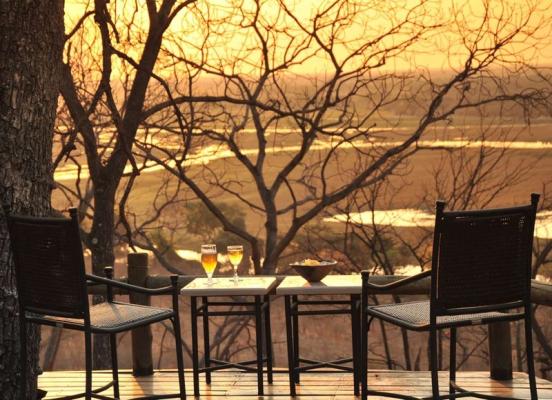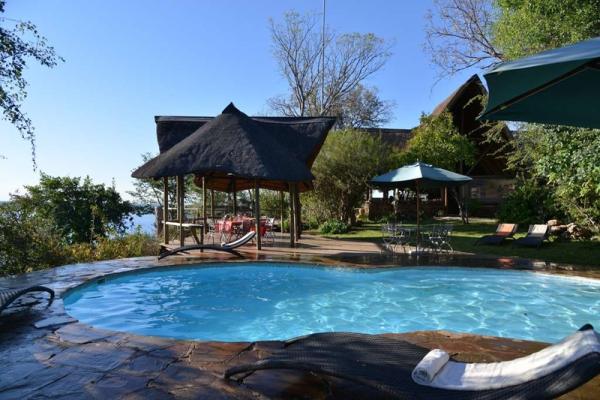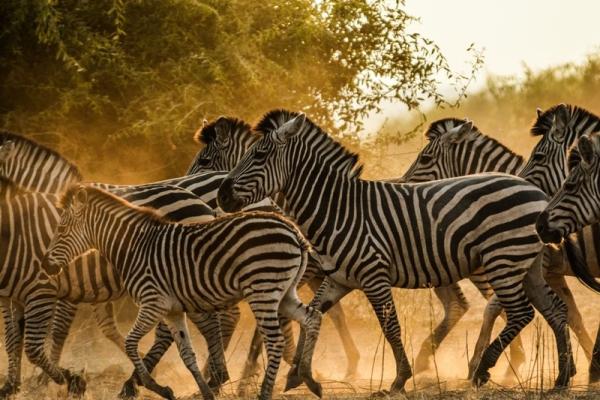 Previous
Next












Book Now
Muchenje Safari Lodge sits on an escarpment within the Chobe Forest Reserve on the quieter western side of Botswana`s Chobe National Park. With wonderful views of the Chobe River, the Caprivi Strip and seasonal flood plains, it is position means that it is far away from the bustle of Kasane yet just two hours from the magnificent Victoria Falls.

Chobe is renowned for its prolific wildlife and huge concentrations of game. Muchenje prides itself in the variety and quality of safari experiences, allowing you to explore the Chobe and all its wonders.

Being owner run, Muchenje Safari Lodge allows for a more personalised service and homely atmosphere. With experienced managers and guides looking after you every step of the way.

The Lodge
Muchenje Safari Lodge offers 11 thatched private cottages, each beautifully appointed having its own unique view of the Chobe and Caprivi flood plain.

Of the 11 cottages, 1 is a family unit, and accommodates 4 guests. Comprising of a bedroom with 2 bathrooms downstairs and an open plan loft area with 2 single beds upstairs. This unit also works well for a small group of friends travelling together.

Our cottages boast new decks to enhance your viewing experience allowing you more space and time to enjoy the scenery. All cottages are tastefully decorated.

Walking Safaris:
Morning walks are offered in front of the lodge in the Chobe Forest Reserve. Our guides will introduce you to the smaller aspects of African wildlife.

Game Drives:
Enjoy game drives into the western section of the Chobe National Park, with our knowledgeable and friendly professionally qualified guides.

Boat Trips:
A wonderful chance to see herds of elephants, as well as many other mammals and birds along the Chobe River.

Community Visits:
Visit our local village for a cultural experience and to meet the people that make Botswana the delightful country it is.

Spectacular Elephant Herds:
Home to four of the Big Five; Chobe is understandably famous for its elephant herds - in the dry season one can see hundreds of these magnificent animals on the flood plains at any one time, most of which are family groups, with a few generations represented.

Nowhere in Africa are you going to see such large herds of elephants watching them drink, play and cross the river is something you are unlikely to ever forget. The elephant population is estimated to be about 120,000.

Buffalo Herds and Zebra Migrations:
In addition to the elephants, herds of buffalo are also impressive with vast numbers of them milling around on the flood plains and surrounding hills. The migration of the zebra from Savuti Marsh in the south to the Chobe Flood plains is an annual phenomena and is always a signal for the on coming rains.

Africa`s Premier Birding Safari Venue:
Antelope species, too, are well represented from impala to the majestic sable, and the endemic Chobe bushbuck. Chobe is also home to the puku which is a rarely seen antelope due to the fact that it does not occur anywhere else in Botswana.

Birding is excellent, and Chobe is considered Africa`s premier venue for birding safaris. Botswana has an excess of 450 species so your check-list is sure to fill-up.
Muchenje`s location means that you can explore the huge section of the western area of the Chobe National Park and its river frontage, away from the busier areas to the east.

Accessibility:
Closest Airport: Kasane (BBK) - 50km / 45 minute road transfers (complimentary)
Flights into Kasane: SA Airlink and Air Botswana daily
Transfers available from Victoria Falls and Livingstone (2 hours)
Transfers available from all borders (Namibia, Zimbabwe and Zambia)
Transfers available from Katima Mulilo to Ngoma Border post

Accommodation at Muchenje`s Safari Lodge:
Cottages
Muchenje offers 10 thatched private cottages, each being beautifully appointed with its own unique view of the Chobe flood plain. Relax on your deck and soak up the African sun whilst the animals come to drink at the river.

Family Cottage
Muchenje offers families a comfortable cottage where an upper open plan sleeping area can accommodate 2 children. With 2 spacious bathrooms and a generous deck it is perfect for a family or young friends travelling together.

Cottage Facilities
- All rooms can convert to double or twin
- Private deck
- Air conditioning
- Fan
- Electronic safe
- En suite bathroom
- Mosquito nets
- Tea and coffee making facilities
- Bar fridge
- Hair dryers
- 220V round pin plugs
- 24 hour power
Activities:
Our experienced Guides, all of whom have had extensive guide training in both animals and birds, are from the Chobe region and are passionate about their Park and communities. They love sharing their Chobe with you and being part of your safari. We also have a registered accredited bird expert at the lodge Chobe is well known for its high diversity of birdlife a must-see destination for birders, particularly in the Summer months.
Our full fleet of 4x4 open safari vehicles take you out into the park to explore this magnificent region.
Muchenjes two boats are based either at Sedudu (eastern shores) or at our jetty near Ihaha. Exploring the deep-water channels and the seasonal flood plains are one of Muchenjes highlights.
Clothing and Accessories:
Tips on What to Pack:
The emphasis is on light, comfortable clothing. For game viewing, neutral colours are best.
- Sun hat, high protection factor sun screen and sunglasses
- Swimming costume
- Good walking shoes (running/tennis shoes are fine) and sandals
- Warm jersey or fleece
- Warm jacket and scarf / gloves and beanie for the cold winter months (May to September)
- Light rain gear for summer months
- Camera equipment and plenty of memory cards and a recharger.
- Binoculars
- If you wear contact lenses, we recommend that you bring along a pair of glasses in case you get irritation from the dust.
Health and Climate:
Malaria is found throughout much of Southern Africa. It is at its highest during the warmer and wetter months of November to April.

The species of mosquito which carries malaria is only active in the early evening and throughout the night, at the times when you are usually sleeping or sitting around the campfire.
The best prevention is to avoid being bitten - therefore a mosquito repellent is recommended. We also suggest that you wear long-sleeved shirts/ blouses and slacks/ trousers in the evening.
In terms of medication to prevent malaria - please consult your doctor or local travel clinic for the most up to date information. Prophylactics are recommended. Repellents and mosquito nets are supplied.

Water
It is very important that you drink plenty of water, especially during the warmer months (October - April). It is generally recommended that guests drink at least 2 to 3 litres (4 to 6 pints) of water per day to limit the effects of dehydration. Many malaria prophylactics contribute to dehydration and does excessive consumption of alcoholic drinks, so please make an effort to keep drinking water. The water throughout Southern Africa is generally safe to drink directly from the tap. However, bottled water is readily available.

When is a good time to visit:
Mid Season - April, May, June
The temperatures are pleasant, with warm days and comfortable nights. It is dry but the last short rains could be experienced. The bush is lush and the grass has turned golden brown. It is a great time to visit the Muchenje and game viewing is good.
As we head into June the winter temperatures start dropping, particularly in the early morning and evenings. The Chobe floods around June when the Angolan rains arrive along the Zambezi and push back up the Chobe River.

High Season - July, August, September and October
July and August are the coolest months and often very cold at night, with warm and pleasant days. The bush is very dry and the vegetation has died back, affording great game viewing. The waterholes have dried up and so the game congregates along the river frontage.
Spring arrives in September and temperatures soar. Before the rains, start the Chobe is tense with the crackle of dry bushveld. The thousands of elephants and other game congregating on the flood plains make this area a safari goers dream.

Low Season - November, December January to March
When the first rains arrive the bushveld sighs with relief - the flush of new growth welcomes the new lives of the plains game. The migrant species of birds arrive back for many of their breeding seasons and the Chobe comes alive with new life.
The summer rains are predominantly enjoyed as afternoon thundershowers that are quite localised. Once the rains have established the game populations do disperse out of the Chobe - the zebra return to the Savuti Marsh, the elephants travel to their seasonal grazing areas in the South, or into other areas such as Zambia or Zimbabwe. But many of them remain affording a fantastic safari any time of year.
Rooms and Units Available:
Muchenje has ten luxury individual private cottages and a larger family cottage. Each cottage has its own large private deck with its own unique view overlooking the Chobe River.
All rooms can convert to double or twin, and have air conditioning, fan, electronic safe, ensuite bathroom, mosquito net, tea and coffee station, stocked fridge, hair dryer, power points and adaptors.
The family cottage at Muchenje offers spacious comfort, with an additional mezzanine open plan sleeping area which can accommodate two children. With two bathrooms and a generous deck it is perfect for a family travelling together.
Chalet (s)
2 Beds which can be made up as a Twin or Kingsize , with en-suite bathroom, housing a large walk-in shower, double wash basins, WC. Each room has their own incredible double aspect views of the Chobe River, with private veranda.
Amount of similar units: 10
Sleeps 2 Adults
---
Family/Honeymoon Suite
Open room, housing a master bedroom, with an upper mezzanine deck that can accommodate two. Walk-in shower with double wash basins, along with a separate bathroom with a bath with bi-fold doors which open out to a private veranda with amazing views.
Sleeps 2 Adults and 2 children

---
Facilities & Services available:
Elderly
Honeymoon Couples
Airport Shuttle Service
Laundry Service
Bar on the Premises
Restaurant
Curio Shop
Garden
Internet Access
Wi-Fi
English
Hiking / Walking Trails
---

Click to display the map