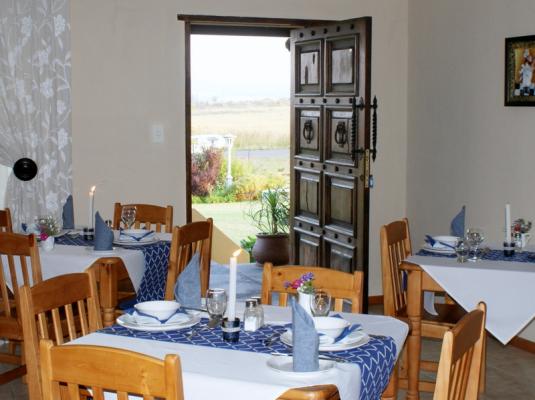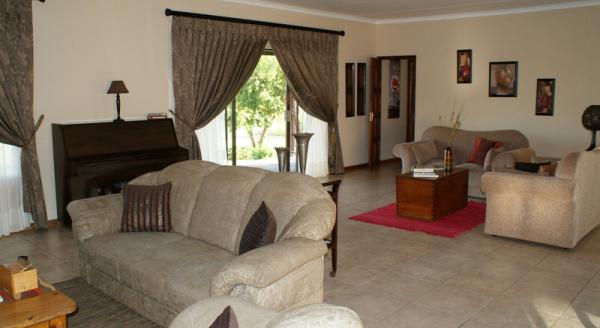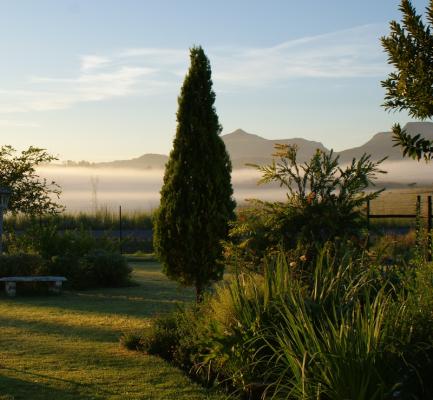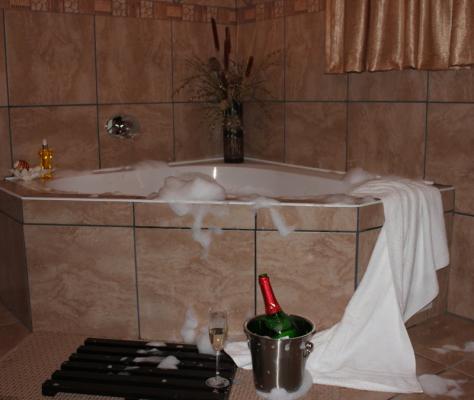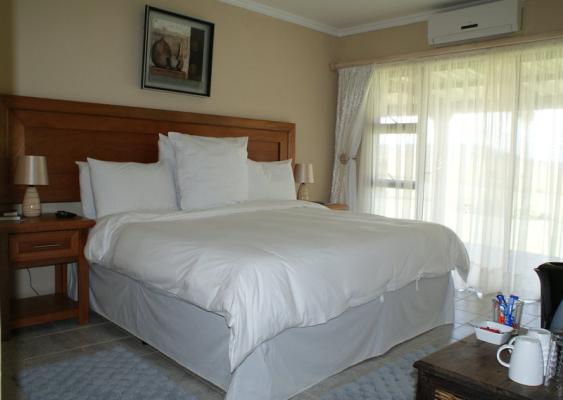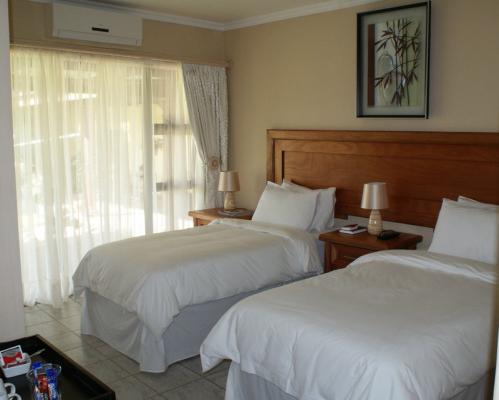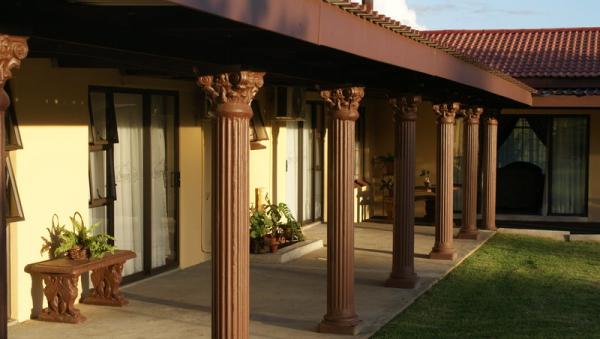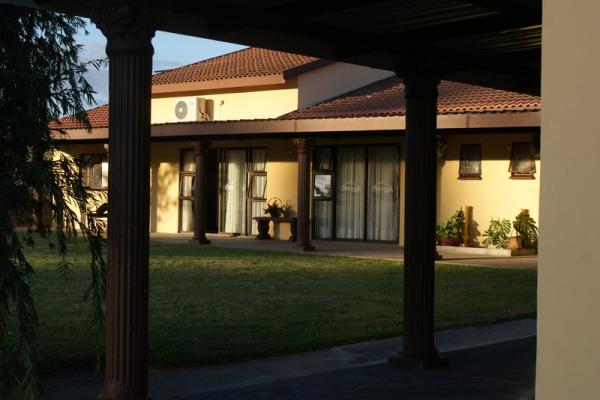 Previous
Next









Book Now
Skirted by neatly lawned gardens that border onto spacious grass lands, Mountain View Guest House snugly rests in clear view of the Biggarsberg Mountains. Magnificent views of both the Endumeni and Mpati peaks are visible from mostly every window of this gracious farm-style house.

Each of the 5 luxurious rooms opens onto spacious verandas encircling the house, offering country freshness, peace and tranquility for the revival of one`s senses. Entrance to the property is motorized and electrically fenced, ensuring complete security and confidence of safety.

Positioned close to Glencoe town (approx 2 km) on the main route from Ladysmith to Dundee (approx 7 km), it is a central and an equally convenient location for the business and tourist traveler wishing to explore the many historic attractions on the Battlefields Route.

This is a farm-like property where a number of animals roaming the grass lands create an additional attraction. We have 25 Emu originating from Australia that are rarely seen elsewhere. This is a bird similar looking to an Ostrich, with a smaller frame. These flightless birds tend to stay close to the fence skirting the garden from where they stretch their necks wanting to get a closer look at any movement of humans. They are tame and curious, often walking close to one when entering their camp. Donkeys and Ponies peacefully roam about, and ducks are mostly hiding in the lush grass or splashing about in their pond.

Lights filters gently into the lounge where guests are invited and welcomed to enjoy the comforts of this room - for television viewing on large screen, reading or simply relaxing.

The cozy dining room is open to guests at all times where the coffee station kettle is constantly steaming away to fill the cups over any of a large selection of beverages.

The spacious bedrooms are extremely inviting with its crisp & neat luxuriously dressed beds, stylishly fitted and furnished in superb quality. Each en-suite room is fitted with flat screen television, air conditioner and coffee tray.

Our dining room doubles up as a perfectly positioned room to accommodate the following:
- Small business meetings and events for up to maximum 10 delegates that include morning & afternoon teas and a luncheon.
- Group dining (breakfast, lunch, dinner) would be made available upon a 7 day prior arrangement.
- Group Cream Teas and/or High Teas (Min 6 guests)
- Intimate special events

Guests are warmly welcomed and received by Lee, whose first priority is to see to your every comfort. Apart from her global experience in the restaurant and 5 star hospitality industries, her warm personality adds an extra dimension of homeliness to be enjoyed by guests. They are generally surprised by the hearty breakfasts that generally include home baked bread and pastries, personally and passionately prepared and creatively presented. She delights in sending you away with a delicious packed lunch when required. Dinners are offered on special request and can vary from basic meals to elaborate multi-course fine dining in a softly lit setting. Special occasions may be celebrated in a cozy setting and even enhanced by live piano music produced by Lee herself.

Accommodation at Mountain View Guest House:
We have a total of 5 Rooms accommodating a maximum of 10 guests.
- 4 x Luxury Rooms (20 square meters)
- 1 x Executive Room (33 square meters)

Equipped with the following:
- Air-conditioners
- DSTV & Flat screen televisions
- Spacious built in cupboards
- Farm Style Veranda
- Sliding doors onto Veranda
- Private entrances
- En-Suite Bathrooms
- Wi-Fi Internet
- King Size Beds / 2 x Single Beds
- 200 count percale quality linen
- Fluffy thick towels
- Tea & Coffee Tray
Activities:
Activities on Premises:
Join us to experience our Australian Bird's (Emu's) and their beautiful African Drum sounds, which during breading season become prevalent. Interestingly, the mail Emu nests the eggs for a 54 day gestation period, generally commencing around June. If interested, you are welcome to join in the feeding of these birds and all other farm animals. The occasional call of a Fish Eagle can be heard while you relax in our peaceful garden with beautiful views of the surrounding mountains.

Activities in Surrounding Area's - mentioning only a few:
- The Moth Shell Hole
- Talana Museum
- Tennis & Squash Courts
- A fine 18 hole Golf Course
- Bowling Greens

Trips, tours and excursions:
- The Battle of Blood River Heritage Site and the Ncome Museum; Isandlwana Battlefield; Rorke's Drift Museum and the site of the death of the Prince Imperial of France.
- You can also view San Bushmen paintings, Iron Age smelting sites, and enjoy a range of eco-tourism experiences such as numerous hiking trails and horse trails, bird watching, photographic safaris, mountain biking, abseiling and white water rafting.
- There are also many game reserves in the area like the Weenen Game Reserve, the Spioenkop Nature Reserve, the Chelmsford Nature Reserve and Wagendrift Nature Reserve, among others.
- Accredited Battlefields Tour guides are also available and can be arranged for on prior notification.
Rooms and Units Available:
Executive / Honeymoon Suite
This 33m2 spacious room is stylishly equipped and furnished in highest quality and fitted with air conditioner, flat screen TV with individual control, Coffee tray and hair dryer. The en-suite bathroom has a shower, spa bath, toilet and basin.
Sleeps 2 Adults
---
Facilities & Services available:
Elderly
Honeymoon Couples
Laundry Service
Ironing Service
Special Meals on Request
Conference facilities
Dining room
Fireplace on the Premises
Garden
Internet Access
Parking (off-street - open)
Wi-Fi
Afrikaans
English
Xhosa / Zulu
Cancellation Policy:
- No show (non-arrivals), 100% of deposit
- Cancellation 0 to 7 days prior to stay - 100% of the deposit
- Cancellation 7 to 14 days prior to stay - 100% of the deposit
- Cancellation 14 to 21 days prior stay - 75% of the deposit
- Cancellation 21 to 60 days prior to stay 50% of the deposit
- Cancellation 1 day after arrival, 50% of balance payable
- Cancellation 2 days after arrival, 100% of balance payable
---

Click to display the map