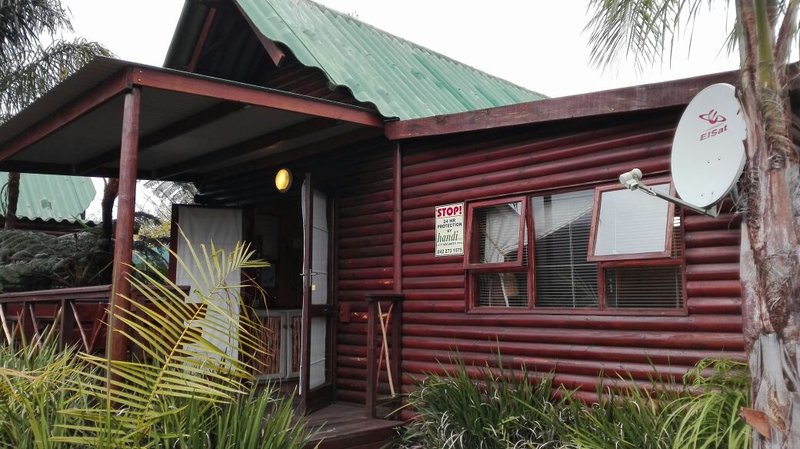 Mountain Breeze Log Cabins
are situated just off the main N2 road on the famous Garden Route. The self catering log cabins are located on a working Protea Farm set in the heart of the Tsitsikamma.
Enjoy a relaxing holiday break at our fully equipped self catering accommodation in Tsitsikamma surrounded by the protea plantations and with wonderful views of the Tsitsikamma Mountain Range. Stormsriver Village is only 15 km away and Stormsriverbridge 10 km on N2.
Accommodation at Mountain Breeze Log Cabins:
We have 4 cabins - 3 log cabins and 1 luxury unit, that provide self catering accommodation, each suitable for 2 or 3 people. Each cabin is equipped with its own kitchenette including a 2 plate electric stove, small fridge, microwave, kettle and a toaster. There is a big braai area as well as a kettle braai on the patio of each cabin. The luxury unit for the romantic break away or honeymoon couple.
Unit 1: sleeps 3 (1 double bed private room, 1 single bed in open plan living area, shower only)
Unit 2: sleeps 4 (1 double bed private room, 2 single bun kbeds in open plan living area, shower only)
Unit 3: sleeps 4 (1 double bed private room, 2 single bunk beds in open plan living area, shower only)
Unit 4: luxury unit: sleeps 2 adults (1 double bed, shower and corner bath)
Unit 5: sleeps 3 (1 double bed private room, 1 double bed sleeper coach in open plan living area, shower only)
Unit 6: sleeps 3 (1 double bed private room, 1 double bed sleeper coach in open plan living area, shower only)