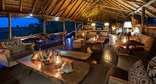 Chitabe Camp is a classic wilderness camp located in a private reserve in south-eastern Okavango Delta with the Moremi Game Reserve bordering the north and east.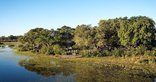 Tubu Tree, a classic wilderness camp, is situated in the Okavango Delta, bordering the Moremi Game Reserve, offering both land and water activities, depending on the levels of the floodwater.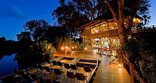 Jacana Camp is a true water camp, becoming a small island surrounded by flooded plains when the Okavango Delta is at its peak flooding each year from April to October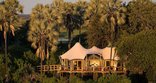 Located in the centre of the Jao Concession, Kwetsani Camp is situated on an elongated island covered with palm, mangosteen and fig trees.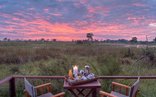 Situated in an area that boasts a number of permanent river channels that flow throughout the year. With expansive Okavango views, nine exclusive tented suites are strung out on either side of the handsome thatched guest areas of the camp.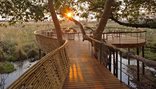 Eight intimate African-inspired cottages with ensuite bathroom, twin hand basin, separate w.c and outdoor shower and dressing area are situated in a remote wilderness area in the southeastern Okavango Delta.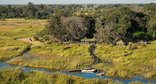 Little Vumbura Camp is situated on a beautiful island in a private concession in the northern reaches of the Okavango Delta.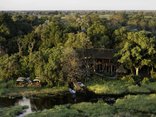 Jao Camp is a premier wilderness camp located on a large, remote island in a private concession in Botswana, bordering the Moremi Game Reserve in the heart of the Okavango Delta.