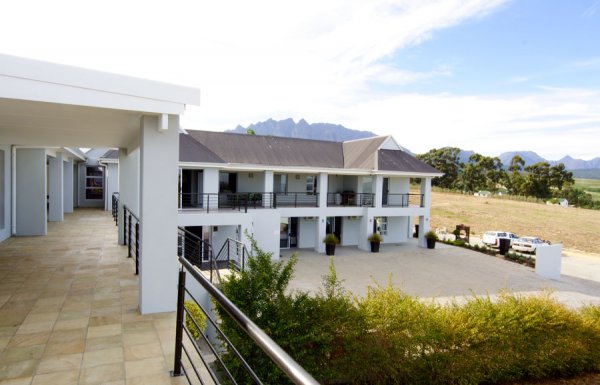 Welcome to Monte Vidéo, where sublime mountain views are just part of the picture.
On a gentle slope, nestling beneath the foothills of Bain's Kloof Pass - with a panoramic vista of imposing mountains and the lush farmland of historic "Wamakersvallei" - you'll find Monte Vidéo Guest House, an upmarket new country retreat, designed to suit the diverse needs of casual vacationers and corporate visitors alike.
Cool, clean, contemporary lines, polished sandstone floors and subtle mood lighting enhance the feeling of understated sophistication that characterises the interior of this elegant lodge, which boasts nine spacious, well-appointed bedroom-suites. After a tranquil night's sleep, enjoy a full breakfast in the stylish dining-room (where home-cooked lunches and dinners are available on request).
Relax in the lounge area while you plan the day's activities … and, much later - as the sun sets over the valley - savour leisurely sundowners and fine estate wines at our intimate bar, or "alfresco" on the wrap-around patio, with the glittering stars above, and the warm, welcoming lights of our little town below.
Spectacular views, superb facilities, world-class service, and a laid-back, rural atmosphere combine to make Monte Vidéo Guest House the ideal getaway destination for both business and pleasure.
Facilities:
Monte Vidéo Guest House offers secure parking behind electronic gates. The parking area is paved. In our conference center we have a wonderful fireplace to be enjoyed by guests to the guest house or those using the conference facility in the winter months. Hair salons and beauty salons for all your needs are located in Wellington.
Functions & Events
Monte Vidéo Guest House is the ideal venue for a wide spectrum of functions and events, from intimate business conferences, seminars, workshops and product launches, to private parties and wedding receptions.
Our dining room/lounge area comfortably accommodates up to 40 seated guests, and is equipped with a variety of facilities including tables (90cm2), a television, DVD player, big screen(2,2 x 1,3), data projector, and surround-sound system. Heavy drapes provide full block-out for staging purposes.
A bar, undercover patio with braai area, and state-of-the-art kitchen is available for catering (an additional service we will gladly supply if required).
Air-conditioning provides a pleasant indoor environment during the hot summer months, while the fireplace makes for a warm, convivial atmosphere in winter. Secure parking for 25 vehicles is available, and a wheelchair ramp allows easy access for the disabled.
An idyllic setting, excellent facilities, and professional, personalised service enables the Monte Vidéo team to meet your most exacting needs, creating an event to remember.
Rooms:
At Monte Vidéo, we know that discerning travellers place high value on comfort, and our nine spacious, individually-themed double suites (which can accommodate 18 people) have been designed with luxury in mind.
Decorated in a chic, minimalist style, with uninterrupted views of the surrounding mountains, farmland and town, each room boasts a comfy king-size bed (which converts into two three-quarter beds if necessary). Upholstered headboards and immaculate white Percale linen guarantee visitors a refreshing night's sleep.
The large en-suite bathrooms contain double or single basins, and baths or showers, depending on individual requirements. Suites are equipped with all the essentials, including full-length mirrors, air-conditioning, satellite television, hairdryers and coffee or tea-making facilities.
Convenient, built-in work-surfaces have been provided, to cater for business travellers. Guests are kindly reminded to adhere to the no smoking policy in their rooms, and to please make use of the outside facilities provided!
Monte Vidéo Guesthouse Activities:
Wellington has a rich history and much for the tourist to experience, from Bain's Kloof Pass and wine estates to hiking trails.

Click to display the map